Deputy party leader Tom Watson said that what has happened with Jeremy Corbyn is a "great tragedy".
Read the full story ›
Facing calls to resign, Jeremy Corbyn has been engulfed in a bitter battle between his MPs and his mandate given to him by members last year.
At an event on Wednesday afternoon he was asked a question about his leadership, but an aide grabbed and pulled him away.
Advertisement
Deputy Labour leader Tom Watson has told press that Mr Corbyn would not even discuss the leadership with his deputy, and that he will not be resigning.
Mr Watson called the situation a "tragedy".
It is understood by ITV News that Tom Watson will not challenge Jeremy Corbyn in a leadership contest.
Shadow chancellor John McDonnell has said that Jeremy Corbyn has the fight in him to continue as Labour leader.
The MP for Hayes and Harlington told ITV News correspondent Romilly Weeks that Mr Corbyn is "well up for it and he's enjoying it".
McDonnell tells me Jeremy still has the stomach for the fight - "he's well up for it he's enjoying it"
Earlier on Wednesday ITV News' deputy political editor Chris Ship reported that Jeremy Corbyn wants to stand down but is being urged to stay on by his closest aides.
NEW: Just been told Corbyn has said in the last day he wants out, he's had enough. But his Dir of Comms @seumasmilne told him he should stay
A Labour MEP has warned that the party could split if Mr Corbyn does not step down.
Mary Honeyball, who is MEP for the Labour Party in London, said: "Jeremy Corbyn's corrosive leadership has brought the Labour Party close to the edge, and tragically the party I know and love is now in imminent danger of imploding all together."
In an article in the New Statesman, she added: "There is a real possibility of Corbyn getting on the ballot paper and being re-elected. At that stage 200 MPs may form a new party.
"And if need be I will join them."
Jeremy Corbyn wants to leave, but he feels pressured to stay because of people in his team, according to our Deputy Political Editor Chris Ship.
NEW: Just been told Corbyn has said in the last day he wants out, he's had enough. But his Dir of Comms @seumasmilne told him he should stay
Advertisement
In the latest of a string of resignations and public calls to resign, a letter from Labour MEPs to Jeremy Corbyn has been published to social media.
The letter says that they have "always striven to have a loyal and constructive relationship with our party leader", but that they have "very serious concerns" in light of the party's defeat during the referendum.
"It is with a heavy heart," the letter says, "that we urge you, for the sake of the Labour Party and for the people in our country who need a Labour government, to reconsider your position as Labour leader."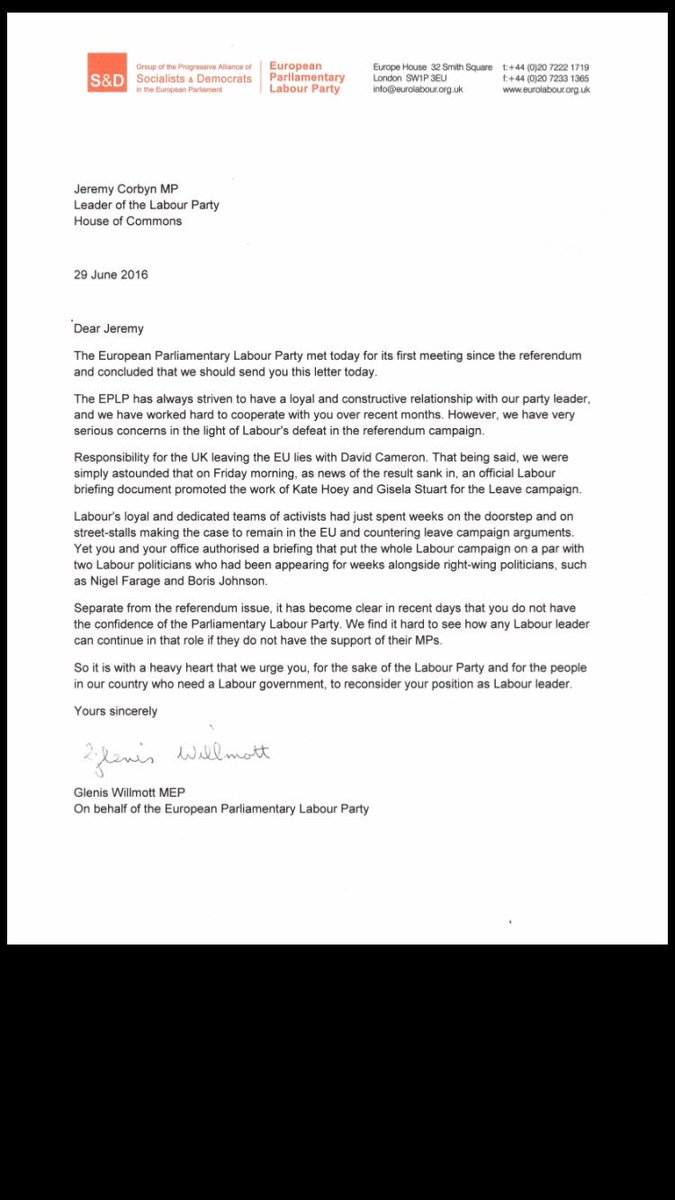 Two of Britain's biggest unions are expected to publicly reiterate their support for Jeremy Corbyn, according to our Political Editor Robert Peston.
They will also urge Labour MPs to "behave as effective opposition".
I am told GMB and Unite both about to come out in support of @jeremycorbyn. & they call on Labour MPs to behave as effective opposition
trade unions also say Labour MPs must represent their constituency members & if want to mount challenge should do so using party procedure
Former Labour leader Ed Miliband has called on successor Jeremy Corbyn to quit, saying his position is "untenable".
Mr Miliband said he had supported Mr Corbyn "all the way along", but now urged him to reflect on what is "the right thing for the country".
He told BBC Radio 4's The World At One programme: "I have reluctantly reached the conclusion that his position is untenable."
Load more updates