Union leaders Len McCluskey and Dave Ward have praised Jeremy Corbyn's closing speech at the Labour party conference.
Len McCluskey, general secretary of Unite, said Mr Corbyn was determined to rebuild trust in politics.
Jeremy Corbyn gave a speech that declared proudly this is what the Labour Party is and only a Labour government can build a better Britain.

We can leave this conference today confident that the policies needed to deliver a real alternative are taking shape.

Not reheated dogma or lukewarm concessions to the people but a genuine programme to halt rampaging inequality, a serious plan to invest in our industrial communities and share wealth more fairly, and a determination to defend our shattered public services.
– Len McCluskey
Dave Ward, leader of the Communication Workers Union, said: "Jeremy Corbyn deserves the time and space to set out his vision for our country. Today he looked and sounded like a leader.
"We urge the whole Labour Party to unite behind our leader, who holds the largest mandate in history. Let's create a society for the millions not the millionaires."
Unison general secretary Dave Prentis said the speech was 'ambitious'.
He said: "We must ignore the doom mongers, the next election is not lost, but the year ahead has to be about how Labour wins back the support of voters across the country."
Josh Hardie, CBI deputy director-general, said: "The CBI shares much of Labour's vision for a fairer society underpinned by good business.
"Labour is certainly laying out a new way forward and we urge them to iron out inconsistent messages - especially the relationship between state and industry - and clarify policies that are sometimes hard to see delivered and paid for."
Labour will offer a socialism 'fit for the 21st Century' in order to win the next election, leader Jeremy Corbyn has pledged.
Mr Corbyn insisted that the party would fight for its long-terms goals of "equality of wealth and income" but "also for power".
He was speaking as the party's conference in Liverpool came to a close.
Our aim could not be more ambitious. We want a new settlement for the 21st century, in politics, business, our communities with the environment, and in our relations with the rest of the world.

Every one of us in the Labour party is motivated by the gap between what our country is and what it could be...

Our job is now to win over the unconvinced to our vision. Only that way can we secure the Labour government we need.
– Jeremy Corbyn
Advertisement
Jeremy Corbyn has again apologised for the war in Iraq on behalf of the Labour party.
He said the consequences of conflicts in Iraq and Libya "have been the spread of terrorism, sectarianism and violence".
ITV News Political Editor Robert Peston, who is at the conference in Liverpool, said the apology was given a standing ovation.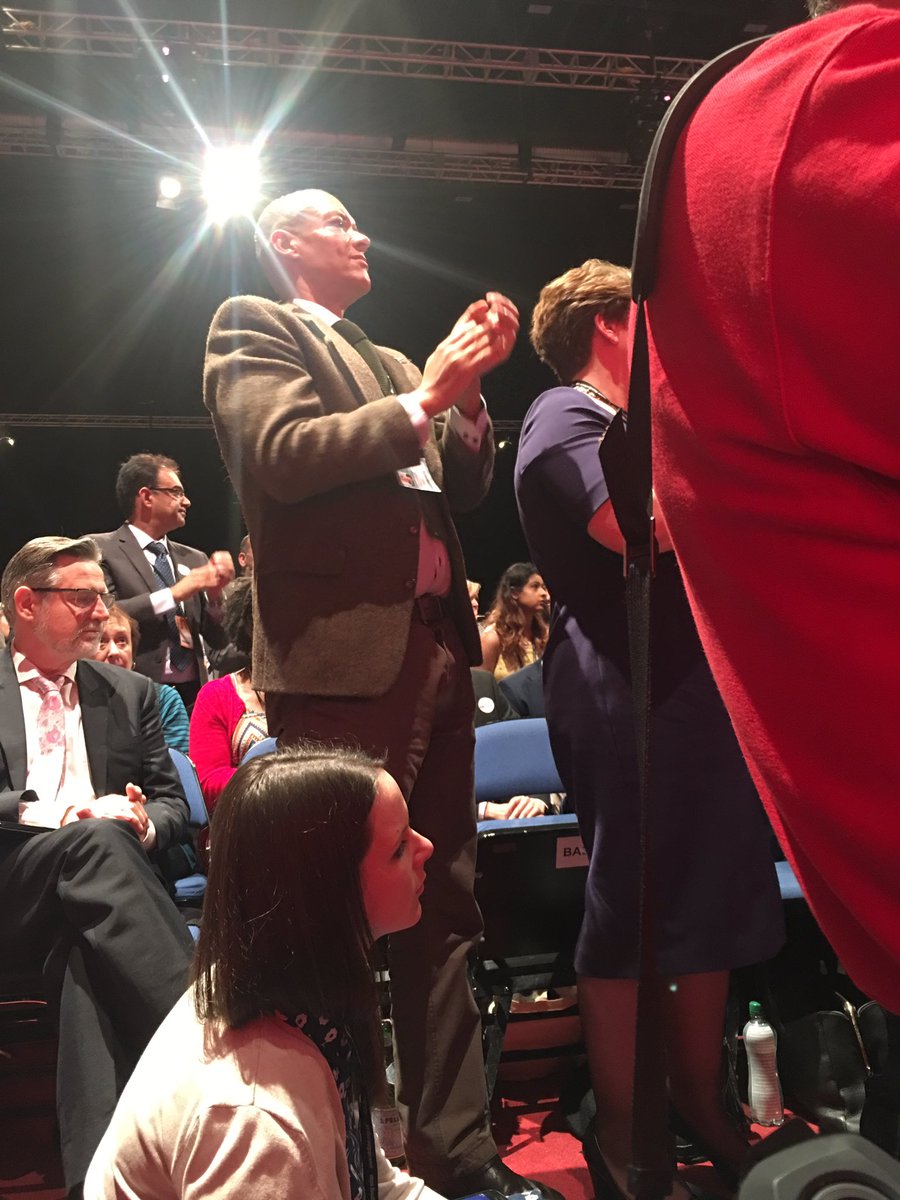 The audience also got to their feet when Mr Corbyn promised to stop selling British arms to Saudi Arabia.
He said: "Today I make it clear that under a Labour government when there are credible reports of human rights abuses or war crimes being committed British arms sales will be suspended, starting with Saudi Arabia."
The Labour party will "tackle the real issues of immigration" and "not offer false promises" on the issue, leader Jeremy Corbyn has promised.
While admitting that "immigration can certainly put extra pressure on services", Mr Corbyn said his party "will not sow division by fanning the flames of fear".
We will act decisively to end the undercutting of workers' pay and conditions through the exploitation of migrant labour and agency working which would reduce the number of migrant workers in the process.

And we will ease the pressure on hard pressed public services - services that are struggling to absorb Tory austerity cuts, in communities absorbing new populations...

That is the Labour way to tackle social tension investment and assistance, not racism and division.
– Jeremy Corbyn
The Conservative party has been accused of 'gerrymandering' by Labour leader Jeremy Corbyn over proposed changes to constituency boundaries which could lead to few Labour MPs.
Mr Corbyn said the proposed savings from removing 50 MPs would be "dwarfed" by the extra 260 peers former Prime Minister David Cameron appointed while in office.
He added that the proposals are being pushed forward by Prime Minister Theresa May who "was elevated to her job without a single vote being cast."
Labour leader Jeremy Corbyn has addressed the anti-Semitism row which has recently dogged the party.
Calling racism against Jewish people "an evil" he said, "this party always has and always will fight against prejudice and hatred of Jewish people with every breath in its body."
Mr Corbyn added: "The party must be a safe and welcoming space for everybody and we will continue to take firm action against abuse and intimidation".
Advertisement
Labour leader Jeremy Corbyn has made an impassioned plea for the party to unite in his closing speech at the party conference in Liverpool.
Speaking to a packed conference Hall, Mr Corbyn said the party would only be able to "fight the Tories" if it worked together.
Winning justice for all and changing society for the benefit of all is at the heart of what Labour is about.

So yes, our party is about campaigning and it's about protest too.

But most of all it's about winning power in local and national government, to deliver the real change our country so desperately needs.

That's why the central task of the whole Labour party, must be to rebuild trust and support to win the next general election and form the next government.
– Jeremy Corbyn
He said it had been "a testing time for the whole party" but quoted murdered Jo Cox when he added: "We have far more in common with each other than things that divide us".
Andy Burnham is leaving the shadow cabinet to focus on his campaign to become the next mayor of Greater Manchester.
The shadow home secretary and former leadership contender told the Labour Party conference: "It is time for me to turn my full focus to Greater Manchester.
"That's why I can tell you all first today that I have asked Jeremy to plan a new shadow cabinet without me, although I will of course stay until it is in place.
"I have given my all to this Party and always put its interests above those of factions and personalities. And I have given exactly the same loyalty to all four of the Labour leaders I have served."
The mayoral election will take place in 2017 at the same time as scheduled local elections in May.
Jeremy Corbyn has insisted his policies will persuade enough people to vote Labour at the next election to return the party to power.
Read the full story ›
The move comes amid a boycott of the paper in Liverpool due to its controversial coverage of the 1989 Hillsborough disaster.
Read the full story ›
Load more updates