The singer ended speculation over who would perform by saying "the rumors are true" to her 63 million Twitter followers on Friday morning.
Read the full story ›
Advertisement
Reports that Lady Gaga is to star as Cilla Black in a film about the life of soul singer Dionne Warwick are false.
Read the full story ›
The Bad Romance singer is the Surprise, Surprise choice to star as Dionne Warwick's arch rival, the late Cilla Black.
Read the full story ›
Lady Gaga used the run up to her Oscars performance to tweet her support for Kesha following her legal drama.
The singer, who performed her Oscar-nominated song Til It Happens to You from The Hunting Ground, also Instagrammed this picture from the event.
Sorry, this content isn't available on your device.
Pop star went into the icy waters of Chicago's Lake Michigan at a fundraiser for the Special Olympics and later said "her weave froze".
Read the full story ›
Advertisement
Lady Gaga has promised to adhere to the United Arab Emirates' more conservative dress code while she is there on her Artpop Ball tour.
Read the full story ›
Ozzy Osbourne and Lady Gaga's songs have topped a poll of acts whose lyrics people find most difficult to make out.
Read the full story ›
A leading UK consultant in eating disorders has criticised Lady Gaga after a video emerged online of her being vomited on during a live show at the SXSW festival in Texas.
The performer, or "vomit painter", named Millie Brown, is known for drinking liquids and vomiting them onto canvas - but on this occasion it was Gaga herself.
A US journalist who reported on the story tweeted a screengrab of the video.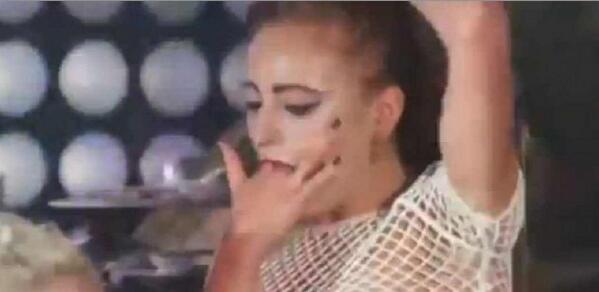 Care UK Professor Bryan Lask, who works alongside the Child and Family Practice in London specialising in eating disorders, told ITV News: "It's appalling. Lady Gaga is obviously not a good role model - what message does it give to those prone to eating disorders?"
Lady Gaga has urged her fans to offer support to Justin Bieber and his fans or "Beliebers" following his arrest and charges for drunk driving.
Gaga posted a message on her website asking fans to "spread love and compassion to Beliebers" and suggested twitter users tweet using #MonstersSupportBeliebers.
"We may not understand everything celebrities do because there's only so much we see, but Justin and Beliebers were 'born this way' too," she added
Load more updates