Lady Gaga used the run up to her Oscars performance to tweet her support for Kesha following her legal drama.
The singer, who performed her Oscar-nominated song Til It Happens to You from The Hunting Ground, also Instagrammed this picture from the event.
Sorry, this content isn't available on your device.
Pop star went into the icy waters of Chicago's Lake Michigan at a fundraiser for the Special Olympics and later said "her weave froze".
Read the full story ›
Advertisement
Lady Gaga has promised to adhere to the United Arab Emirates' more conservative dress code while she is there on her Artpop Ball tour.
Read the full story ›
Ozzy Osbourne and Lady Gaga's songs have topped a poll of acts whose lyrics people find most difficult to make out.
Read the full story ›
A leading UK consultant in eating disorders has criticised Lady Gaga after a video emerged online of her being vomited on during a live show at the SXSW festival in Texas.
The performer, or "vomit painter", named Millie Brown, is known for drinking liquids and vomiting them onto canvas - but on this occasion it was Gaga herself.
A US journalist who reported on the story tweeted a screengrab of the video.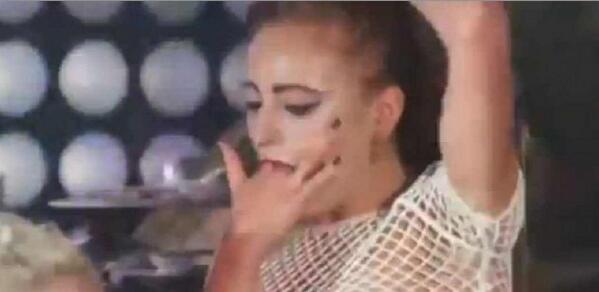 Care UK Professor Bryan Lask, who works alongside the Child and Family Practice in London specialising in eating disorders, told ITV News: "It's appalling. Lady Gaga is obviously not a good role model - what message does it give to those prone to eating disorders?"
Lady Gaga has urged her fans to offer support to Justin Bieber and his fans or "Beliebers" following his arrest and charges for drunk driving.
Gaga posted a message on her website asking fans to "spread love and compassion to Beliebers" and suggested twitter users tweet using #MonstersSupportBeliebers.
"We may not understand everything celebrities do because there's only so much we see, but Justin and Beliebers were 'born this way' too," she added
Advertisement
Hundreds of X Factor viewers have complained about an outfit worn by Lady Gaga on the show.
The programme, shown before the 9pm watershed, featured the singer in a "skimpy" outfit made of shells and flesh-coloured underwear.
Around 200 viewers contacted Ofcom and another 60 approached ITV.
An ITV spokesperson said: "We do not believe Lady Gaga's performance was inappropriate for the family audience of the X Factor Results show."
Is it a bird? Is it a giant Weetabix alien? No, it's just Lady Gaga stepping out for a stroll.
The flamboyant pop star's latest "look", unveiled in Berlin where she was launching her new album, comprises an imposing hairy hat and a golden beak.
The singer was assisted by bodyguards as she left her hotel in the German capital, leaving the impression that the eccentric headwear may have impaired her vision.
Gaga's previous outrageous outfits include a dress made of meat and a costume made of Kermit the Frogs.
Instagram have contacted Lady Gaga over "concerns" about her well-being after members of its online community raised concerns over posts the singers has shared recently.
The singer tweeted a screenshot of the email she received along with the message "omg at this email INSTAGRAM just sent me".
The email said: "Members of the Instagram community have raised concerns for your well-being after seeing posts you've shared. We're reaching out to provide you with some important safety information."
In recent days, the singer has posted handwritten notes to Instagram including "Each day I cry, I feel so low from living high", which are thought to be lyrics from a song on her forthcoming album.
Gaga does not appear to have taken the correspondence seriously, tweeting: "What the actual hell. hahahah."
Load more updates