Live updates
UN envoy: Syria crisis worsens
Syrian pro-government TV says an explosion has hit the Old City quarter of Damascus.
UN envoy: Syria crisis worsens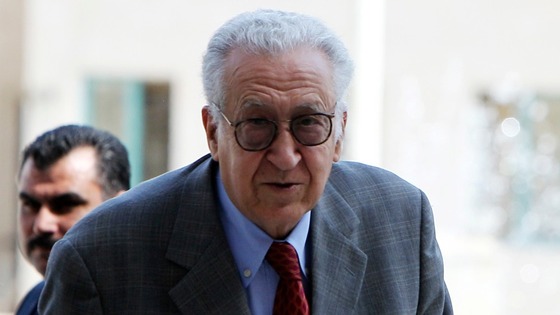 Peace envoy Lakhdar Brahimi has met with Syrian President Bashar al-Assad in Damascus as he bids to secure a temporary ceasefire in Syria's bloody civil war, the country's state television has reported.
The international mediator has now met with both sides in the dispute after calling for the conflict to cease during the Islamic Eid al-Adha holiday at the end of this week.
Syria has so far given a guarded response to Mr Brahimi's proposal, suggesting it wants guarantees that rebels would reciprocate any move by Assad's forces.
Advertisement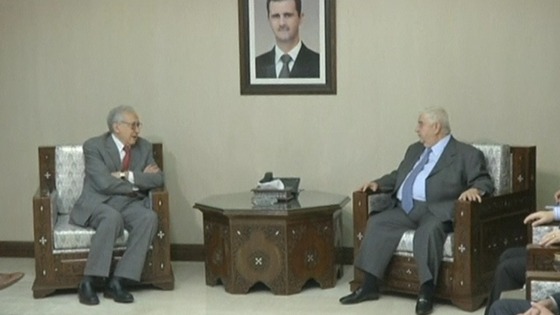 The UN-Arab League envoy to Syria Lakhdar Brahimi is holding talks with the Syrian foreign minister in Damascus about brokering a ceasefire in the war torn country.
It is not known whether Mr Brahimi will meet President Bashar al-Assad.
On his arrival in the country Brahimi told reporters: "We will talk about the ceasefire and the Syrian issue in general.
"It is important to decrease the violence - we will talk with the government and political parties and civil society about the Syrian issue."
Syrian missiles fired at Lebanon
International mediator Lakhdar Brahimi has said talks with Syrian President Bashar al-Assad today were "very serious" and "terribly important" in an effort to end the country's 18-month-old conflict.
I have met with President Assad. We talked about this very serious and dangerous crisis which is becoming worse by the day . It is terribly important and urgent to address it in the proper manner. I repeat the crisis constitutes a threat on the Syrian people, on the region as a whole and on the world actually.

I think President Assad is aware more than I do the dimension of this crisis and how danger it is. I informed President Assad that we will try our best and exert all efforts to come up with ideas that will help the Syrians to get out of the ordeal.
I heard from Assad and all Syrian officials that they will help Mr. Lamani who will be based in Damascus to do his job at the best way and succeed in his task.
– International mediator Lakhdar Brahimi
Syrian missiles fired at Lebanon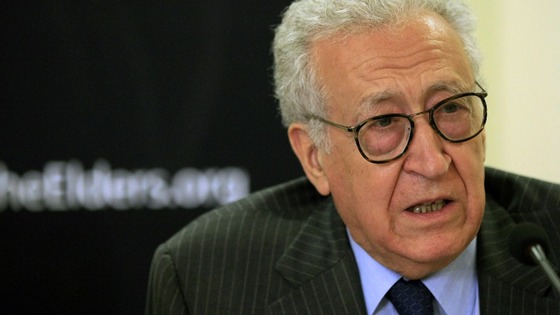 UN and Arab League mediator, Lakhdar Brahimi is expected to meet Syrian President Bashar al-Assad in Damascus today.
Brahimi arrived in Syria on Thursday, his first trip to the country since taking up his post.
Envoy: 'Staggering' Syria crisis
Egyptian president Mohamed Mursi has told Arab ministers that the time has come for change in Syria, report Reuters.
He also added that a quartet proposed by Cairo comprising of Iran, Turkey, Saudi Arabia and Turkey will meet over Syria.
Advertisement
Envoy: 'Staggering' Syria crisis
Turkey's prime minister Tayyip Erdogan says the Syrian government has created a "terrorist state", according to the Reuters news agency.
"The regime in Syria has now become a terrorist state," Erdogan told a meeting of his ruling AK Party.
Envoy: 'Staggering' Syria crisis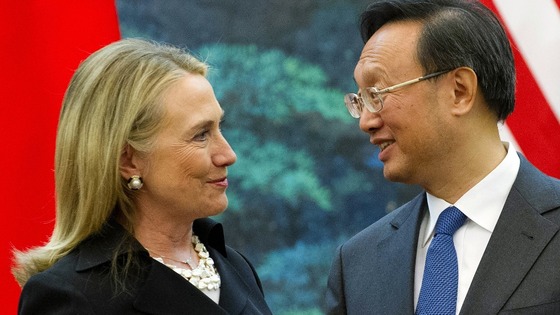 US Secretary of State Hillary Clinton and Chinese Foreign Minister Yang Jiechi vowed goodwill after talks over Syria which had been preceded by criticism from Beijing of her calls for a multilateral solution to the territorial disputes in the South and East China Seas.
The overseas edition of the state-run the People's Daily laid out China's concerns ahead of their meeting, suggesting America was seeking to gain leverage from China's tensions with Japan and South-east Asian countries.
China backs a "political transition" in Syria to end worsening bloodshed after 18 months of unrest, said Mr Yang, while repeating Beijing's opposition to forceful foreign intervention.
Mrs Clinton said it was "no secret" the US was disappointed by the positions of China and Russia on Syria, and she reiterated that the best course of action remained tough UN Security Council action.
Envoy: 'Staggering' Syria crisis
United Nations Secretary-General Ban Ki-Moon says that the job that incoming UN-Arab League mediator, Lakhdar Brahimi has been tasked with is "daunting but not insurmountable."
Speaking at the UN assembly, Moon said:
The conflict is intensifying.

The longer it goes on, the more difficult it will be to contain.

The more difficult it will be to find a political solution.

The more challenging it will be to rebuild the country and the economy.

This is the context in which Mr. Lakhdar Brahimi takes up his duties. I thank him for taking on this task. It is daunting but not insurmountable.

To succeed, he needs your united and effective support to help the warring parties realize that the solution will not come through arms, but through dialogue that respects the universal rights and freedoms of all Syrians.
– Ban Ki Moon, UN Secretary-General
Envoy: 'Staggering' Syria crisis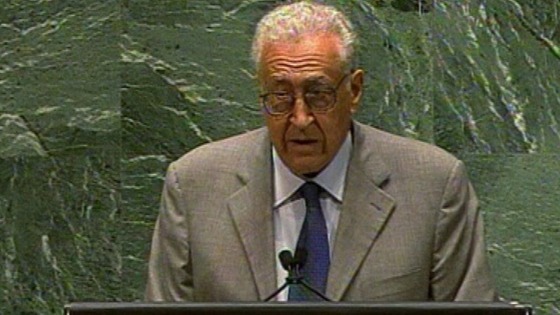 The new UN-Arab League mediator, Lakhdar Brahimi, who took up the role on Saturday and described his bid to broker peace as "nearly impossible," has addressed the UN assembly.
"You have just described the grave situation which prevails in Syria today. It has been deteriorating steadily," he said.
"The death toll is staggering, the destruction is reaching catastrophic proportions and the suffering of the people is immense.
"I am looking forward to my visit to Damascus in a few days time, and ... to all the countries who are in a position to help the Syrian-led political process become a reality," he added.
Load more updates
Back to top