Britain's Laura Robson has stormed into the third round of Wimbledon with victory over Mariana Duque-Marino.
The 19-year-old British number one defeated the Colombian 6-4, 6-1 in less than 90 minutes on Centre Court.
Wimbledon organisers have reassured tennis fans that play will go ahead on day five of the tournament despite the wet weather.
Morning! Yes it's raining, but we're promised drier weather as the day goes on. We have a roof, and play will go on! http://t.co/ZpZnvJHoI9
Fans should see both British hopefuls in action with Laura Robson and Andy Murray both scheduled to play on Centre Court.
Robson faces Colombia's Mariana Duque-Marino in her second round match which is due first on Centre Court while Murray takes on Spanish player Tommy Robredo later this evening.
Advertisement
A Labour peer has criticised the Lawn Tennis Association over its "poor legacy", claiming it should not take any credit for British success in the sport.
Baroness Billingham, president of the Oxfordshire Lawn Tennis Association, said the national organisation had played no part in the success of British stars Andy Murray and Laura Robson.
Following the LTA's claim to a House of Lords committee that increasing participation was "at the heart of what we do", Billingham said:
"I don't think you have increased participation. I don't think you can claim accreditation for Andy Murray and Laura because they came from outside the system.
"I have to say that my view is shared by Sport England, who have cut your funding because they think you are inadequate and, indeed, by the sports minister. Having, in my view, a very poor legacy."
Laura Robson's mother missed her first round win at Wimbledon - because she was unable to get a dogsitter at their home in Greece.
But the teenager was supported by her brother Nicholas, 21, who is working as a court attendant at the Championships. He was allowed to watch her match from the sidelines.
Miss Robson said her mother Kathy kept in regular contact over the phone while she looked after the black labradors, Ella and Kiri. She said: "I haven't spoken to her on the phone but I've texted her.
"She always texts me back during the matches, as well.
"So when I get off the court, I've got like eight messages to read, generally about catching the ball toss.
"She's obviously pretty excited. But I've got the rest of my family here. All my relatives are watching in Australia. So, yeah, they're very happy."
Laura Robson has said that today's win against Russia's Maria Kirilenko was "a big one".
Speaking after the match, she said: "It was a really big one for me. Although I like grass, I've never really done overly well here.
"It was a big one for me - it was good that I managed to tough it out after I got so nervous in the second set. I'm happy."
The Prime Minister has tweeted his congratulations to Laura Robson after became the first British woman to beat a top 10 player at Wimbledon since 1998:
The Brit defeated the Russian 6-3, 6-4.
Advertisement
Laura Robson has become the first British woman to beat a top 10 player at Wimbledon since Sam Smith, in 1998.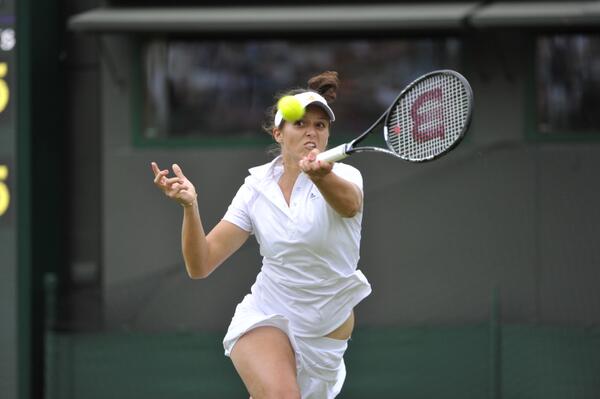 Young tennis star Laura Robson has the chance today to end a 24-year winless streak for British women on the professional tour.
The 18-year-old already became the first Brit to reach a women's tour final in 22 years, with her victory in yesterday's semi-final emulating Jo Durie's achievement of 1990.
Robson takes on Hsieh Su-wei of Taiwan in the final of the Guangzhou Open later today.
Sara Gomer was the latest British player to claim a WTA Tour title, winning in Aptos, California, in 1988.
Laura Robson's U.S Open quest has been ended by Australia's Sam Stosur, who won in straight sets.
Stosur needed nine match points to finally end Robson's run, winning 6-4, 6-4. The seventh seed closed out the match when she came in for a ball that ticked the net and knocked an unreturnable shot deep to Robson's forehand.
Robson, who had previously knocked out four-time Grand Slam titlist Kim Clijsters and 2011 French Open champion Li Na, tried to get back in the match after falling down 5-2 in the second set, but her 41 unforced errors turned out to be too much to overcome
Britain's Laura Robson pulled off the biggest win of her life at the US Open to bring Kim Clijsters' professional singles career to an end.
Three-time champion Clijsters announced earlier in the year this tournament would be her last and, although she still has doubles to come, there will be no fairytale fourth singles title.
Robson, 18, had never won more than one match at a grand slam before but found her best form on the biggest stage to triumph 7-6 (7/4) 7-6 (7/5) and reach the third round, where she will play ninth seed Li Na.
Load more updates