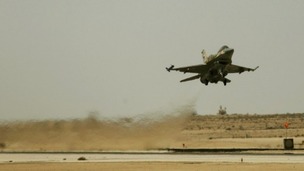 ITV News Correspondent Geraint Vincent explains why Israel's alleged attack at the Lebanese-Syria border may not create new conflict.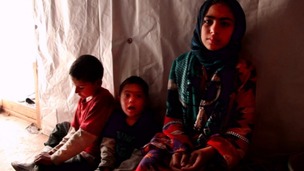 ITV News has heard the accounts of two Syrian families who could be among the vulnerable refugees admitted to Britain.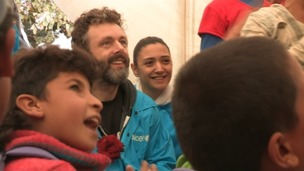 Actor Michael Sheen has spent time with Syrian refugees at a large camp in Lebanon but warns that cold weather presents a real threat.
Live updates
Five killed as Beirut blast rocks Hezbollah stronghold
Lebanon's health ministry said five people have been killed and 20 injured in Beirut.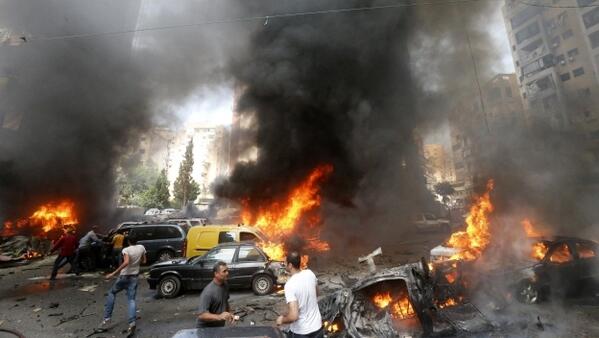 Five killed as Beirut blast rocks Hezbollah stronghold
Beirut journalist Angie Nassar has tweeted a photo of the city following an explosion that reportedly left two people dead: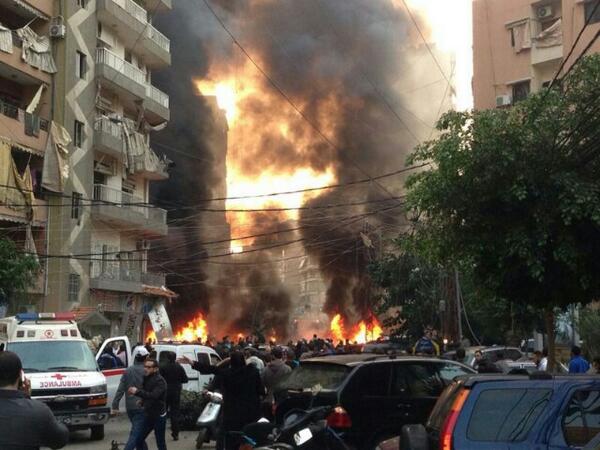 Advertisement
Five killed as Beirut blast rocks Hezbollah stronghold
A journalist in Beirut has posted a photo on Twitter of the aftermath of an apparent bomb blast in the Lebanese capital:
Five killed as Beirut blast rocks Hezbollah stronghold
Witnesses said that two bodies were found at the scene of an explosion in Beirut, and that six people were wounded.
Five killed as Beirut blast rocks Hezbollah stronghold
A powerful explosion has been heard in southern Beirut and smoke was seen rising from the area, residents said.
There was no immediate word on damage or casualties caused by the blast in the Lebanese capital, which has been hit by a series of bombs in recent months.
Lebanon's defence minister has said that troops have arrested the leader of the group thought to be behind bombing of the Iranian embassy in November, AFP reports.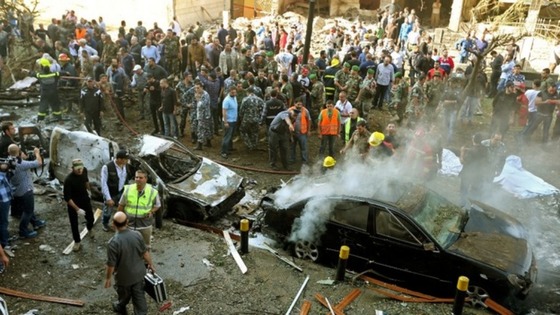 Maged al-Maged, the head of the al-Qaeda-linked Abdullah Azzam Brigades, was reportedly detained by Lebanese troops in Beirut.
The embassy attack killed 23 people including the Iranian cultural attache on November 19.
Advertisement
Israel has launched artillery fire across its border with Lebanon in response to two rockets fired in the other direction, according to reports.
Two rockets struck near the town of Kiryat Shmona in northern Israel on Sunday, causing no injuries or damage.
More than 20 Israeli shells then hit near two southern border towns in Lebanon, a witness told Reuters.
Ex-minister killed in Beirut blast
Today's deadly explosion in Beirut interrupted a live interview on Lebanese TV station Future TV.
The explosion, which killed five people including a former minister, can be clearly heard inside the studio.
Ex-minister killed in Beirut blast
The British ambassador to Lebanon Tom Fletcher has paid tribute to the former Lebanese minister killed in a blast in Beirut and condemned his "cowardly assassination"
Mohamad Chatah was a wise, tolerant, smart patriot. His courage not that he knew risks but that he believed Lebanon worth taking them for.
2/2 We condemn his cowardly assassination. Determined to honour his memory by support to justice, rule of law and stability for Lebanon.
At tense points, my 1st call to Mohamad Chatah. Was always in mix, looking for constructive path. Should not let them kill that moderation.
Ex-minister killed in Beirut blast
Residents have described seeing "panic and terror" in the streets of Beirut after a bomb blast hit the Lebanese capital killing five people including a former minister.
"The explosion caught motorists driving in the morning rush hour here. There was terror and panic among residents. There was a big ball of fire and panic everywhere and then we learned that Chatah was the target," Adel-Raouf Kneio said.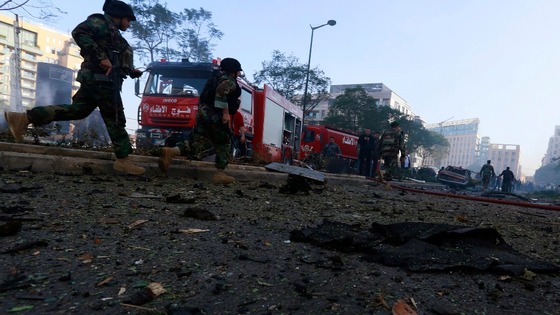 The blast, which was heard across the city at around 9:40 am local time, damaged restaurants, coffee shops and offices in downtown Beirut.
"I heard a huge explosion and saw a ball of fire and palls of black smoke. We run out of our offices to the streets," Hassan Akkawi, who works in a finance company nearby, said.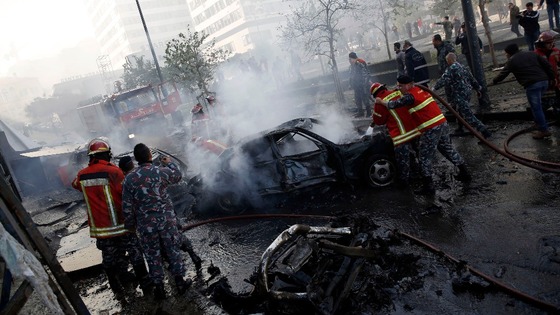 Witnesses described seeing glass everywhere, cars on fire and smelling explosives in the air.
Much of Beirut went into lockdown following the explosion, with police blocking off roads across the city.
Load more updates
Back to top