The Football League have announced that three Championship clubs have been placed under a transfer embargo.
Leeds United, Blackburn Rovers and Nottingham Forest have all suffered the same punishment.
All three clubs will be prevented from signing players in the January transfer window after failing to meet the League's Financial Fair Play rules.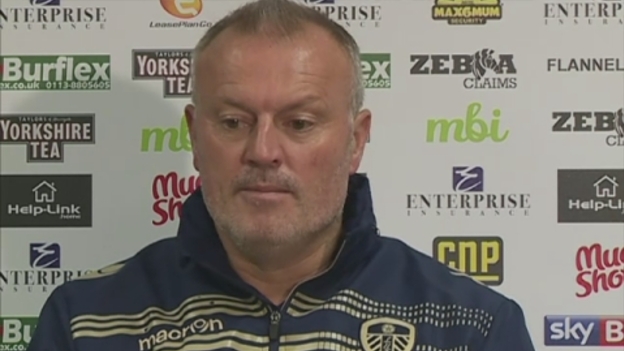 Leeds United caretaker manager Neil Redfearn says he is 'very close' to taking the role on a permanent basis.
Advertisement
Championship side Leeds United has confirmed the sacking of coach Darko Milanic after just 32 days in charge of the club.
The club said Neil Redfearn will take charge of first team training on Monday morning and president Massimo Cellino apologised to the fans for the team's recent poor results.
Milanic was appointed on 23 September but did not win any of his six games in charge.
For more on this story visit the ITV Sport website.
Police have begun an investigation at Leeds United after spy cameras were apparently found at the Elland Road stadium, in a security sweep ordered by new boss Massimo Cellino.
Detective Superintendent Pat Twiggs, head of crime for Leeds, said: "We can confirm that police are investigating an allegation of theft relating to Leeds United Football Club following a report made by the club made on April 9".
West Yorkshire Police would not confirm details of their inquiry but according to reports, officers were called to the ground on Wednesday after surveillance equipment was found in the boardroom and toilets.
Italian businessman Massimo Cellino has been disqualified from buying a majority stake in Leeds under the Football League's 'owners and directors' test', the League has announced.
Mr Cellino was recently found guilty in Italy of non-payment of import duties on a boat, resulting in a fine of €600,000 (£500,000).
The Football League said its board had "agreed unanimously that the decision of the Italian Court does constitute a disqualifying condition" under its Owners' and Directors' Test.
Mr Cellino is entitled to appeal within 14 days.
Advertisement
A former Leeds United and US winger has used his blog to reveal that he is gay and announce that he is to retire from football aged just 25.
Robbie Rogers posted: "Secrets can cause so much internal damage. People love to preach about honesty, how honesty is so plain and simple.
"Try explaining to your loved ones after 25 years you are gay. Try convincing yourself that your creator has the most wonderful purpose for you even though you were taught differently."
He added: "I always thought I could hide this secret. Football was my escape, my purpose, my identity. Football hid my secret, gave me more joy than I could have ever imagined… I will always be thankful for my career.
"Now is my time to step away. It's time to discover myself away from football."
Leeds United owner Ken Bates has confirmed that a takeover bid by the Bahrain-based investment bank GFH Capital will be completed in time for Christmas.
Bates told Yorkshire Radio: "We have now completed the first part of the purchase.
"Put briefly, they [GFH Capital] are taking over 100% of the club ... and it will be totally completed on December 21."
Bates said he would stay on as chairman until the end of the season when he will become club president and a new chairman will take over.
A Dubai-based consortium has confirmed it is to take over control of Leeds United Football Club.
GFH Capital Ltd, which is a subsidiary of the Bahrain investment bank Gulf Finance House, has confirmed that it has signed an exclusive deal to acquire Leeds City Holdings, the parent company of Leeds United.
The deal was announced in a letter from GFH to the Bahrain Stock Exchange today.
Load more updates