Fifteen fire engines have been sent to tackle a huge blaze at an industrial complex in Leeds.
West Yorkshire Police said emergency services were called to the Tradepak industrial building at 2.34am this morning.
Nearby streets have been cordoned off and members of the public advised to close windows and doors due to large amounts of smoke.
No people have been reported hurt as a result of the fire so far.
Advertisement
Police are warning residents in Leeds city centre to keep windows and doors closed due to "potentially hazardous" chemicals at the site of a large fire at Albion Way industrial estate.
In a statement, West Yorkshire Police said: "Police were called at about 2.34 am this morning to respond to the incident which is taking place at a business on the site. A number of fire engines are currently attending.
"Due to the potentially hazardous nature of chemicals on the site residents in the city centre area are being asked to keep windows and doors closed while the cause of the fire is assessed.
"As a precaution, due to smoke, the Armley Gyratory road is currently being closed for the safety of drivers."
Emergency services have arrived at the scene of a large fire in Leeds amid a series of loud explosions, according to ITV News reporter James Webster.
Large fire in Leeds. Loud explosions. Many police and fire here. Close to kirkstall road. Some roads shut
A large fire and a series of loud explosions have been reported in an industrial estate near Armley Road, Leeds.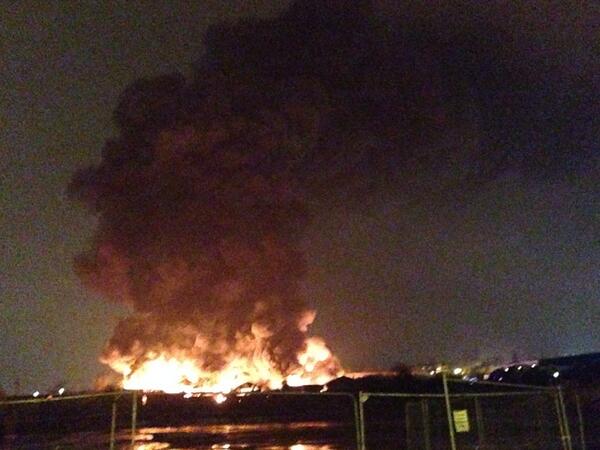 A secondary school, where more than three-quarters of its pupils do not have English as their mother tongue, plans to teach English as a foreign language to all of its students.
The City of Leeds School teaches 300 children from 55 different countries but says its new approach will also apply to those whose first language is English.
Headteacher Ms Sale said pupils will receive one extra 50-minute English lesson each week. The school hopes the extra tutition will "boost their fundamental English skills and improve their basic spelling and grammar."
In an interview with the Yorkshire Post, Ms Sale said many of her pupils struggled to read and write even in their native language.
Ms Sale told the paper: "Many of our pupils are not only new to English but they are not even literate in their own language. In some cases we are the first people to put a pen in their hand."
The move is a strategy aimed at reversing the school's GCSE results which saw only 26% of pupils achieving the crucial five A* to C grades last year.
The school plans to introduce the lessons to all pupils later in the year.
Advertisement
A woman whose baby's death was "completely avoidable" has described her "horrendous" experience at St James's Hospital in Leeds.
Deborah Horner's baby Abbie was delivered stillborn in 2011, after a series of blunders by midwives and nurses resulted in her brain being starved of oxygen. Mrs Horner said her whole life has changed since the devastation of her daughter's death.
The hospital should have taken special care as Mrs Horner was over forty at the time of her pregnancy.
The midwife in charge of Mrs Horner's care was referred to the Nursing and Midwifery Council and given a 12-month suspension order, lawyers said. She has now retired.
The lawyer for the parents of a baby who was stillborn at St James's Hospital in Leeds said an internal investigation into the death revealed a catalogue of failures, including:
The foetal heart rate (CTG) was misinterpreted
There was inadequate and inaccurate record keeping
There was a failure to keep mother and baby the focus of the care
And a failure to act within trust guidance
The mother of Abbie Horner, who was born stillborn following a series of blunders made by nurses at St James's Hospital in Leeds, said she has still not received an apology from the hospital, despite the trust's admission.
Deborah Horner said she could not understand how badly the family have been treated, and spoke of how the hospital's actions have made her grief and shock worse.
To this day we are still shocked and appalled by what we went through and the tragic loss of our daughter Abbie. To know that our baby would have been born healthy had it not been for the failures to report her abnormal heartbeat is incredibly difficult to come to terms with.

Everyone makes mistakes but there are lives at stake and my baby deserved the best possible care but, sadly, both she and I were failed.

My family have not even received an apology despite the trust's admission. This is just shocking and has left us very angry.
Nothing will ever bring our daughter back but if they can apologise and prove that lessons have been learnt and shared across the NHS then hopefully we can start to put this horrendous ordeal behind us and try and re-build our lives.
A couple whose baby was delivered still born have described their "horrendous ordeal" after a hospital admitted they were responsible for the series of blunders that led to her death.
Deborah and Richard Horner's daughter Abbie was delivered stillborn on August 17, 2011 following an emergency caesarean section.
An investigation found that her death was caused by a catalogue of errors and poor communication by midwives which led to her brain being starved of oxygen, their lawyer said.
The family received an undisclosed settlement after the NHS trust which runs St James's Hospital in Leeds.
Load more updates