A new high-speed rail connection and improved roads between England's northern cities could help create an economic powerhouse to rival London, George Osborne will say today.
He will use a keynote speech to say an upgraded, high-speed link between Manchester and Leeds should be considered as part of the review of the second phase of the HS2 project.
The Chancellor will say he wants travelling through towns and cities in the northern belt to be as easy as moving around a major global metropolis as part of a plan to help them "take on the world".
Under current plans the £50 billion HS2 high-speed rail project will link London to Birmingham in its first stage, before creating a Y-shaped network with lines to Manchester and Leeds by 2032/33.
But concerns about connectivity between the northern cities were raised in the report by HS2 Ltd's chairman Sir David Higgins earlier this year.
A 15-month-old girl has died in a "tragic accident" after being hit by a car apparently driven by her father.
Police and Paramedics were called to an address in Leeds on Saturday evening after reports that a black Toyota Avensis had struck the toddler.
The child was taken to Leeds General Infirmary but was pronounced dead a short time later, West Yorkshire Police said. The driver of the vehicle - understood to be the girl's father - has been spoken to by officers, a police spokesman said.
Sergeant Carl Quinn, of West Yorkshire Police Major Collision Enquiry Team, said: "We are conducting a full investigation to establish the circumstances surrounding this child's death, although early indications are that this appears to have been a tragic accident."
Anyone with information is asked to contact the Major Collision Enquiry Team on 01924 293047 or via 101.
Advertisement
Tributes have been paid to the teacher stabbed to death at a school in Leeds yesterday.
Ann Maguire was "an inspiration" to both pupils and staff, and was due to retire from Corpus Christi Catholic College in September.
The school re-opened today, and a fifteen-year-old boy remains in custody, as ITV News' Martin Geissler reports:
Environment Agency have put booms into Leeds Liverpool canal at Armley as chemicals from the fire mixed with water from firefighters' jets spills into the watercourse.
Firefighters used water from the Leeds Liverpool canal to tackle a massive blaze at a chemical recycling plant. Around fifteen fire engines were called to the scene at Tradpak on Albion Way in the early hours of this morning (Monday April 21, 2014).
The fire spread to an adjacent packaging company. The fire has now been contained but fire crews are expected to remain on the scene for the rest of the day.
Advertisement
Fifteen fire engines have been sent to tackle a huge blaze at an industrial complex in Leeds.
West Yorkshire Police said emergency services were called to the Tradepak industrial building at 2.34am this morning.
Nearby streets have been cordoned off and members of the public advised to close windows and doors due to large amounts of smoke.
No people have been reported hurt as a result of the fire so far.
Police are warning residents in Leeds city centre to keep windows and doors closed due to "potentially hazardous" chemicals at the site of a large fire at Albion Way industrial estate.
In a statement, West Yorkshire Police said: "Police were called at about 2.34 am this morning to respond to the incident which is taking place at a business on the site. A number of fire engines are currently attending.
"Due to the potentially hazardous nature of chemicals on the site residents in the city centre area are being asked to keep windows and doors closed while the cause of the fire is assessed.
"As a precaution, due to smoke, the Armley Gyratory road is currently being closed for the safety of drivers."
Emergency services have arrived at the scene of a large fire in Leeds amid a series of loud explosions, according to ITV News reporter James Webster.
Large fire in Leeds. Loud explosions. Many police and fire here. Close to kirkstall road. Some roads shut
A large fire and a series of loud explosions have been reported in an industrial estate near Armley Road, Leeds.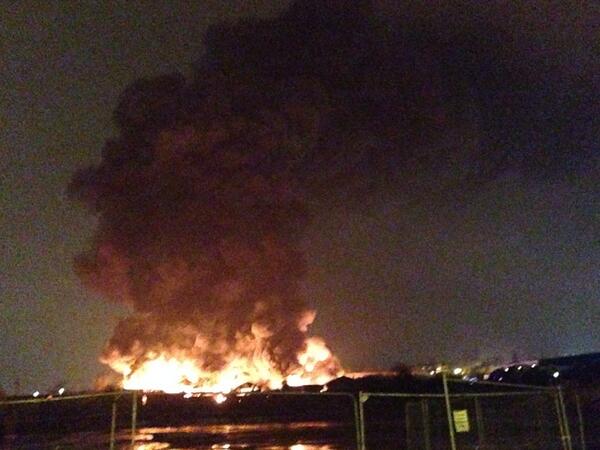 Load more updates