The Metropolitan Police will conduct a review of the incident in Leeds involving a 28-year-old man and David Cameron in consultation with West Yorkshire Police.
The Met's Specialist Protection Command is responsible for the personal protection of the Prime Minister.
The Met confirmed that the man, who shoved Mr Cameron as he left the Civic Hall, had been arrested and later de-arrested by local officers.
Tory MP Mark Pritchard has demanded a full investigation into how the Metropolitan Police security team allowed a man to get so close to the Prime Minister in Leeds today.
He called for the Met's commissioner Sir Bernard Hogan-Howe to launch an immediate internal inquiry.
He said:
The Met Police have some of the best close protection officers in the world.

However, this was a clear breach of security and could have been far more sinister in outcome.

With the terror threat level increased, this cannot be allowed to happen again.

The Met Commissioner should call an immediate and swift internal inquiry to discover why this happened and implement the necessary lessons learned as quickly as possible.
– Mark Pritchard MP
Advertisement
ITV News has obtained footage of a man "shoving" the Prime Minister at an HS3 launch event in Leeds.
As David Cameron left Leeds Civic Hall, the man rushes up and appears push to him.
Security officers then seize the man and hurry the PM into a waiting car.
Mr Cameron was in West Yorkshire to announce proposals for a third high-speed rail line in the north, known as HS3.
West Yorkshire Police have said that a 28-year-old man was briefly arrested but was released shortly after, saying the incident was "nothing sinister."
The Prime Minister has been "shoved" by a protester at the HS3 launch in Leeds, according to reports.
ITV News Deputy Political Editor Chris Ship has tweeted that a journalist at the event at the Civic Hall in Leeds reported that Mr Cameron was "pushed" by a protester before police officers stepped in.
Cameron is shoved by protestor after #hs3 launch in Leeds. Tweet from @danjohnsonnews says he was "pushed" before police stepped in
Championship side Leeds United has confirmed the sacking of coach Darko Milanic after just 32 days in charge of the club.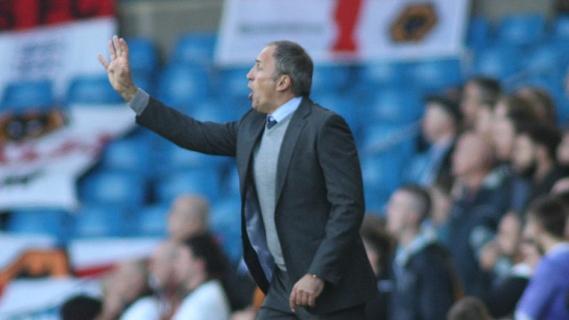 The club said Neil Redfearn will take charge of first team training on Monday morning and president Massimo Cellino apologised to the fans for the team's recent poor results.
BREAKING: Club president Massimo Cellino says: "I want to apologise to the supporters, they deserve better results." #lufc
Milanic was appointed on 23 September but did not win any of his six games in charge.
For more on this story visit the ITV Sport website.
Advertisement
Leeds president Massimo Cellino's court trial in Sardinia for tax evasion has been delayed.
The trial was due to take place on Thursday, but the judge has had to step down due to a conflict of interest.
Judge Dr Sandra Lepore convicted Cellino for failing to pay tax on his yacht Nelie in March and cannot hear the second case involving another yacht, Lucky 23.
Cellino was fined around £400,000 for the earlier conviction.
The appeal judge who overturned that decision ruled that if Judge Lepore confirmed in her written report that the tax evasion in the Nelie case had been a deliberate act of dishonesty then Cellino would fail the League's 'owners and directors' test.
Judge Lepore has since stated there was "elusive intent" and "Machiavellian simulation" by Cellino and the League is under mounting pressure to force him to sell the club.
The passion stirred up by the Yes campaign in Scotland has inspired similar feelings among some in northern England's larger cities.
In Manchester, Leeds and Newcastle, there is a growing sense that they too, should be given more powers to self-govern.
ITV News Diplomatic Correspondent John Ray reports:
A man has been found guilty of the attempted murder of a police officer in Leeds.
PC Suzanne Hudson was shot at point blank range by James Leslie with a sawn-off shot gun.
She suffered serious injuries to her face, neck and hand. The incident took place after PC Hudson and a colleague went to Leslie's flat in Leeds one night last December.
Leslie is due to be sentenced in October.
A pre-season friendly between Leeds United and Viitorul Constanta was called off after the Romanian side failed to turn up for the game.
The West Yorkshire club tweeted:
Our game with Viitorul Constanta has been forced to be called off due to the Romanian side not turning up at the ground #lufc
Leeds, who play in the second tier of English football, said they would still play a friendly against themselves to ease the disappointment of fans who had travelled to watch the match.
United will now field two Leeds XIs that will play against eachother in the absence of an opposition for the travelling supporters #lufc
DH: "as of yet the Romanians haven't turned up but we are ready to play. We have officials, match kit and we are here." #lufc
The game against Viitoral, owned by Romanian football legend Gheorghe Hagi, was due to take place in northern Italy.
Load more updates