Jamie Vardy scored a brace as Leicester closed in on the Premier League title with a 2-0 win at Sunderland
Read the full story ›
#SAFC XI v @lcfc: Mannone, Yedlin, Kaboul, Kone, PVA, Kirchhoff, Cattermole, M'Vila, Khazri, Borini, Defoe. https://t.co/KUYAGNqryU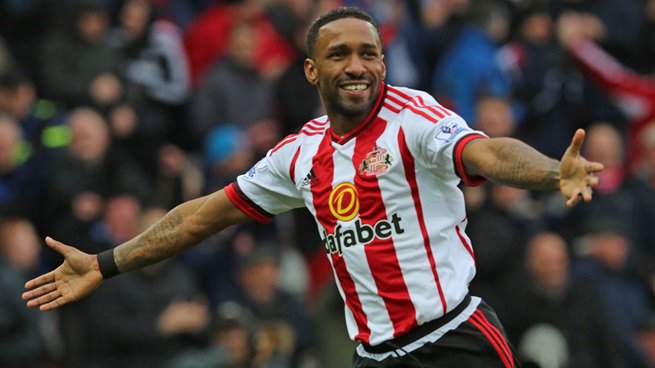 City: Schmeichel, Simpson, Morgan (c), Huth, Fuchs, Mahrez, Kanté, Drinkwater, Albrighton, Okazaki, Vardy. #SunLei
Advertisement
Leicester forward Riyad Mahrez has insisted the team are under no pressure as they chase a first top-flight title in the club's 132-year history.
The Algeria international had not expected at the start of the season that, with nine games to go, the Foxes would be looking down from the top of the Barclays Premier League, with a five-point advantage over the following pack.
As he nears the end of a remarkable season - which has seen him score 15 league goals and be strongly tipped to be crowned PFA Player of the Year - he brushed off suggestions that he was looking ahead to a possible transfer to a bigger club.
"I'm not thinking about that," he said. "The last games we need to keep working hard and see what we can do. I'm really not thinking about this. I have three more years in Leicester and then we'll see."
But he did admit he did not start the 2015/16 campaign anticipating Leicester would be top of the table in March.
"I wasn't expecting that, but that's now the reality," he said. "I'm happy to be here. I'm pleased."
Asked whether he was feeling the pressure, he replied: "No pressure. We are playing as always. We will just see what can happen for us.
"We just work hard for everyone. We are just a good team, good team-mates and we are doing well. We have to keep going."
There has been an increase in the number of flu cases in February in the Leicester area according to the lead nurse for infection prevention at Leicester's hospitals.
Three wards at Leicester Royal Infirmary have been closed after a swine flu outbreak affected 14 cancer patients.
We have seen an increase in the number of flu cases in February, in both the community and across our hospital sites.

Fourteen patients on three haematology wards at the Leicester Royal Infirmary have developed symptoms that have been confirmed as flu.

All necessary precautions were taken and these patients have been isolated to avoid an outbreak.
– Liz Collins, lead nurse for infection prevention at Leicester's hospitals
Visitors with flu-like symptoms have been asked to stay away from hospitals to avoid passing their infections to patients.
Three wards have been closed at a hospital after a major swine flu outbreak affected 14 cancer patients.
Leicester Royal Infirmary is trying to contain the spread of the virus, which was responsible for the flu pandemic in 2009/10.
The H1N1 swine flu strain is one of the dominant flu strains this winter and the current winter flu jab offers protection against it.
Glenfield Hospital in the city is also treating three seriously ill patients with swine flu, who are receiving extracorporeal membrane oxygenation (ECMO) treatment.
They were brought to Leicester from other parts of the country.
All 14 patients remain in isolation either in side rooms or on bays, a statement from the University Hospitals of Leicester NHS Trust said.
All patients are currently being treated with antiviral medication.
Staff are following protocols for preventing the spread of infection, including wearing masks, gowns and gloves and washing hands regularly.
On Monday, it was thought three people on the wards might have flu, and because these patients have very little immunity, it was decided to swab all patients and 14 were confirmed as positive.
– Dr Philip Monk, consultant in communicable disease control with Public Health England in the East Midlands
The main wing at HMP Leicester was 'often chaotic' and there was a 'very high' rate of assaults on staff, an inspection revealed.
Read the full story ›
Advertisement
Arsene Wenger is happy with Arsenal's hectic fixture schedule and hopes too much time to think in between games could be the downfall of leaders Leicester.
The table-topping Foxes travel to the Emirates Stadium on Sunday five points clear at the Barclays Premier League summit - with the Gunners third, below fierce local rivals Tottenham.
With no continental tournaments to worry about and having already been knocked out of the Capital One Cup and the FA Cup, many believe a less congested run-in could see Claudio Ranieri's Leicester complete a most remarkable title success.
But Wenger, whose side remain in the FA Cup - looking to win it for a third straight year - and have a Champions League last-16 clash with Barcelona on the horizon, believes too much time thinking about upcoming fixtures could be detrimental to a team.
"Yes, time to think can be a disadvantage if you not are thinking in a positive way and the pressure is on," he said. "It is true that sometimes the less time you have to wait for the next game, the better it is.
"I believe they are still in a position where they think where they have nothing to lose. But once you are top of the league, you can also think about losing what you have.
"That is where the nerves come in a little bit. I do not know how they will respond to that."
Arsene Wenger has called on both Leicester and Arsenal fans to cancel any in-game protests on Sunday after the late change to the kick-off time angered supporters - but has defended Barclays Premier League ticket pricing.
League leaders Leicester travel to the Emirates Stadium for a top of the table clash, with the game moved to noon for television coverage.
The late change has infuriated a number of Foxes fans and some now plan to enter the stadium five minutes after kick-off in protest - citing lost money on travel and accommodation that was booked before the alteration.
Their battle has been backed by Arsenal supporters' group REDaction - who have called on home fans to support Leicester' protest by applauding them into the ground - and comes against a growing discontent from Premier League supporters against high ticket prices.
Wenger has said any protests on Sunday should take place either side of what could prove to be a pivotal 90 minutes in the title race
"You want everybody there when the game starts," the Arsenal boss said when asked if he would be disappointed if fans came in late.
"For me, the game is a joy and everyone has to be part of it. You can protest before and after, but during the game, you want everybody to be there.
"It (a game of football) is a moment of happiness in your life. Life is not every day fantastic - sometimes it's boring, sometimes it's difficult for many people. Football is a moment of happiness in your life, so don't miss it."
Jamie Vardy insisted he plans to stay at Leicester after his wonder goal inspired the Foxes to a 2-0 win over Liverpool.
The forward is in talks over a new deal and marked the discussions with a stunning opening strike before wrapping up a comfortable win with his 18th goal of the season.
Before the match it emerged talks had begun over a deal until 2019, and Vardy said he intends to stay.
He told Sky Sports: "It's nothing people don't know, I'd like to be here for a long time.
"I don't (think I've scored better). I had been looking all game and he (Simon Mignolet) was quite far off his line. As soon as Riyad (Mahrez) had played it through it's bounced quite high and I've got no support so I just took my chance and luckily it's gone over the top of him."
Load more updates