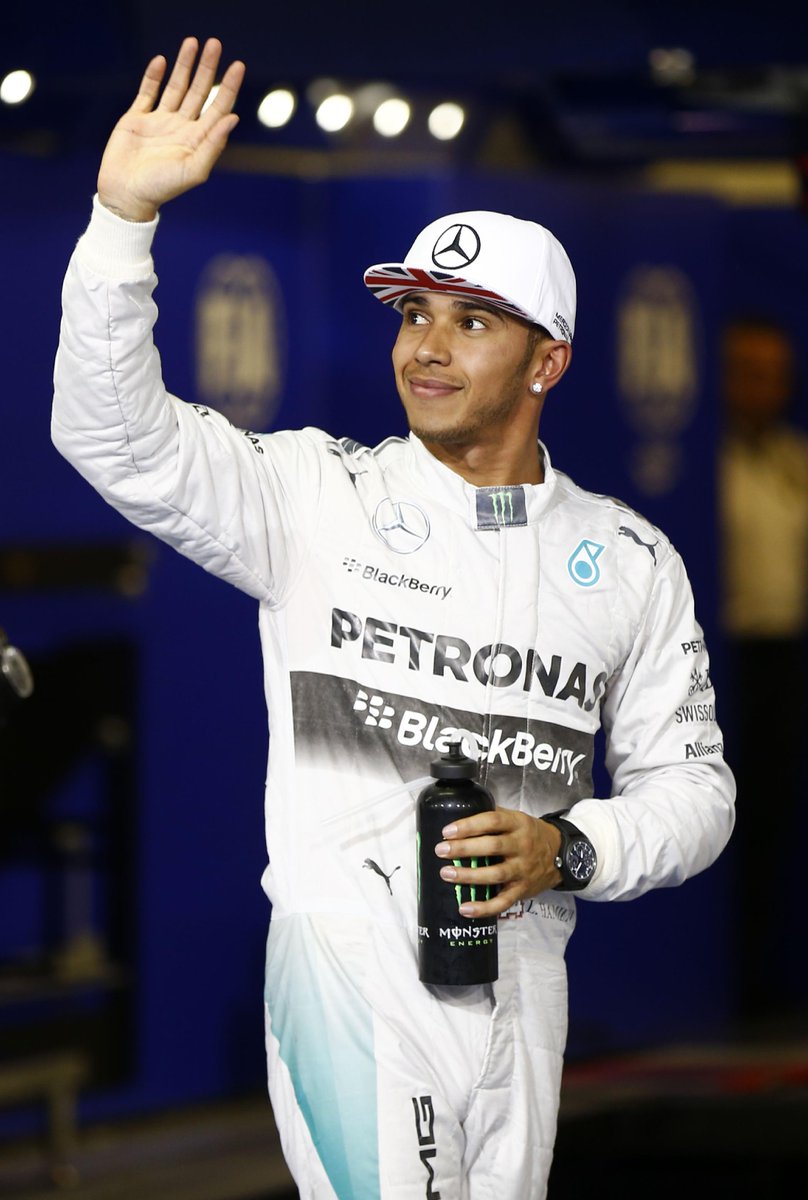 Lewis Hamilton's Mercedes team have joined a flurry of Twitter tributes after the British driver won his second world Formula 1 world title.
Big names from around the sporting world also paid tribute to Hamilton on Twitter, including tennis star Andy Murray, former England striker Ian Wright and golf legend Greg Norman.
Congrats to Lewis Hamilton on winning another world title, well deserved
Congratulations @lewishamilton " Walk like a champion talk like a champion " ???????. first double world champion since Sir Jackie Stewart.
Lewis Hamilton has won his second Formula 1 world title, ahead of Mercedes team-mate Nico Rosberg.
Advertisement
Britain's Lewis Hamilton will join an elite club of double Formula One champions if he can secure a top-two finish in Abu Dhabi today.
Read the full story ›
A revolutionary new concept developed by Lewis Hamilton's father is to be put through its paces over the course of the next few days
Read the full story ›
GP2 Series champion Jolyon Palmer will be a test driver for Force India in Abu Dhabi next week
Read the full story ›
Former F1 world champion Nigel Mansell says he's 'delighted' that Lewis Hamilton has broken his record of the most Grand Prix wins by a British driver.
Hamilton roared to victory in the US Grand Prix with a daring late move to seal the 32nd win of his career, surpassing Mansell's 31 victories.
"I think it's fantastic," Mansell told ITV News, "I'm delighted that Lewis is now on his way to a second championship win."
Mansell doesn't expect Hamilton to stop on 32 wins: "I expect his target will go up at least another 10 to 15 race wins over the next two years."
Mansell won the Driver's Championship in 1992 with Williams.
Advertisement
Lewis Hamilton has won Formula One's US Grand Prix with a daring late move to set the new record for the number of race wins by a British driver.
Hamilton's 32nd victory saw him surpass Nigel Mansell's feat of 31 career race wins as he extended his lead over team-mate Nico Rosberg in the race for the 2014 drivers' championship.
Lewis Hamilton has won the first ever Russian Grand Prix.
Hamilton's win and Nico Rosberg's second-place finish helped Mercedes secure the Formula One constructors' championship.
Britain's Lewis Hamilton won a wet Japanese Formula One Grand Prix to extend his championship lead but the race was overshadowed by two crashes involving Jules Bianchi and Adrian Sutil.
The race needed two starts behind the safety car and was stopped before the full distance due to Typhoon Phanfone.
The FIA confirmed Bianchi was unconscious when taken to hospital via ambulance.
Sauber tweeted afterwards:
Adrian is ok. More Details to follow.
Lewis Hamilton told BBC Sport: "It was great. What a day. It's been very difficult conditions and we hope Bianchi is OK."
Formula One team Mercedes has disciplined Nico Rosberg for crashing into team-mate Lewis Hamilton during last weekend's Belgian Grand Prix, warning the German driver that "another such incident will not be tolerated."
The team said Rosberg has "acknowledged his responsibility for the contact" that occurred in the second lap of Sunday's race and "apologized for this error of judgment."
Mercedes says "suitable disciplinary measures have been taken" against Rosberg but that he is free to race in the championship.
Rosberg leads the drivers' standings on 220 points, with Hamilton in second place on 191.
Mercedes says the two drivers "accept the team's No. 1 rule: there must be no contact between the team's cars on track."
Load more updates