Former deputy prime minister is set to return to the Lib Dem's front bench, the Party's leader has confirmed.
Read the full story ›
A new, dedicated NHS tax should be introduced to help meet the spiralling costs of healthcare, the Lib Dems have announced.
Read the full story ›
Advertisement
Leaving the EU could tear the UK apart and create an isolated "little England", former deputy prime minister Nick Clegg will warn today.
Read the full story ›
A new leader for the Liberal Democrats as expected to be announced later, drawn from two candidates.
By 2pm yesterday, voting closed in the contest between two of the party's eight MPs, Tim Farron and Norman Lamb.
Around 60,000 party members had a vote in the election to choose between the MPs, with ex-party president Mr Farron the bookmakers' favourite to take the helm.
With just four days to go until the election, Nick Clegg has been speaking at a "passionate" rally in Bermondsey, south London.
ITV News Political Correspondent Emily Morgan reports:
This is the most passionate rally I've heard Nick Clegg speak at. Sleeves rolled up, very forthright #GE2015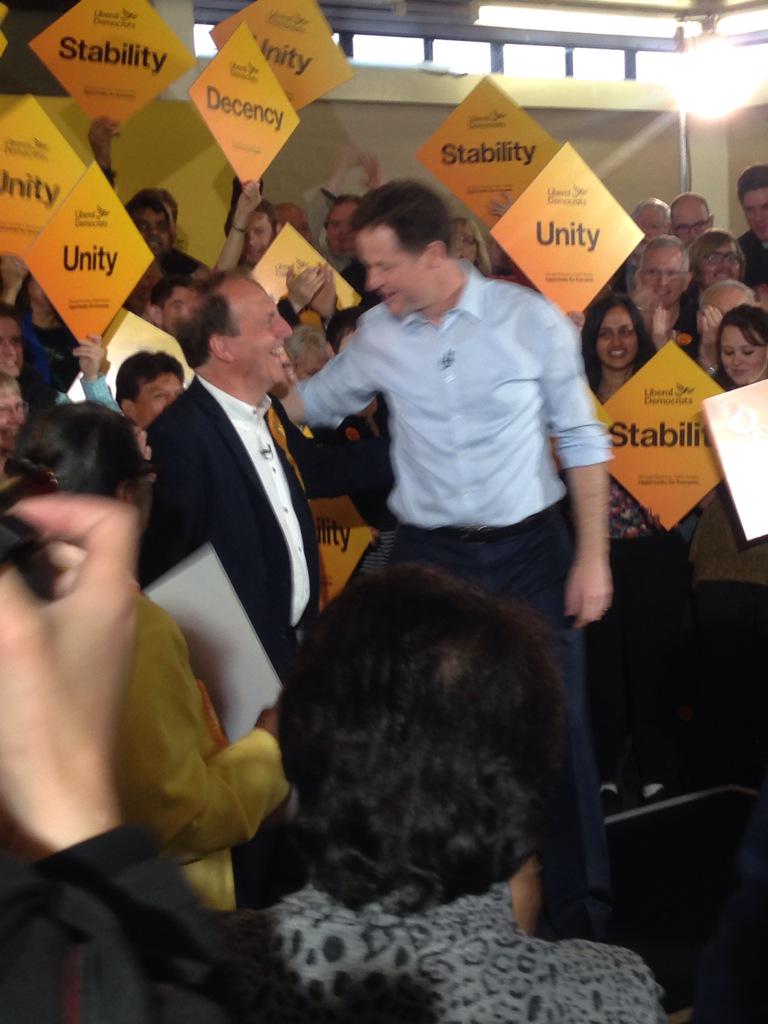 Nick Clegg has mocked Michael Gove over his "absurd" behaviour as education secretary as he condemned Tory plans for England's schools.
Read the full story ›
Advertisement
Scottish Liberal Democrat president Sir Malcolm Bruce has called on Nicola Sturgeon to make clear whether she still supports the reversal of welfare changes made since 2010.
"The SNP need to come clean," Sir Malcolm said. "Are they planning to reverse welfare changes since 2010?"
"This is what they have spent five years telling people. If so, where are they going to find the money that they have said would be £2.5 billion for Scotland alone?" he asked.
"If they are not, people will expect them to admit that they are not going back to 2010. SNP voters will believe they've been led up the garden path.
"Only Liberal Democrats have set out costed and credible plans to balance the books by 2018, building a stronger economy and a fairer society. The SNP are all over the place when it comes to balancing the books."
The Lib Dems have released a mash-up of Nick Clegg speaking to the tune of chart-topping hit Uptown Funk in a spoof election campaign video.
Read the full story ›
Conservative plans for young benefits claimants are "all stick and no carrot", a Liberal Democrat spokesman has said.
Speaking as David Cameron unveiled plans to have such claimants take on unpaid community work or be stripped of their benefits, the spokesman said
These placements are not designed to help someone into work, more to punish.

Young people should be given help and support into the workplace, help at job centres and the opportunity to get on in life, not just written off as feckless and lazy.

We must make sure young people leave school with the skills they need to succeed, which is why Liberal Democrats will protect education spending.
– Lib Dem spokesman
Former Lib Dem leader Lord Ashdown warned the party to "stop it now" after a "plot of deep malice" to remove Nick Clegg was revealed.
Lord Ashdown told the BBC's Andrew Marr Show, "Anything you do now which is not getting out on the street, campaigning in the context of the next General Election ... is distraction and a dangerous distraction."
He said the Lib Dems have to "get out and start campaigning for the next election" following disappointing results at the local and European elections.
Load more updates