One of the women who accused Lord Rennard of sexual harassment has told ITV News she is "very disappointed" by the Liberal Democrats' decision to drop disciplinary proceedings and lift his suspension.
Former Lib Dem activist Bridget Harris was among four women who made such allegations against the peer - and said she suspects the decision was motivated by next year's General Election.
The Liberal Democrats have "recognised their failings" and have overhauled their code of conduct in the wake of allegations against Lord Rennard, the party president has said.
The Liberal Democrats have worked hard in the last 18 months to fundamentally change the way our party treats these matters.

We asked Helena Morrissey to review our party's culture and practices and her report helped us to recognise our failings and set about correcting them.

We have changed our rules and codes of conduct at every level, from grassroots members to parliamentarians so that everyone involved in the party is aware of their rights and responsibilities.

We have changed how complaints are reported and addressed, and we have appointed a Pastoral Care Officer to help and advise those making a complaint.

No one should ever have to feel that their concerns are being dismissed or ignored and I am clear that the Liberal Democrats should become the 'gold standard' for how voluntary organisations treat their members and staff.
– Tim Fallon, party president
Advertisement
The Liberal Democrats have said they have dropped disciplinary proceedings against Lord Rennard, bringing the matter "to a close".
It follows a Regional Parties Committee review over whether statements made by Lord Rennard had brought the party into disrepute.
Lib Dem statement on Lord Rennard - matter is 'closed'. Temporary suspension from party over. http://t.co/8oWBZW2ON2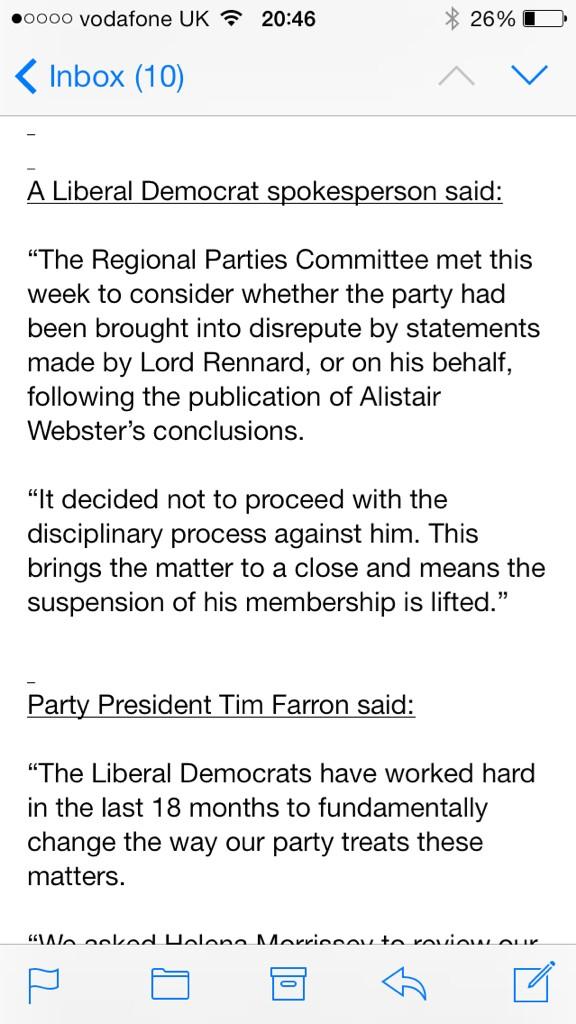 The suspension of Lord Rennard's membership of the Liberal Democrats has been lifted, after disciplinary proceedings against him were dropped.
The former Liberal Democrat leader Sir Menzies Campbell has said he believes "it would be in the interests of the Government" to recall Parliament over the crisis in Iraq.
"I think the Government would be well advised to recall Parliament and to give Parliament the opportunity of sharing with Parliament everything that the Government has done and at the moment at least is intending to do," he told BBC Radio 4's The World At One programme.
He added that if MPs were to be recalled "both Parliament and the country will be better informed."
Abolishing prison sentences for drug possession will free up resources to go after the "Mr Bigs", Justice Secretary Simon Hughes told Good Morning Britain.
Responding to criticism of the Lib Dem manifesto pledge, announced today by party leader Nick Clegg, Mr Hughes said: "the people who simply are picked up for having drugs which they are using themselves...and we don't believe that sending them to prison which costs the state a lot of money...is the answer and we would use the money we save...to concentrate on the 'Mr Bigs', the people who sell drugs, the people who promote the drugs, the people who import the drugs."
Advertisement
A mother whose heroin-addicted son committed suicide told Good Morning Britain a bit of her "wishes" he had gone to prison.
Elizabeth Burton-Phillips, who has written a book about her experience and set up charity DrugFAM, spoke out against Nick Clegg's Lib Dem manifesto pledge, announced today, to abolish prison sentences for drug possession.
Lib Dem leader Nick Clegg has explained why his party has pledged to call for drug users to avoid jail if caught in possession of illegal substances.
Lib Dem leader Nick Clegg is committing his party to abolishing prison sentences for the possession of drugs, including heroin and cocaine.
Read the full story ›
The Liberal Democrats will not support "austerity forever" and would lead a Government which balanced paying off debts with "investing in the future", according to a senior member of the party.
Chief Secretary to the Treasury Danny Alexander told Good Morning Britain the Lib Dems also had to show voters how the party "was distinct" from the Conservatives and Labour.
Load more updates