The Lib Dems will "significantly" reduce the national debt every from 2018/19 and only borrow to invest in projects which will boost growth, Nick Clegg will announce later today.
While the Lib Dems have committed to Conservative chancellor George Osborne's timetable for eliminating the structural deficit by 2017/18, Nick Clegg will insist his party would make the rich pay a greater share.
The economic plan for their 2015 manifesto is part of a strategy to distance themselves from the Tory party and Conservative spending plans which Clegg claims would mean "austerity for ever".
Mr Clegg will also stress the importance of investing in housing to "protect the country from another crisis" by reducing the risk of a property bubble.
In a speech which effectively starts an extended campaign by the Lib Dems ahead of next year's general election, Mr Clegg will accuse his coalition colleagues of planning to balance the books by hitting those "down on their luck" or "scraping by on the minimum wage".
Pro-union campaigners and party activists should make a positive case for a "stronger Scottish parliament which stays in the UK family", Scottish Liberal Democrat leader Willie Rennie said.
In a message to activists, he said: "With 100 days until the referendum, Liberal Democrats have a golden opportunity to loudly state our case for home rule for Scotland in a federal United Kingdom.
"We know that the majority of people in our communities, in our colleges and workplaces believe Scotland has the best of both worlds as part of the UK family.
"They agree with our liberal message that Scotland benefits from a strong Scottish parliament which shapes its own domestic agenda on matters like health and education whilst working across the UK family to boost jobs and growth.
"But we need to make sure that that majority of people hear our message over the summer months. I need you to get out and make our positive, sunshine case for a stronger Scotland which works together as part of the UK."
Advertisement
Nick Clegg saw Lord Rennard's apology to four women weeks ago, but it was not released as the former Lib Dem chief executive did not want to damage the party in the run-up to last week's elections, a friend of the peer has claimed.
Lord Carlile told BBC Radio 4's The World At One: "Lord Rennard was absolutely very concerned personally not to do any possible damage to the party in the run-up to last week's local and European elections.
"So although this apology was seen for example by the party leader [Mr Clegg] weeks ago now it was held back until the elections were over."
Asked if Mr Clegg told Lord Rennard to hold the apology back, Lord Carlile replied, "No, no, no, absolutely not. Chris Rennard went absolutely out of his way to ensure and try and make it absolutely clear that nothing further should happen in this case until after the elections."
The Lord Rennard situation is tricky for the Liberal Democrat leader - to a certain extent there are party processes going on which takes this out of his hands.
Lord Rennard is appealing against the decision to suspend him for not apologising, while the women are appealing against the independent report that found Lord Rennard hadn't actually breached party rules.
Nick Clegg says the party disciplinary process has to take its course, but it is a very difficult week for him.
There are senior figures who want Lord Rennard reinstated and others who think Nick Clegg should be standing down due to recent election results.
Three of the four women who accused former Lib Dem chief executive Lord Rennard of harassment have called for the peer to be "kicked out" of the party.
Bridget Harris, a Lib Dem activist, has welcomed Lord Rennard's apology, but said his position within the Liberal Democrats was untenable.
"The real question here is, 'Should the Lib Dems accept him back on the benches in the House of Lords?' And I don't think the answer to that is yes", Ms Harris told BBC News.
Another activist who made the claims, Susan Gaszczak, said, "We really have got to draw a line under this. The only way to do that is actually to say, 'Lord Rennard, it's time to go.'"
A third woman, former Welsh Assembly candidate Alison Goldsworthy, told Channel 4 News the apology was a start, but stressed she thought Lord Rennard should be expelled from the Lib Dems.
One of the four female Lib Dem activists who accused Lord Rennard of harassment has said she has mixed feelings after receiving a written apology from the peer.
Former Welsh assembly candidate Alison Goldsworthy told Channel 4 News:
I am relieved that some acceptance has now started to come forward from Chris Rennard that what he did was not okay but very frustrated that I have had to spend the last 15 months talking about things that are really very private and quite intimate to me to be able to achieve it.

If he had accepted and offered this apology up 15 months ago then things may be very different.
Ms Goldsworthy said "the fact that Chris Rennard has now accepted that his behaviour was untoward" meant Lib Dem leader Nick Clegg should expel him from the party.
Advertisement
The Liberal Democrats have confirmed appeals from both sides are ongoing following the investigation into the harassment claims against Lord Rennard.
A statement issued in response to reports of the peer's written apology said:
An appeal has been submitted by three of the original complainants against the outcome of Alistair Webster's investigation.

Separately, an appeal has been submitted by Lord Rennard against the disciplinary process for bringing the party into disrepute by his failure to apologise, and his conduct after the publication of Webster's conclusions.

Both appeals will be considered by the English Appeals Panel in accordance with the rules of the party. We cannot comment further on any aspect of that process while it is ongoing.
– Liberal Democrat spokesperson
Former Liberal Democrat chief executive Lord Rennard has issued a written apology to four party activists who accused him of harassing them.
The peer said "he may well have encroached upon personal space" and added he would like to "apologise sincerely for any such intrusion," which he said "would have been inadvertent".
Lord Rennard wrote that he was issuing the apology after receiving the report by Alistair Webster QC, who conducted an independent investigation into the allegations and the party's handling of them.
Mr Webster found no evidence to act against Lord Rennard but recommended he consider apologising.
A statement issued by his lawyer said: "Lord Rennard wishes to achieve closure of the contentious issues that have been in the public domain for the last 14 months by expressing his apologies to Susan Gaszczak, Alison Goldsworthy, Bridget Harris and Alison Smith."
Nick Clegg has sent out a defiant message that he will "fight back" as he is pictured in a "political storm" on the front page of Sheffield's The Star newspaper.
The Star tweeted a preview of the dramatic front page a day before it hits the news stands:
Read the exclusive interview with Nick Clegg on his 'tough week' and his election reaction only in tomorrow's Star http://t.co/1QbK0ZTAEz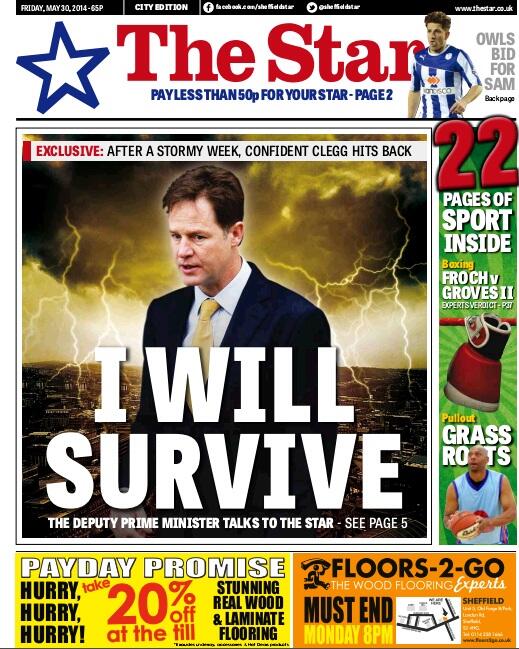 Mr Clegg has faced a failed attempt to oust him as Liberal Democrat leader in the aftermath of the party's dreadful showings in the recent local and European elections, amid doubts he can retain his own Sheffield Hallam seat at next year's election.
By Chris Ship, ITV News Deputy Political Editor
Within the Liberal Democrats, Nick Clegg personally is pretty safe. His chief potential rivals - Vince Cable, Tim Farron and perhaps Danny Alexander - have all had to row in behind Mr Clegg and say how much they support him.
Where does it leave the Liberal Democrats in the country after the terrible showing in the local and European elections last week?
I don't think they are in a very good place at all.
Load more updates