A promise to introduce waiting time targets for people with mental health problems will help change people's lives, a charity has said.
Lara Carmona, from Rethink Mental Illness, told ITV News Mr Clegg's pledge on waiting times was a "watershed moment", but said more funding was needed to tackle mental illness effectively.
Ms Carmona said some people currently face an "unacceptable" wait of more than a year for treatment and support, adding that waiting time targets will make a "significant" change to improve services.
The case of a Spanish nurse, who is believed to be the first person to contract Ebola outside of Africa, is a "very concerning development", Home Office Minister Norman Baker said.
We need to consider whether existing controls are adequate.
– Home Office minister Norman Baker
Labour's Keith Vaz, chairman of the Home Affairs Select Committee, also told the Independent: "As far as I'm concerned any measures - including additional screening - which are felt necessary to reassure the public should be taken."
Advertisement
Waiting times for those with mental illness will be introduced with some conditions being put on the same footing as cancer, Nick Clegg is set to announce.
Most people with depression who need talking therapies will begin treatment within six weeks while accident and emergency units will be made to give suicidal patients the same priority as those with suspected heart attacks.
Young people hit by psychosis for the first time should be seen within two weeks - the same target as cancer patients - when the changes come into force next April.
Mr Clegg will tell activists at the Liberal Democrat party conference in Glasgow the £120 million plan is the first step in reforming "Cinderella" mental health services.
Liberal Democrats would extend reforms to other areas, such as bipolar and eating disorders, in a future government using half of the extra £1 billion that would be raised from tax measures hitting the wealthiest that they would plough into the NHS.
Deputy Prime Minister Nick Clegg has defended his deficit reduction plans, telling ITV News taxes such as the mansion tax will be set aside to pay off some of the country's current debt.
The Liberal Democrat leader also told Political Editor Tom Bradby he was "bewildered" by recent welfare plans announced by George Osborne, which he said "hand-pick the poor as being the only section in society" to make further sacrifices in the next Parliament.
Nick Clegg has admitted he "won't go on forever" as the leader of the Liberal Democrat party, after a senior colleague said voters had "fallen out of love with" him.
Speaking after the comments by senior colleague Ed Davey, Mr Clegg said: "I think there are other things to do in life, and I'm thankfully not one of those people who's so obsessed with politics that I want to be in politics forever. But I would like to see the Liberal Democrats in government after next May."
A recent ICM poll for the Guardian found only 17% of people thought the Lib Dem leader was performing well, compared to 59% who thought he was not.
Clegg has previously indicated he would stay on as party leader until 2020.
Vince Cable has called for a fresh wave of housing to be built on green belt land to solve Britain's housing shortage - noting that new developments are being focused on the south-east because "people are not flocking to Burnley".
The Business Secretary made the comments during a fringe event at the Liberal Democrats' annual conference.
During a visit to Burnley earlier this year, Cable had described the town as "booming", adding: "The town is now enjoying a real renaissance."
According to the Lancashire Telegraph, the senior Lib Dem told an audience at the opening of Burnley Bridge Business Park: "If every other part of Britain operated like Burnley we wouldn't be talking about a recession."
Last year Conservative peer Lord Howell - the father-in-law of George Osborne - prompted anger by calling for fracking in the "desolate north-east", later apologising and saying he actually meant the north-west.
Advertisement
The party's leader told ITV News: "I've got to be open with you, I really don't think it makes sense to say you're never going to have a single metre of extra concrete on any runway anywhere."
Clegg said he understood that his party was "rightly punctilious about its internal democracy", but said the proposals put forward by leadership would "need to be discussed again".
How can I put it? I have seen the perils of the past in saying something that you know in your heart of hearts is not necessarily deliverable.
– Nick Clegg, Liberal Democrat Leader
Retired boxer Frank Bruno has spoken frankly about his mental health problems in a video clip shown at the Liberal Democrat conference.
Mr Bruno's words introduced a speech from Care Minister Norman Lamb, who railed against the "raw deal" mental health patients receive.
Mr Lamb called the treatment of the mentally ill "morally wrong and economically stupid".
Introducing the Lib Dem minister, former world heavyweight champion Bruno said: "I'm talking from experience of being sectioned about three times, two times in the last 18 months."
"Yesterday I used to do boxing and I used to be a celebrity, but I'm talking to you as a human being from experience," he said.
He praised Mr Lamb as "very concerned" and "very, very passionate" and said he hoped the Lib Dems would do "very, very well".
Liberal Democrat activists were apparently unmoved by the generosity of Gatwick Airport in sponsoring their conference Wi-Fi network.
Despite the airport's largesse, Lib Dems voted overwhelmingly against backing any expansion of the West Sussex hub.
The Times' Deputy Political Editor, Sam Coates, has tweeted this snap of the conference programme.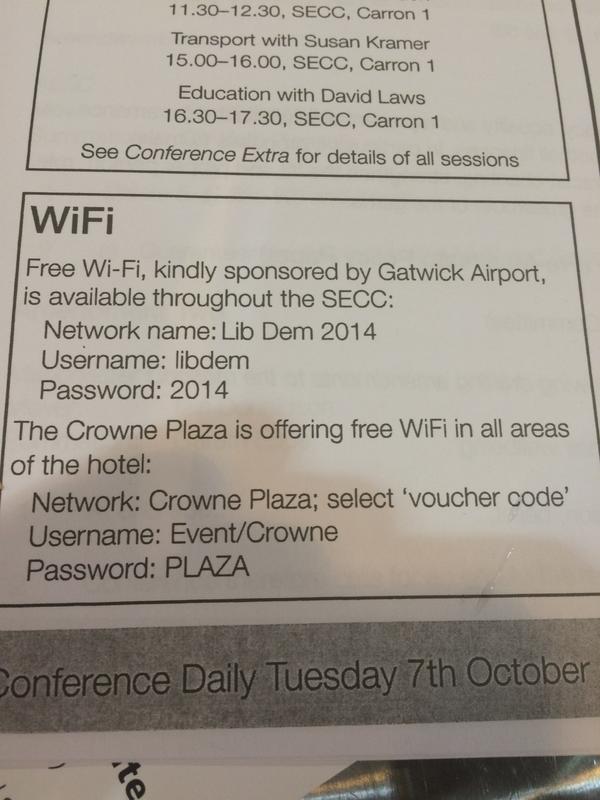 Liberal Democrat members have voted against a plan to endorse extra runways at Gatwick and Stansted, despite the idea having the backing of senior party figures.
Energy Secretary Ed Davey had earlier said he would vote for the amendment, proposed by Solihull MP Lorely Burt, to the Liberal Democrat's pre-manifesto policy paper.
But the proposal was soundly defeated, with so many activists opposed that a vote count was not deemed necessary.
Load more updates