Retired boxer Frank Bruno has spoken frankly about his mental health problems in a video clip shown at the Liberal Democrat conference.
Mr Bruno's words introduced a speech from Care Minister Norman Lamb, who railed against the "raw deal" mental health patients receive.
Mr Lamb called the treatment of the mentally ill "morally wrong and economically stupid".
Introducing the Lib Dem minister, former world heavyweight champion Bruno said: "I'm talking from experience of being sectioned about three times, two times in the last 18 months."
"Yesterday I used to do boxing and I used to be a celebrity, but I'm talking to you as a human being from experience," he said.
He praised Mr Lamb as "very concerned" and "very, very passionate" and said he hoped the Lib Dems would do "very, very well".
Liberal Democrat activists were apparently unmoved by the generosity of Gatwick Airport in sponsoring their conference Wi-Fi network.
Despite the airport's largesse, Lib Dems voted overwhelmingly against backing any expansion of the West Sussex hub.
The Times' Deputy Political Editor, Sam Coates, has tweeted this snap of the conference programme.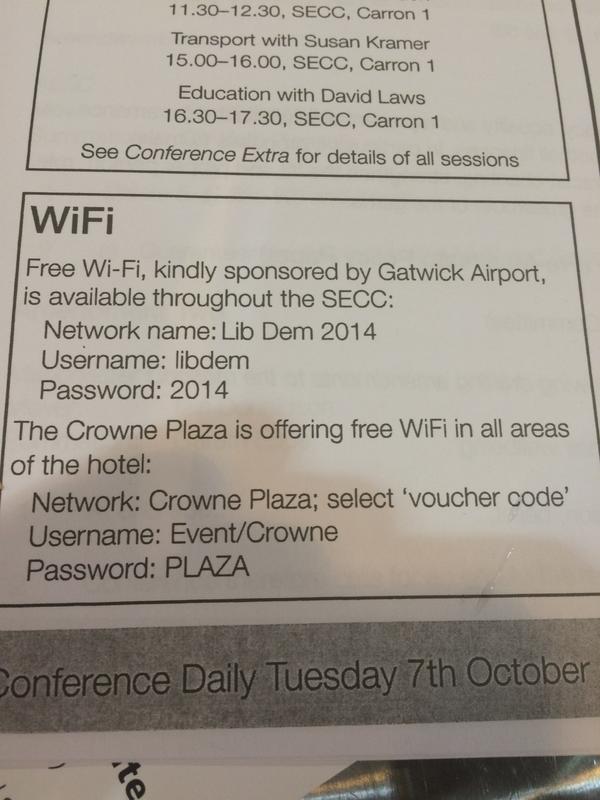 Advertisement
Liberal Democrat members have voted against a plan to endorse extra runways at Gatwick and Stansted, despite the idea having the backing of senior party figures.
Energy Secretary Ed Davey had earlier said he would vote for the amendment, proposed by Solihull MP Lorely Burt, to the Liberal Democrat's pre-manifesto policy paper.
But the proposal was soundly defeated, with so many activists opposed that a vote count was not deemed necessary.
You might have thought that the Lib Dems don't get too cross about anything - but the personal tax threshold has really got them going.
Read the full story ›
Schools minister David Laws has launched a sharply-worded attack on George Osborne and David Cameron, accusing the pair of coming up with "extraordinary" and "eccentric" tax and spending proposals.
"The most eccentric and extraordinary speeches of the conference season were delivered by two respectably dressed middle ages men at the Conservative Party Conference in Birmingham - Mr Osborne and Mr Cameron," he told Liberal Democrat activists.
Mr Laws zeroed in on the Conservatives' commitment to reduce the deficit without raising new taxes.
He said it was a move "calculated to widen inequality" and worsen services the public depend on.
The Yeovil MP also made clear that his party would have "no part in such a strategy now or after the next election".
With the support of the party leadership, the Lib Dems may be set to drop their opposition to a new runway at Gatwick airport.
Read the full story ›
Advertisement
A new poll has put Labour two points behind the Conservatives, the party's lowest rating in four years.
The YouGov survey for the Sun put the Tories on 35%, with Labour on 33%, Ukip on 13% and the Liberal Democrats languishing on 8%.
It follows a series of criticisms of Ed Miliband's leadership from senior Labour figures, including former Deputy Prime Minister John Prescott.
Tony Blair's former chief fundraiser, Lord Levy, also hit out at proposals for a 'Mansion Tax', calling the idea "totally inappropriate".
The Energy Secretary is backing a proposed change in Liberal Democrat policy to end the party's opposition to airport expansion at Gatwick or Stansted.
Ed Davey said "technological change" meant the party's environmental criteria could still be met even with extra runways at London's second and third busiest airports.
"What we're saying is the environmental criteria we have always had may well be able to allow expansion elsewhere given technological change," he told BBC Radio 4's Today programme.
"It's not a U-turn on environmental criteria - that's the key point." he stressed.
A senior Liberal Democrat admitted voters "have fallen out of love with Nick Clegg" because of the hard choices the party had to make to get the economy under control.
Energy secretary Ed Davey told Good Morning Britain he did not expect to see a repeat of the "Cleggmania" which had swept the 2010 election, but hoped voters would respect Nick Clegg for what he had achieved in government.
Nick Clegg has been "a really effective leader" and managed to deliver numerous Liberal Democrat policies while in government, hence winning "the support of the part", according to Ed Davey.
The energy secretary told Good Morning Britain Nick Clegg had "huge support" after he took millions of the low paid out of tax altogether.
Load more updates