Nick Clegg said today that the Liberal Democrats could go into a coalition with either a Labour or Conservative government and keep it "anchored in the centre ground".
The Liberal Democrat leader said that it was clear that either David Cameron or Ed Miliband will enter the door of Number 10 and voters should decide who will be there alongside them.
Do you want Alex Salmond, Nigel Farage or do you want me and the Liberal Democrats anchored in the centre ground?
– Nick Clegg
Conservative leader David Cameron has ruled out any changes to child benefit, after accusations the Tories are secretly planning to make cuts after the election.
Speaking to ITV News deputy political editor Chris Ship, Mr Cameron said there was a two-year freeze on the payment, which he labelled an "absolutely crucial" benefit.
And pushed on the subject, he confirmed there would be no change to the current arrangement at all - neither in terms of the higher rate nor in terms of means testing.
Advertisement
Nick Clegg's visit to Solihull College hit a bum note when a young man lost his trousers as he approached the Deputy Prime Minister for a selfie.
It was unclear whether the incident was the result of a wardrobe malfunction or a deliberate attempt to embarrass the Liberal Democrat leader.
Mr Clegg patted the teenage boy on the shoulder and continued to board his campaign bus, which was preparing to leave following the visit.
Nick Clegg was back out on the election trail again today - but he won't be counting on the backing of this 'voter'.
The Deputy Prime Minister was seen doing observations on a resuscitation dummy this afternoon.
ITV Political Correspondent Emily Morgan tweeted the snap with the caption: "Nick Clegg takes the pulse of a potential voter. Oh no. He's plastic."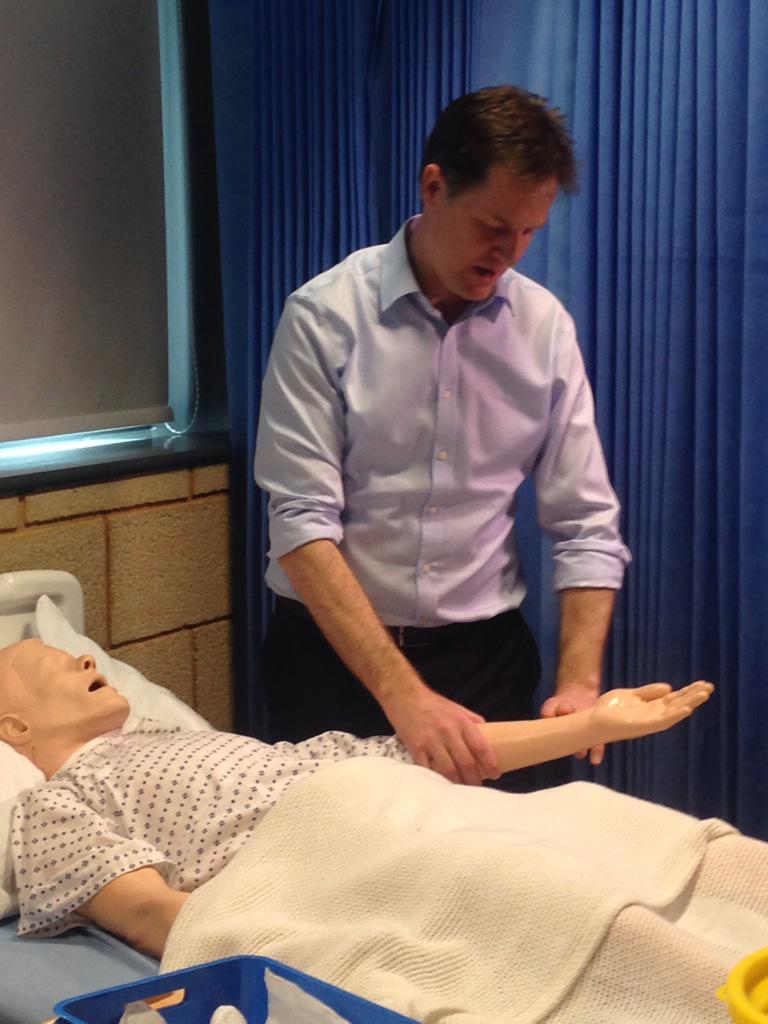 The Tories or Labour will have to invest an extra £8 billion a year on the NHS by 2020 if they want the support of the Liberal Democrats in a coalition, Nick Clegg will say as he sets out his latest "red line" later.
The Lib Dems would also insist on introducing maximum waiting times for mental health services as part of the price for co-operation after May 7.
The Tories have committed to meet the £8 billion-a-year target set by NHS England boss Simon Stevens, but Labour's funding plans fall short by £4 billion.
Clegg will set out his latest deal breaker in a speech to party supporters in Manchester.
He will say: "This is a red line for us. A pre-condition for government.
"We won't join a government that refuses to commit to giving the NHS the money it needs or set out how it will pay for it."
Nick Clegg said he has no plans for a new career after a member of the Question Time audience asked whether he had "plans for a new job next week when you become unemployed".
"Charming," he shot back. "No I don't."
The Lib Dem leader has insisted opinion polls that show him in danger of losing his Sheffield Hallam seat do not reflect the reality on the ground.
Advertisement
The Liberal Democrat leader has said he "very much enjoyed" tonight's leaders' Question Time.
Very much enjoyed taking part in that special @bbcquestiontime. Great format, great questions, great audience, great show. #bbcqt
Nick Clegg has said the Liberal Democrats will not enter a coalition with any party that wants to implement cuts to education.
The Lib Dem leader said both the Conservative and Labour policies on education "amount to a cut".
"I cannot be more clear with you. The Liberal Democrats will not go into any coalition, any government, we won't sign any coalition agreement if either of those parties insist on those cuts".
Nick Clegg has reiterated he "got it wrong" on tuition fees after the last election.
Asked how his party could be trusted after breaking their vow on tuition fees, Clegg retorted with a smile, "Nice, easy question to start".
"When you make a mistake in politics, just as in life, in politics just as in life, you can't do exactly what you want," the Lib Dem leader said.
"I was absolutely between a rock and a hard place five years ago on that particular policy," he added.
Danny Alexander has accused the Conservatives of being bent on "slashing support for families" as he went public with Tory proposals for an extra £8 billion of welfare cuts that were vetoed by the Liberal Democrats.
The Tories have dismissed the claim as "desperate stuff" from the Lib Dems, and insisted the proposals were "definitely not our policy".
ITV News Political Correspondent Emily Morgan reports from the Lib Dem campaign trail:
Load more updates