Lily Allen said police made her feel like a "nuisance rather than a victim" over her seven-year stalking ordeal.
Read the full story ›
Advertisement
Celebrities in Scotland have expressed their sadness after fire ripped through the Glasgow School of Art.
Singer Lily Allen who is currently on tour in Scotland, Scottish actor Colin McCredie, who played DC Stuart Fraser in detective drama Taggart and Edinburgh-based crime writer Ian Rankin all tweeted about the fire:
Oh no! This Glasgow School Of Art fire is devastating.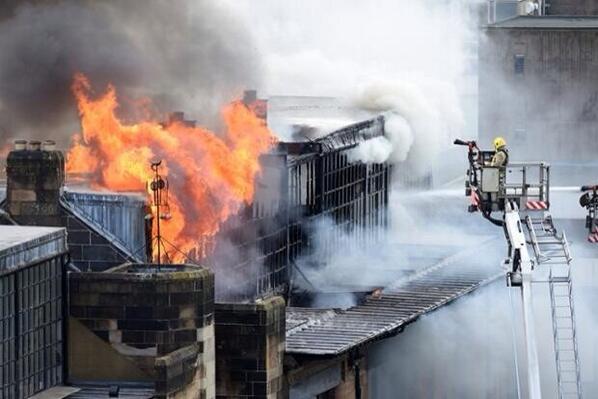 Just heard about devastating fire at Glasgow School of Art - one of Scotland's most iconic buildings. Sad sad news.
Singer Lily Allen is recovering in hospital from a vomiting bug after falling ill while she waited to appear on a TV chat show.
Read the full story ›
Lily Allen showed some refreshing honesty after she agreed with a fan who said her new songs were "docile pop rubbish".
Allen has released three singles so far since comeback late last year. Hard Out Here, Air Balloon and L8 CMMR all hit the top ten, while her new album, titled Sheezus, is released in May.
Despite the new material being a chart success, one man took to Twitter to voice his complaints. Surprisingly, Allen agreed - blaming radio stations and her record label.
@lilyallen's new music is actually docile pop rubbish. So disappointing. She properly just wrote some rubbish to cash some cheques.
@rfwilding what you've heard so far yes. All i can do is do my best, the labels and the radio stations won't play the better stuff.
@rfwilding i had a myspace player before though, so you could hear it all.
Former Beatle wins "songwriter's songwriter" at the NME Awards, but said "the great thing" about music is "you don't know how you do it".
Read the full story ›
Advertisement
Lily Allen has responded to criticism from TV personality Katie Hopkins about the singer gaining weight in motherhood.
In an interview with Heat magazine, former Apprentice contestant Hopkins said when the Smile star became a mother, it "largely involved gaining two stone and looking pretty hideous."
Allen has talked openly about suffering a miscarriage in 2008 and losing a child to stillbirth in 2010, before giving birth to her two daughters. She hit out at Hopkins' comments on Twitter:
Yes, after tragically loosing a child so late in to mypregnancy I may have gained a few pounds,I am one of many that find comfort in food.
I wasn't exercising because I didn't want to take any risks, and funnily enough, the survival of my children felt more important than being
Pop star Lily Allen has attacked today's showbiz scene, saying it was full of fake and "sterile f****** Botoxed idiots."
The singer, 28, who retired from music four years ago, also said she had felt bullied by people who she had counted as friends when she became pregnant.
She told Esquire magazine: "I thought the people in that showbiz circle were my friends. But almost the second I got pregnant and I wasn't able to go out and party, they were suddenly quite nasty.
"There's a way that those people survive, and it's not by being nice. The way they make themselves feel powerful is to ostracise other people.
Allen, who returned to the top of the UK singles chart with her cover version of Keane's Somewhere Only We Know, said of her new outlook on life: "I feel very lucky. I couldn't ask for much more really. And actually I'm not really asking for much more."
Load more updates