The winner of the Ballon d'Or will be announce of Monday in Paris, with many expecting Cristiano Ronaldo to pick up the prize.
Read the full story ›
Advertisement
Lionel Messi has been named in Argentina's squad for their upcoming World Cup qualifiers after reversing his decision to retire from international football.
The Barcelona star announced on Friday he loves Argentina "too much" to walk away from the national team, having announced his Albiceleste career was over following their penalty shoot-out loss to Chile in the Copa America final in June.
Following talks with new Argentina coach Edgardo Bauza, Messi was included in the squad to face Uruguay and Venezuela next month.
Messi, Argentina's captain and all-time record goalscorer with 55 goals, said: "I see there are many problems in Argentinian football and I don't intend to create another one.
"I don't want to cause any damage, I've always tried to do just the opposite, to help all that I can.
"We need to fix many things in Argentinian football, but I prefer to do this from inside and not criticise from outside."
Barcelona have launched a campaign urging fans to "express their sympathy" in support of forward Lionel Messi after he appealed against a 21-month prison sentence for tax fraud imposed by a Catalan court.
Messi and his father, Jorge, were sentenced on Wednesday after a Barcelona court found them both guilty of three counts of defrauding the tax department to the tune of €4.1million.
Under Spanish law, sentences under two years are usually suspended but, nonetheless, Barca have called on supporters to voice their "unconditional support on social networks".
A statement on www.fcbarcelona.com read: "FC Barcelona has set up a campaign in support of Leo Messi following the sentence issued this week against the Argentinian and his father.
"Using the hashtag #WeAreAllLeoMessi while posting a photo or message with both hands open, the campaign is encouraging all Barca fans to express their sympathy for the greatest footballer in the world by voicing their unconditional support on social networks.
"By making it clear that #WeAreAllMessi, we want Leo to know that he is not alone. All members, supporters clubs, fans, athletes, media and everyone else are invited to participate."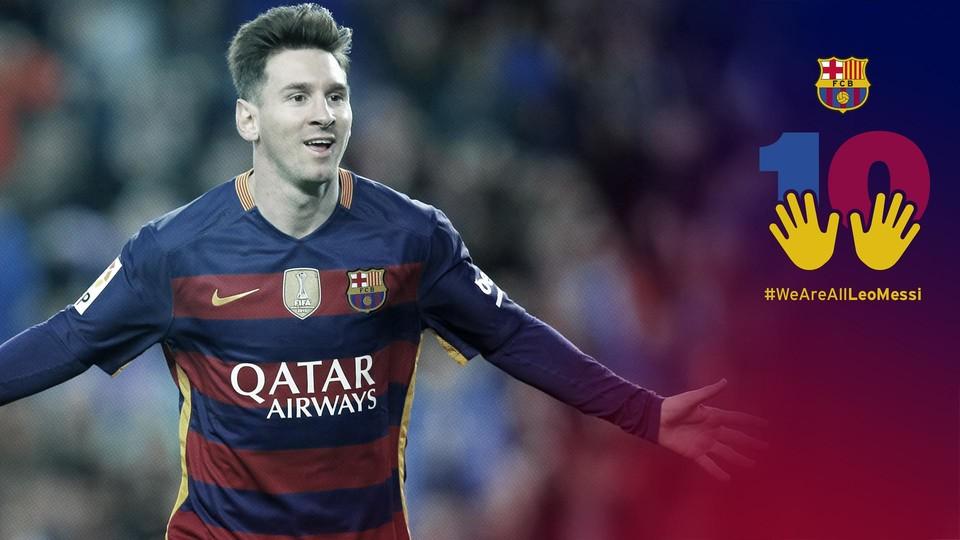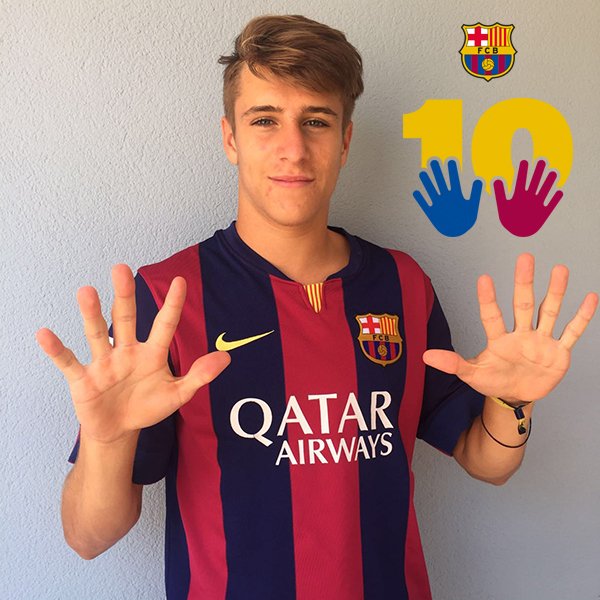 The football superstar has also been fined two million euros for three tax crimes but Spanish law means he won't go to jail.
Read the full story ›
Following the football star's surprise decision to quit the national side, fans have gathered in Buenos Aires to beg him to think again.
Read the full story ›
Advertisement
Argentina's Lionel Messi has said he is retiring from international football after losing the Copa America Final.
Chile beat Argentina 4-2 on penalties after the match ended 0-0.
"It's tough, it's not the time for analysis," the 29-year-old Barcelona forward was quoted as saying on the Argentine national team's Twitter account.
"In the dressing room I thought that the national team was over, it's not for me."
Lionel Messi ignored shouts from the press and onlookers as he and his father arrived at court in Barcelona at their trial into tax fraud.
Read the full story ›
Murtaza Ahmadi's father said his family have moved to Pakistan after being bombarded with threatening phone call.
Read the full story ›
Lionel Messi created three goals and scored another as Barcelona warmed up for their Champions League showdown with Arsenal by thrashing Getafe 6-0 at the Nou Camp to equal a club record 12 consecutive La Liga wins.
The Argentinian missed a fourth penalty of the season after Juan Rodriguez's own goal had given the Catalans the lead after just eight minutes, but soon made amends by laying on goals for Munir El Haddadi and Neymar before he got on the scoresheet himself with a brilliant strike from 20 yards.
Messi got his third assist by teeing up Neymar's second after the break and then Arda Turan scored for the second time in three matches with an impressive bicycle kick.
Load more updates