Liverpool striker Mario Balotelli has been fined £25,000, suspended for a match and ordered to attend an "education programme" by the FA as punishment for an Instagram post that provoked claims of racism and anti-semitism.
Balotelli admitted breaching FA rules after apologising for re-posting an image from the computer game 'Super Mario' on his Instagram page which included the comment "jumps like a black man and grabs coins like a Jew".
The Football Association confirmed the punishment, announcing:
Following an Independent Regulatory Commission hearing today, Mario Balotelli has been fined £25,000, suspended for one-match with immediate effect, subject to any appeal, and warned as to his future conduct after he admitted breaching FA Rules in relation to social media.

The charge was that an image the Liverpool player posted on social media was abusive and/or insulting and/or improper, contrary to FA Rule E3(1).

Furthermore, the posting was considered to be an "Aggravated Breach" as defined in FA Rule E3(2) in that it included a reference to ethnic origin and/or colour and/or race and/or nationality and/or religion or belief.

Mr Balotelli has also been ordered to attend an education programme.
– Football Association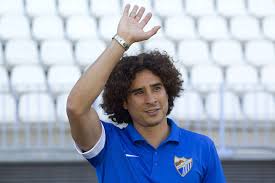 Liverpool have agreed to sign Mexican international goalkeeper Guillermo Ochoa for £3m in January, according to reports.
The Malaga stopper put in a string of impressive displays at the 2014 World Cup, particularly against hosts Brazil when he managed to keep all of their attacking players at bay.
Liverpool's number one Simon Mignolet was dropped for Sunday's match against Man United after his performances received widespread criticism leading up to the fixture.
Advertisement
Talks between Liverpool and Raheem Sterling have stalled with the youngster deciding the club's £70,000 a week offer is unacceptable
Read the full story ›
Liverpool under-19 defender Sam Hart has been rushed to hospital after suffering a head injury in Tuesday's UEFA Youth League group stage victory over Basel.
Medics provided the 18 year-old defender with oxygen and treated him on the pitch for 13 minutes after a nasty clash of heads in the penalty box during Liverpool's 3-0 win.
The Bolton-born teenager joined the Reds from rivals Man United during the 2012-13 season.
UEFA have confirmed they will continue investigating Liverpool for potential breaches of Financial Fair Play rules, while Hull City are one of six clubs implemented in a fresh probe.
A statement on UEFA's website confirmed:
"The UEFA Club Financial Control Body has decided to continue its investigations into seven clubs (AS Monaco FC, AS Roma, Be?ikta? JK, FC Internazionale Milano, FC Krasnodar, Liverpool FC and Sporting Clube de Portugal) that had disclosed a break-even deficit on the basis of their financial reporting periods ending in 2012 and 2013.
"In addition, the CFCB has requested another six clubs to provide additional information on their break-even position. These are AC Sparta Praha, Hull City AFC, Olympique Lyonnais, Panathinaikos FC, Ruch Chorzów and VfL Wolfsburg."
Mario Balotelli has been charged by the Football Assocation for an Instagram post which prompted claims of racism and anti-semitism.
A statement on the FA website has accused the Liverpool striker of breaching "FA Rule E3[1] in that his posting was abusive and/or insulting and/or improper."
Balotelli reposted an edited image of the classic computer game character Super Mario with the message: "jumps like a black man and grabs coins like a Jew."
The post was swiftly deleted with the 24 year-old claiming he intended it to be "anti-racist with humour."
He has until 6pm on December 15th 2014 to respond to the charge.
Advertisement
Jewish representative group the Board of Deputies of British Jews has welcomed the FA's involvement in a social media post from Mario Balotelli which has prompted claims of racism and anti-semitism.
"The Board of Deputies of British Jews is concerned by the racist meme shared by footballer Mario Balotelli on his Instagram account and welcomes the FA's probe into the matter," said a statement.
"Footballers in particular have big followings of young people and should act responsibly when using social media."
The board's president, Vivian Wineman, added: "Balotelli's sharing of images which use unacceptable language and appeal to classic antisemitic tropes is troubling.
"We were pleased to see his immediate retraction and apology but such language has no place in public discourse. We welcome the decision by the FA to investigate this matter."
Liverpool fans have been speaking to ITV News after the FA confirmed they are looking into a post from Mario Balotelli on Instagram which prompted claims of racism and anti-semitism.
The striker has since deleted his comment and apologised, claiming it was supposed to be "anti-racist with humour."
We round up some of his best and worst Mario Balotelli moments following another headline-hitting day for the Liverpool striker
Read the full story ›
Liverpool legend and former goalkeeper Bruce Grobbelaar has delivered a scathing verdict on Simon Mignolet's performances this season, claiming the Reds stopper is "worse than Dracula."
"He doesn't command his area," Grobbelaar, who won six league titles and the European Cup with Liverpool, told BBC Sport.
"I've likened Mignolet to worse than Dracula," he continued. "At least Dracula comes out of his coffin now and then. He seems to stay on his line and that's it. That whole area, not just the six-yard area, is the goalkeeper's."
Load more updates