The University of Liverpool has apologised to the Hillsborough families after deciding to postpone a ceremony to award Metropolitan Police Commissioner Sir Bernard Hogan-Howe an honorary degree.
Hogan-Howe was referred to the Independent Police Complaints Commission in December over his role at the Hillsborough disaster in 1989 where 96 people died.
The commissioner was due to receive the award in recognition of his time as Chief Constable to Merseyside at a ceremony in December.
Campaigners said they were "appalled" by the university's "insensitivity".
"We are deeply sorry if we have inadvertently caused any distress to the Hillsborough families. All of us feel great sensitivity to the families at this difficult time," deputy vice-chancellor Patrick Hackett said.
Liverpool manager Brendan Rodgers has leapt to the defence of Raheem Sterling, but insists there is no club versus country row between him and England manager Roy Hodgson.
The Liverpool and England winger has been embroiled in the middle of a club v country row after it was reported that he told Hodgson he was 'tired' before the game against Estonia last week - leading to the England boss dropping him for the match.
Rodgers has now denied that Sterling ever said that: "What has been disappointing in the whole affair is it has been grossly unfair how the kid has been put on the back pages for something he clearly did not say."
The Liverpool boss also insists that the club is always happy to work with England and there is no 'barrier' between the two.
"We are club and country here, not club v country. Liverpool are no barrier to England."
Rodgers also said messages have been exchanged between himself and Hodgson after the incident but the two have yet to meet.
Rodgers: "It's been grossly unfair how Raheem has been criticised for something he did not say. He's back here in a secure environment."
Rodgers on Hodgson: "We've exchanged messages and from today on we want to move on and put this to bed."
Advertisement
Former Liverpool and England striker Michael Owen insists the concept of 'burnout' is a myth and believes Raheem Sterling will think twice about complaining of tiredness after this week's furore.
Teenage forward Sterling has come under fire this week for telling Roy Hodgson he felt tired ahead of England's Euro 2016 qualifying win over Estonia, with the national boss subsequently dropping him from the starting line-up in Tallinn last Sunday.
"We're surmising how he was feeling but I never felt like telling the manager I was tired because I never felt particularly that I needed a rest," said Owen, who was speaking at the National Football Museum in Manchester where he was being inducted into the English Hall of Fame.
"I know people will say, 'Well, we don't want anyone having burnout'. But I'll ask you now - can you name one player who has ever been burned out? I don't know of anyone."
"I can only speak from experience of me being in that situation and we always used to have a bit of a joke at Liverpool because the manager Gerard Houllier would always come around and ask everyone if they're fine, If they're tired.
"You'd always be saying, 'No, no, no, I'm totally fine' because you didn't want to get rested."
Liverpool manager Brendan Rodgers has denied that the club put pressure on England boss Roy Hodgson to rest Raheem Sterling
Read the full story ›
Betty Musker said she would like 'a nice card' for her 104th birthday - she is now expected to receive more than 4,000.
Read the full story ›
Liverpool edged an epic penalty shootout to beat Middlesbrough and progress to the fourth round of the Capital One Cup.
Read the full story ›
Advertisement
Liverpool's 17-year-old prodigy Jordan Rossiter scored on his debut for the first team in a League Cup match against Middlesbrough.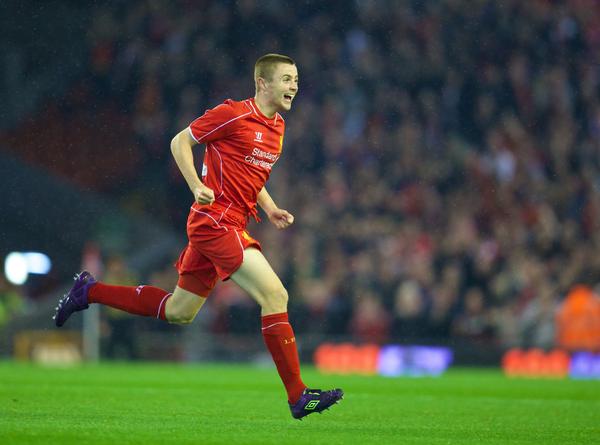 Liverpool legend Robbie Fowler once compared the young midfielder, who was born in 1997, to club captain Steven Gerrard.
A young lad just about to come on for a few mins for Liverpool in nextgen... Jordan rossiter, big shout but potentially a young stevie g..
Anti-discrimination campaigners have offered their support to Mario Balotelli after he received a tide of racist abuse on Twitter
Read the full story ›
A toddler is in a serious condition in hospital after falling from a balcony at a hotel.
The two-year-old boy fell from the mezzanine floor to the lobby of the Hilton Hotel in Liverpool's city centre on Saturday evening.
The child sustained serious head injuries in the incident, Merseyside Police said.
Hilton Liverpool said it was liaising "closely with the child's parents, police and local hospital", adding that the safety of guests was of "paramount importance".
Everton striker Steven Naismith is to donate tickets to the club's matches to unemployed people across Liverpool throughout this season.
The 27-year-old Scotsman, who has already been involved in a number of charitable causes, said he hoped the "small gesture" would "bring some joy to many people".
I come from Ayrshire in the West of Scotland and spent a lot of my life in Glasgow - a city that, at times, has suffered from high unemployment.

Liverpool has a similar history and I am aware that, through no fault of their own, there are many unemployed in Liverpool trying hard to find a job and may not be able to afford a ticket.
– Steven Naismith
The tickets will be made available through JobCentres around the city each week at Naismith's request, selecting people "who are unemployed through no fault of their own, are trying hard to find employment and who would enjoy watching a Premier League football match."
Load more updates