Everton striker Steven Naismith is to donate tickets to the club's matches to unemployed people across Liverpool throughout this season.
The 27-year-old Scotsman, who has already been involved in a number of charitable causes, said he hoped the "small gesture" would "bring some joy to many people".
I come from Ayrshire in the West of Scotland and spent a lot of my life in Glasgow - a city that, at times, has suffered from high unemployment.

Liverpool has a similar history and I am aware that, through no fault of their own, there are many unemployed in Liverpool trying hard to find a job and may not be able to afford a ticket.
– Steven Naismith
The tickets will be made available through JobCentres around the city each week at Naismith's request, selecting people "who are unemployed through no fault of their own, are trying hard to find employment and who would enjoy watching a Premier League football match."
Former Liverpool striker John Aldridge said he could "see the logic" in the club letting Luis Suarez leave after he was hit with a four-month ban for biting a player at the World Cup.
Some Liverpool supporters were not overly distressed at the move either - one fan told ITV News he "didn't want him" at the club anyway, while another said he was "not a good role model".
Advertisement
Social media sites have seen a flurry of visual gags following the news of star striker Luis Suarez's move to Barcelona.
Read the full story ›
Luis Suarez will take on the number 9 shirt at Barcelona, the Spanish club have revealed in a video post on their official website.
Last season the squad number was worn by Chilean forward Alexis Sanchez, who has now sealed a big money move to Premier League club Arsenal.
Other big names to have taken on the number 9 shirt in recent years include Brazilian legend Ronaldo, Dutch hitman Patrick Kluivert and Swedish star Zlatan Ibrahimovic.
Liverpool captain Steven Gerrard has issued a heartfelt message praising Luis Suarez as an "amazing talent" and a "legend" at the club.
The England international wrote the message on his Instagram account following the news of Suarez's move to Spanish side Barcelona.
Liverpool manager Brendan Rodgers has said the club only accepted Luis Suarez's move to Barcelona "with great reluctance".
In a statement on the Liverpool website, Rodgers said: "The club have done all they can over a sustained period of time to try to keep Luis at Liverpool."
"It is with great reluctance and following lengthy discussions we have eventually agreed to his wishes to move to Spain for new experiences and challenges. We wish him and his young family well; we will always consider them to be friends."
Rodgers described Suarez as a "special talent", but said despite his departure the club would "improve the team further and...be stronger for this coming season".
Advertisement
Luis Suarez said the decision to leave Liverpool for Barcelona was made "with a heavy heart" and wished the team and manager Brendan Rodgers "well for the future".
In a statement posted on Liverpool's website, the Uruguayan striker said: "It is with a heavy heart that I leave Liverpool for a new life and new challenges in Spain. Both me and my family have fallen in love with this club and with the city.
"But most of all I have fallen in love with the incredible fans. You have always supported me and we, as a family, will never forget it, we will always be Liverpool supporters.
"I hope you can all understand why I have made this decision. This club did all they could to get me to stay, but playing and living in Spain, where my wife's family live, is a lifelong dream and ambition. I believe now the timing is right.
"I wish Brendan Rodgers and the team well for the future. The club is in great hands and I'm sure will be successful again next season."
The statement finished with Suarez saying: "You'll Never Walk Alone".
Liverpool and Barcelona have agreed a fee for the sale of Luis Suarez to the Catalan club, the Premier League side have announced.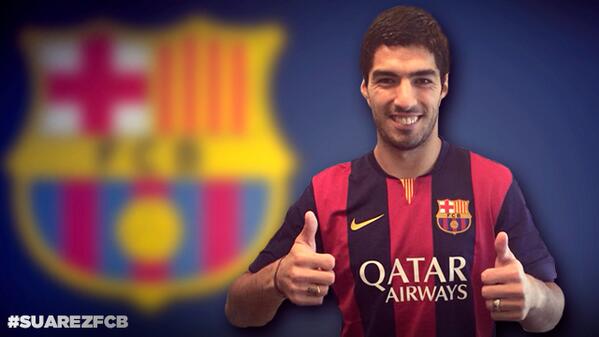 Two women will be sentenced today after their dog savaged a pensioner to death in his own garden.
Retired hospital porter Clifford Clarke, 79, was attacked by the Presa Canario dog when he opened his back door as he cooked a meal at his home in Liverpool in May last year.
Neighbours had reported seeing the dog behaving dangerously and one of them called the police when he heard screaming coming from Mr Clarke's house. He was pronounced dead shortly after the attack in hospital.
Tests showed that the dog, which was shot dead at the scene by armed police, had not been fed or watered adequately for several hours before the attack.
Hayley Sulley, 30 and Della Woods, 29, pleaded guilty last month to an offence under the Dangerous Dogs Act of allowing a dog to enter a place where it was not allowed to be and where it injured a person.
The pair also admitted three offences of causing unnecessary suffering to a dog.
A plane has flown over Liverpool with a banner mocking reds captain Steven Gerrard's likely failure to win a Premier League championships.
Making reference to Manchester United's 20 title wins, the banner read: 'United 20 - Gerrard 0'.
This plane has genuinely just flown past my house. Heading for Anfield? "United 20 - Gerrard 0", it says. http://t.co/PKDcxBYM46
Load more updates