Luis Suarez said the decision to leave Liverpool for Barcelona was made "with a heavy heart" and wished the team and manager Brendan Rodgers "well for the future".
In a statement posted on Liverpool's website, the Uruguayan striker said: "It is with a heavy heart that I leave Liverpool for a new life and new challenges in Spain. Both me and my family have fallen in love with this club and with the city.
"But most of all I have fallen in love with the incredible fans. You have always supported me and we, as a family, will never forget it, we will always be Liverpool supporters.
"I hope you can all understand why I have made this decision. This club did all they could to get me to stay, but playing and living in Spain, where my wife's family live, is a lifelong dream and ambition. I believe now the timing is right.
"I wish Brendan Rodgers and the team well for the future. The club is in great hands and I'm sure will be successful again next season."
The statement finished with Suarez saying: "You'll Never Walk Alone".
Liverpool and Barcelona have agreed a fee for the sale of Luis Suarez to the Catalan club, the Premier League side have announced.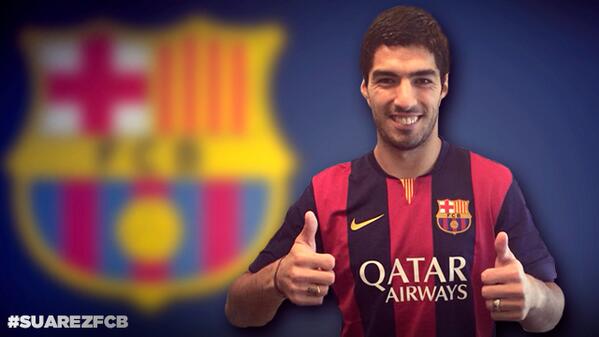 Advertisement
Two women will be sentenced today after their dog savaged a pensioner to death in his own garden.
Retired hospital porter Clifford Clarke, 79, was attacked by the Presa Canario dog when he opened his back door as he cooked a meal at his home in Liverpool in May last year.
Neighbours had reported seeing the dog behaving dangerously and one of them called the police when he heard screaming coming from Mr Clarke's house. He was pronounced dead shortly after the attack in hospital.
Tests showed that the dog, which was shot dead at the scene by armed police, had not been fed or watered adequately for several hours before the attack.
Hayley Sulley, 30 and Della Woods, 29, pleaded guilty last month to an offence under the Dangerous Dogs Act of allowing a dog to enter a place where it was not allowed to be and where it injured a person.
The pair also admitted three offences of causing unnecessary suffering to a dog.
A plane has flown over Liverpool with a banner mocking reds captain Steven Gerrard's likely failure to win a Premier League championships.
Making reference to Manchester United's 20 title wins, the banner read: 'United 20 - Gerrard 0'.
This plane has genuinely just flown past my house. Heading for Anfield? "United 20 - Gerrard 0", it says. http://t.co/PKDcxBYM46
The mother of murdered schoolboy Rhys Jones has criticised the "terrible" decision to release a gang member jailed for arming the youngster's killer.
Rhys was just 11 when he was gunned down by 16-year-old Sean Mercer on his way home from football practice in Croxteth, Liverpool, in 2007.
James Yates, who was given a 12-year sentence in 2009 for his role in the murder after he supplied the gun used by the shooter, left jail at Haverigg, Cumbria, on Thursday, according to the Daily Mirror.
Rhys's mother Melanie Jones told the Mirror: "It's terrible. It takes us back to the night Rhys died. It seems like only yesterday that Yates was sent to jail. For us, Yates is the most evil of them all. He makes my skin crawl."
Everton-mad Rhys was the innocent victim of a violent turf war between Liverpool street gangs.
Long-awaited fresh inquests into the deaths of the 96 people killed in the Hillsborough disaster have finally put a face to the number.
Read the full story ›
Advertisement
The city of Liverpool fell silent today - 25 years on since the Hillsborough disaster - in which 96 people were killed.
Read the full story ›
The Chair of the Hillsborough Family Support Group has thanked Liverpool football club for their support to the families of the 96 victims killed in the tragedy 25 years ago.
Margaret Aspinall, who lost her son James, 18, at Hillsborough, said she was mindful of legal restrictions on what could now be said as a jury was hearing the current inquests.
The 25th anniversary Hillsborough memorial service has come to a close.
The ceremony ended with a rendition of "You'll never walk alone", sung by Gerry Marsden along with the entire stadium.
The song followed a moving ceremony of speeches, readings and songs in memory of the 96 people to lose their lives in the tragedy.
Load more updates