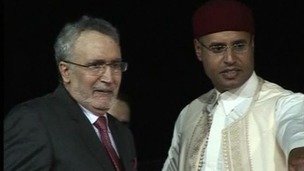 Gaddafi is dead, his regime swept away and his man, Megrahi will be buried unheralded.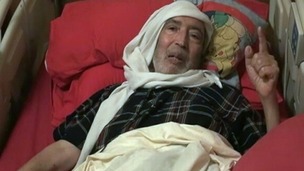 David Cameron said the Lockerbie bomber "should never have been released from prison" after his family said he had died in Tripoli.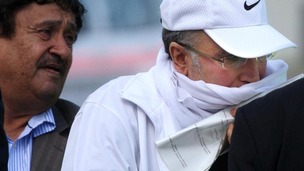 The full report of the legal grounds for the Lockerbie bomber's second appeal has been published online.
Live updates
Lockerbie probe 'still open'
The Foreign Office tonight insisted an investigation into the Lockerbie bomb is ongoing:
270 people were killed in the bombing of Pan Am flight 103 over Lockerbie, Scotland in 1988
Libyan intelligence officer, Abdelbaset al-Megrahi, is the only person to have been convicted in connection with the attack
Megrahi was released from jail by the Scottish government on compassionate grounds after being diagnosed with prostate cancer
He died last year still protesting his innocence
Since the fall of the Gaddafi regime in 2011, British investigators have been working to establish if there are other individuals in Libya who could be brought to trial for their involvement in the attack
The Libyan Government reportedly considers the matter "settled".
Lockerbie probe 'still open'
Police 'held Lockerbie talks' in Libya this week
The Foreign Office has said an investigation into the 1988 Lockerbie bomb is ongoing after police held talks with Libyan officials this week:
The Lockerbie investigation team, including Dumfries and Galloway Police, were able to visit Tripoli earlier this week, after the Government helped to secure visas for them.

They held initial discussions with Libyan ministers and senior officials on future cooperation on the Lockerbie case and we expect to see follow-up on this visit very soon.

The investigation into the Lockerbie case remains open and the Government continues to discuss cooperation on this case with the Libyan government.
– Foreign Office statement
Advertisement
Lockerbie probe 'still open'
UK: Lockerbie investigation 'still open'
Britain has insisted that the investigation into the 1988 Lockerbie bombing remains open, despite reports that the new Libyan government regarded the inquiry as over.
The Foreign Office disclosed that members of the Lockerbie investigation team, including officers from Dumfries and Galloway Police, had visited the north African country this week.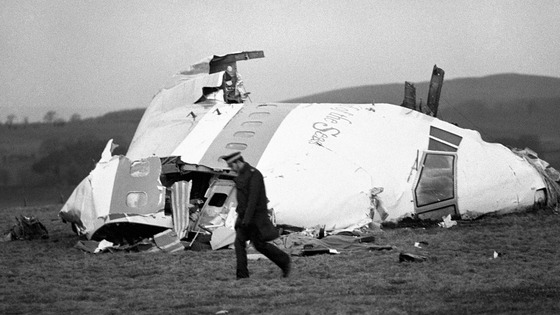 The Libyan justice minister, Salah al-Marghani, was earlier quoted as saying the case had been "settled" with the former Gaddafi regime, which paid £1.4 billion to the families of victims in 2003.
But in a statement tonight, the Foreign Office said that it expected a follow-up to the investigation team's visit "very soon".
Scottish Lib Dem leader call over Lockerbie investigation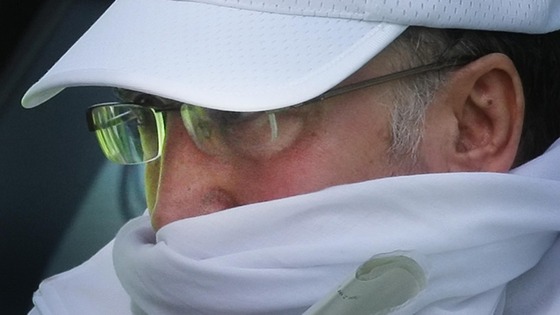 The Scottish Liberal Democrat leader has written to the Lord Advocate to ensure that the Lockerbie bombing is still being "rigorously and actively investigated".
Former Libyan intelligence officer Abdelbaset al-Megrahi was sentenced to life in prison for the 1988 bombing of a US plane over Lockerbie in Scotland which brought about 270 casualties.
He was later diagnosed with terminal prostate cancer and released from prison in August 2009, after he was given about three months to live, on compassionate grounds.
But Megrahi, who said he was innocent, proved doctors wrong because he did not die of cancer in Tripoli till May this year.
Hague will discuss Lockerbie and murder of Yvonne Fletcher with Libya's PM
As a sign of the new era in relations between Britain & #Libya I'm hosting Prime Minister Al-Kib in the Foreign Office today
From
@WilliamJHague
on Twitter:
Our talks will cover important legacy issues in UK-Libya relationship including Lockerbie & WPC Yvonne Fletcher
From
@WilliamJHague
on Twitter:
Funeral of Lockerbie bomber
Speculation that more people could be charged over Lockerbie bombing
by Bill Neely - International Editor
The burial took place today of the convicted Lockerbie bomber Abdelbasset al-Megrahi - but the truth over whether anyone else was involved might not, after all, have been buried with him.
The Lord Advocate in Scotland said today he is confident more people will be charged.
Advertisement
Funeral of Lockerbie bomber
Scottish Justice Secretary defends release of Megrahi
The death of Megrahi has reignited the debate as to whether he should have been allowed back to Libya to die three years ago.
Kenny MacAskill, the Scottish Secretary for Justice, has defended that decision:
Funeral of Lockerbie bomber
Al-Megrahi buried outside Tripoli
Around a hundred family members and mourners, including a few Gaddafi-era officials, attended the funeral of Lockerbie bomber Abdelbaset al-Megrahi. He died yesterday in his home surrounded by his family.
His funeral has not made any of the three main television channels in Libya so far: many within the country are focused on the upcoming elections after overthrowing Muammar Gaddafi last year.
Funeral of Lockerbie bomber
US Senator: 'Grave injustice that al-Megrahi died at home'
US Senator Charles Schumer said it was a "grave injustice" that Lockerbie bomber Abdelbaset Ali al-Megrahi was allowed to die at home, surrounded by his family and friends.
The New York state senator said the Lockerbie bomb attack that killed 270 people was one of the "greatest injustices that has happened in the last hundred years"
The plane crash in Lockerbie, Scotland, took a heavy toll on New York, with 35 students from Syracuse University and two from the State University of New York at Oswego among the 270 victims.
Funeral of Lockerbie bomber
Al-Megrahi buried in quiet ceremony outside Tripoli
The only man convicted of the 1988 Lockerbie bombing Abdelbaset al-Megrahi, has been buried with little fanfare near the Libyan capital, with just under 100 family members and passers-by in attendance.
Load more updates
Back to top