A runner who took part in the London Marathon completed 21 miles before realising the "slight pain" he felt was actually a broken hip.
Read the full story ›
Paula Radcliffe has tweeted her thanks to the crowd who supported her during her last London Marathon.
She added that her memories "will last a lifetime and beyond".
What a day! Thank you to the crowds and streets of London and all the runners, memories that will last a lifetime and beyond.
Advertisement
In excess of 38,000 fundraisers, amateur runners and elite athletes took part in the Virgin Money London Marathon today, making it the biggest in the event's 35-year history.
From wacky costumes to knackered runners struggling over the finish line, the London Marathon has it all. Here's a collection of some of the best moments of the day - so far.
The London Marathon's celebrity contingent was strong this time around - most of them looking considerably better before they set out...
Marathon world record-holder Paula Radcliffe ran her last ever race today, finishing in an impressive 2:36:55.
She might have won the London Marathon three times in the past - once in a blistering 2:15:25 - but this time she was just happy to finish, to huge cheers from watching crowds.
"I didn't care about the time all the way round and I just wanted to thank as many people as possible," Radcliffe told the BBC.
"I went off way too fast and then it got more and more emotional. It was just amazing the whole way round."
She said the "magic of the London Marathon" helped her finish.
Advertisement
If the sight of thousands of people gasping fro breath as they try to stagger over the finish line has not put you off, registration for next year's race is almost open.
Applications for the London Marathon public ballot open on Monday May 4 and close on Friday 8 May at 5pm.
If you are interested, then you just have to visit the London Marathon website when the application window opens.
After a hard-fought race, Kenyan Eliud Kipchoge won the 2015 men's London Marathon in a time of 2:04:42. He pipped his countryman Wilson Kipsang into second with a time of 2:04:47 - the fastest second place in London's history.
In third place was another Kenyan, Dennis Kimetto, with 2:05:50.
Sorry, this content isn't available on your device.
Victoria Beckham has said how proud she is of her son Romeo who completed the London Mini-Marathon today.
Romeo, 12, was raising money for UNAIDS, the joint United Nations programme on Aids, and David Beckham's Unicef 7 fund.
He completed the three mile course course in 18 minutes and 54 seconds.
Sorry, this content isn't available on your device.
Ethiopian Tigist Tufa has romped home to victory in the London Marathon with a time of 2:22:21, ahead of Kenyan Mary Keitany in 2:23:40.
Sonia Samuels was the first Brit to finish.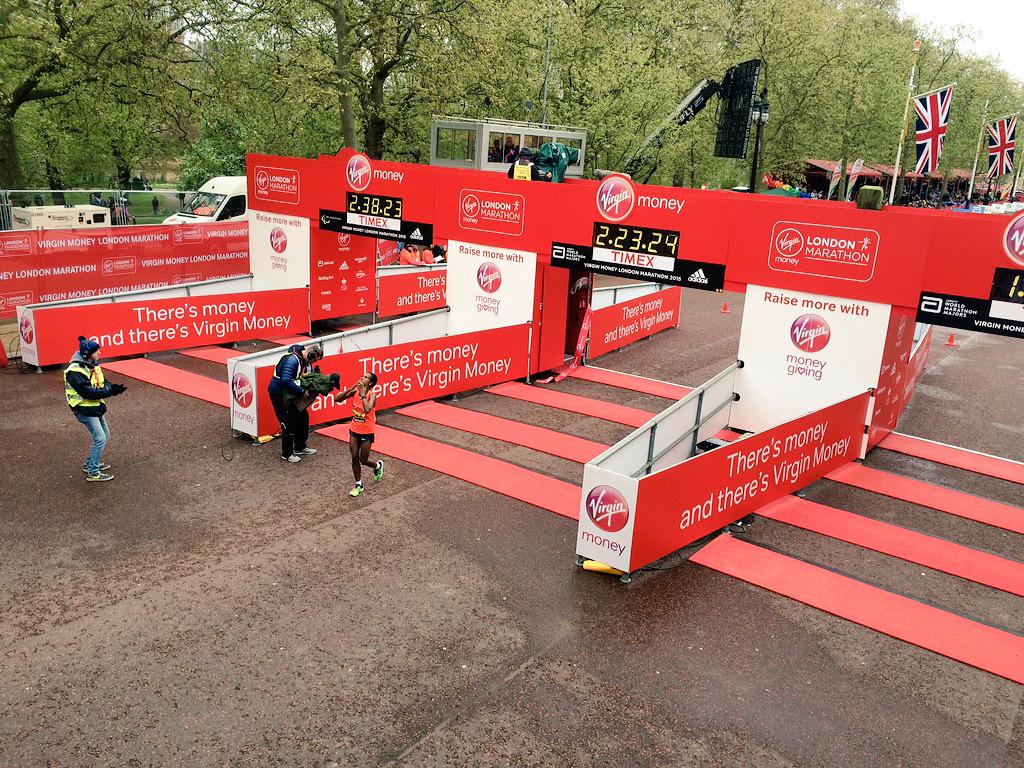 Load more updates