Mo Farah has not managed to record a victory on his London Marathon debut, finishing in 8th place.
Kenya's Wilson Kipsang, who holds the marathon world record, came first in 2:04:27, a new record for the London course.
Mo Farah is in touch with the front runners as he passes the halfway mark at the London Marathon in just over 63 minutes.
Advertisement
Switzerland's Marcel Hug has denied David Weir a record seventh London Marathon victory as he took first place in this year's wheelchair race.
Olympic gold medallist Weir finished a close second.
Thousands have headed off at the beginning of this year's London Marathon, with Britain's Mo Farah aiming for victory in his first attempt at the distance.
The double Olympic gold medallist is among the favourites in a strong field, including previous winner and world record holder Wilson Kipsang.
Double Olympic medallist Mo Farah is among the favourites as he attempts his first London Marathon today.
It is the first time the 31-year-old has competed over 26.2 miles and he faces strong competition from the likes of former winners Wilson Kipsang and Tsegaye Kebede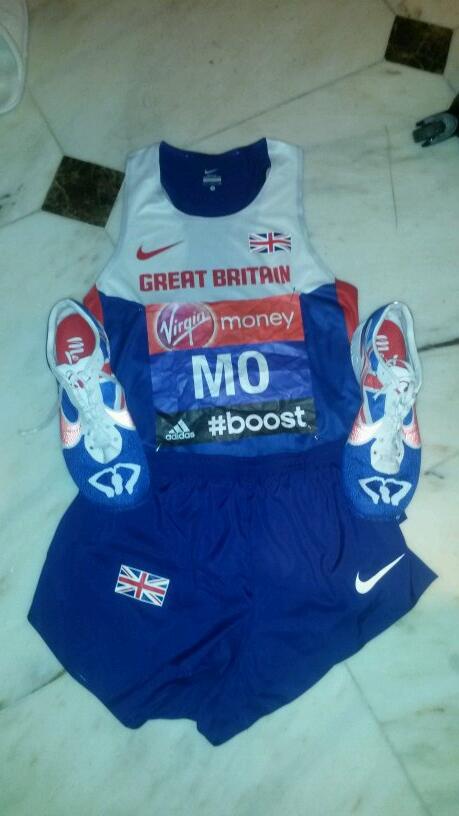 Advertisement
Two sisters will be attempting to break a world record during the London Marathon tomorrow.
Sisters Katie and Polly Ryall from Newbury, Berkshire, are aiming to become the fastest pair of female siblings to run the 26.2-mile race.
Katie, 23, and Polly, 21, will take on the race to raise money for Sense, the national deaf-blind charity.
Their combined time for crossing the finish line should be less than the current Guinness World Record of 5:09:14.
"The marathon is obviously a challenge in itself but we wanted to find a way to make it competitive as a team this time rather than as two individuals," Katie said.
"We're hoping to break the record but failing that we are both just looking to beat each other."
The sisters have been juggling studying for their final exams and training, running four times a week and using a sprint training technique to get ready for their record attempt.
Polly said: "We've always been incredibly competitive with each other - it keeps us motivated.
Mo Farah has said he wants to break the British record at the London Marathon 2014. The double Olympic and world champion told ITV News that he is excited about running the race against the "best field" he has "ever seen".
And running in London in front of a home crowd is not pressure, Mo said.
"It's more of a lift for me. If I can have the crowd and the people supporting me it will give me a massive boost."
He went on to describe collapsing in a half marathon in New York as a "learning experience", before talking about his hopes for Arsenal holding on to the UEFA Champions League fourth qualification spot.
Olympic gold medallist Mo Farah believes he has a strong chance of winning the London Marathon next weekend, telling Runner's World magazine, "I think I might win".
The 31-year-old long distance runner said, "I don't want to say 'I am definitely going to win', but I feel really good.
Reflecting on his chances in London on April 13, Farah said: "I have a good chance. The race is what we call 'fully-loaded' which means all the top athletes are going to be there.
"But you know what? I am one of the top athletes, so I would say that if I arrive at the start having done everything Alberto [coach Alberto Salazar] wants me to, and with no niggles, then I think I might win."
ITV News' Royal Correspondent reflects on running the London Marathon in the shadow of one of Africa's most endangered species.
Read the full story ›
Load more updates