A female athlete from Sierra Leone who had not been seen since finishing this weekend's London Marathon has been found safe and well.
Police said Mami Konneh Lahun, 24, had returned to an address in Greenwich where she had been staying since arriving in the UK last week.
Ms Lahun finished 20th in the race.
A record eight MPs took part in this year's London Marathon including five House of Commons frontbenchers.
The MP who came in first was Alun Cairns, the Conservative MP for Vale of Glamorgan, with a time of 3.34:08, knocking five minutes off his personal best.
Next came the Minister for children and families, Edward Timpson, at 3.42:24, just shading the shadow justice minister, Dan Jarvis, at 3.45:08.
In his fourth London Marathon, Dan Jarvis, 41, MP for Barnsley Central, ran 3.45:08 with his 69-year-old father, Bernard, a veteran of 68 marathons.
Shadow justice secretary, Sadiq Khan, ran 4.19:47, while the shadow secretary of state for health, Andy Burnham, managed 4.26:19.
Graham Evans managed 4.43:56 and Jason McCartney came in at 4.57:35. Ed Balls knocked more than 17 minutes from his 2013 time (5:14:13) when he finished in 4.57:40.
Advertisement
Police are looking to trace a marathon athlete who has not been seen since she finished 20th in yesterday's London race, Scotland Yard said.
Mami Konneh Lahun, 24, from Sierra Leone, had been staying at an address in Greenwich since arriving in the UK on 7 April.
She is due to fly home later today but did not return to her temporary accommodation following the race, police said.
A 42-year-old man has died after completing the London Marathon, organisers have confirmed.
"A 42-year-old man collapsed after the finish line and although immediate medical attention was provided to the casualty, the fatality was confirmed on his arrival at hospital...
"The organisers of the Virgin Money London Marathon would like to express their sincere condolences to the family and friends of the deceased."
Alex Prior, 25, was one of 36,000 runners taking part in the London Marathon today who battled 26 miles to make it to the finish line. However when he was just 200 metres from the end - he stopped to ask his girlfriend an important question.
Jess Seldon, 27, had been told Alex would pass by to give her a high five. Instead, Alex picked up a ring from his best friend waiting nearby before making his way over to her.
"She was completely surprised, I don't think she knew what I was doing," Alex said.
"I tried to get down on one knee, to be traditional, but it was obviously pretty difficult.
"It was fantastic, almost surreal - so much so that I had to text her at the end and ask if she meant to say 'yes'."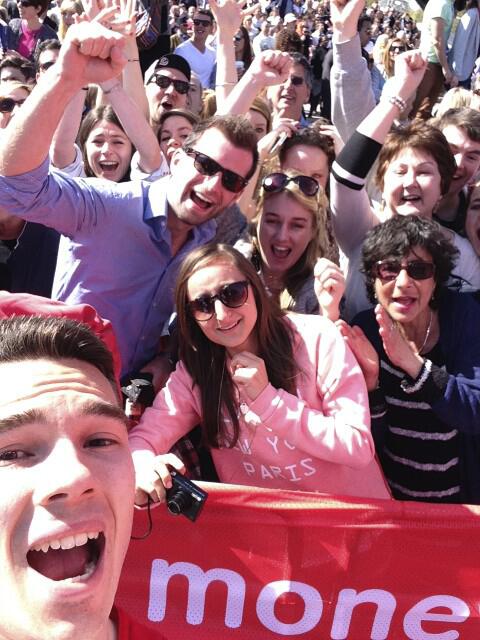 Mo Farah said he was disappointed with his finishing time in the London Marathon today but vowed that he "will be back" and he will "definitely do better."
Advertisement
Mo Farah vows 'I'll be back', a marriage proposal and a fridge strapped to runner - all the colour and action from the 2014 London Marathon.
Read the full story ›
Mo Farah has not managed to record a victory on his London Marathon debut, finishing in 8th place.
Kenya's Wilson Kipsang, who holds the marathon world record, came first in 2:04:27, a new record for the London course.
Mo Farah is in touch with the front runners as he passes the halfway mark at the London Marathon in just over 63 minutes.
Switzerland's Marcel Hug has denied David Weir a record seventh London Marathon victory as he took first place in this year's wheelchair race.
Olympic gold medallist Weir finished a close second.
Load more updates