Several London Underground lines are currently closed and others are operating a reduced services as a 48 hour tube strike continues.
ITV London correspondent Simon Harris has tweeted this picture of a crowded bus in London as a 48 hour tube strike continues to cause transport problems for commuters.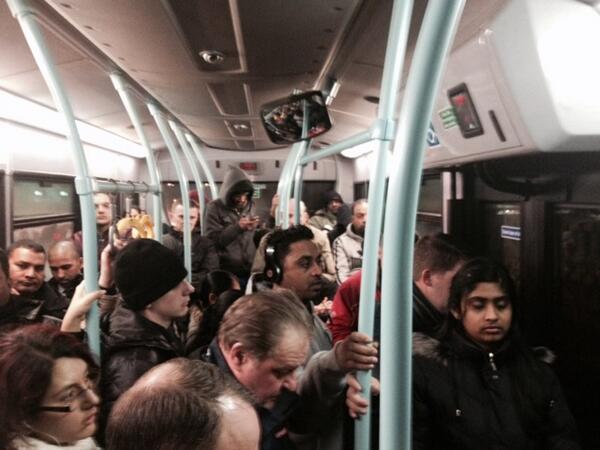 Advertisement
Yesterday's industrial action had a knock-on effect on the roads. The Metropolitan Police Service Helicopter released this picture of gridlock in Trafalgar Square last night.
Commuters in the capital are facing more disruption as a strike on London Underground enters its final day this week. The RMT and TSSA unions are to take part in talks on Friday, with the aim of reaching an agreement to end the dispute.
The first of two 48-hour strikes began on Tuesday night.
Union chief Bob Crow insisted 950 jobs would be lost if Transport for London went ahead with plans to close ticket offices and disputed suggestions 200 new jobs would be created in the new year.
He also denied going ahead with the strike when only 30% of the Rail, Maritime and Transport Workers (RMT) union had voted for it was undemocratic.
"Look at all these MPs in Parliament. How many people voted for them, but they are going along carrying out austerity!"
LU managing director Mike Brown said:
Acas have tonight invited LU and the RMT and TSSA unions for talks on our plans for the modernisation of the Tube this Friday.

We welcome further talks, and the unions' decision to return to Acas, but why wait till Friday?

I call on the leaderships of the RMT and TSSA to meet us tomorrow and to suspend Thursday's strike so we can get on with talks to resolve this issue and avoid any more unnecessary disruption to Londoners.
Advertisement
Union leaders were under pressure tonight to call off the strike after it emerged new peace talks would take place on Friday.
Read the full story ›
The conciliation service Acas said in a brief statement:
The parties in the London Underground dispute have agreed to come in and continue exploratory talks at Acas this Friday, February 7.
RMT leader Bob Crow said:
Our negotiators are geared up and ready to enter the exploratory talks on Friday.

In the meantime the current action continues with the rock solid support of our members and we will be back out on the picket lines early tomorrow morning as the strike heads into its third day.
Talks aimed at resolving the London Underground dispute will be held on Friday, but the strike will continue until tomorrow evening, Press Association sources said.
Union leader Bob Crow has suggested that those who want to ban strikes would be acting like "Hitler before the war".
Mayor of London Boris Johnson said a change in the law was needed to curb strikes, with some suggesting a 50 per cent minimum threshold in ballots for industrial action would help prevent disruption.
London commuters have faced major disruption with two-thirds of Tube services suffering as a result of the strikes.
Load more updates