One of the women who made a complaint about Lord Rennard has said she does not think he should be involved in parliament "at any level beyond being a member of the House of Lords".
Former Lib Dem activist Susan Gaszczak, who quit the party after claiming Rennard made sexual advances towards her, said she had been given "private assurances" he would not play any part in the 2015 elections.
Lord Rennard has said he is "pleased" with the decision by the Liberal Democrats to lift his suspension, and said he remained a "committed" member of the party.
I am pleased that all disciplinary investigations against me have been brought to an end and that the suspension of my party membership has been lifted.

This has taken a long time. The English Regional Parties Committee began a new disciplinary investigation in January.

I was informed by the Committee that this latest investigation was on the basis of, 'media and social media comments made by you, endorsed by you and made on your behalf that have attacked the party and the party processes publicly since the announcement of the Webster report results'.

All allegations made about me have now been investigated thoroughly, including by the Metropolitan Police, and fell at the first hurdle as to whether or not there was sufficient evidence to proceed further.

The English Appeals Panel confirmed in July that I could not be criticised over my reaction to the previous report by Alistair Webster QC, as I was not given sight of the report for 11 weeks.

The worst that might be said of me in that report was that I may have inadvertently encroached on the personal space of some of the complainants, and I apologised for this to all four of them.

I remain a committed member of the Liberal Democrats and a strong believer in the principles of the party, as set out in the constitution, and based on the values that led me to join the Liberal Party in my teens.
– Lord Rennard
Advertisement
Liberal Democrat leader Nick Clegg has admitted that women in the party felt "let down" by the way officials handled complaints against Lord Rennard.
In a statement, he said changes had now been made.
The Liberal Democrats have taken a long, hard look in the mirror since these allegations were made last year and I am confident that the party has changed.

It is clear that a number of women in our party felt let down that the party failed to act on their complaints appropriately. I am determined that no member of our party should find themselves in that position again.

That's why I immediately appointed Helena Morrissey to carry out a root and branch review of our culture and processes and made sure we acted on her recommendations.

In addition, at my request the Party President and the Federal Executive established a review into our procedures for handling cases such as this to ensure that the party's rules are fit for purpose in the future.

This review has now been completed by a senior barrister who has recommended that we make changes to the current criminal burden of proof and these changes will now be taken forward.
– Deputy Prime Minister Nick Clegg
Lord Rennard has welcomed the end of disciplinary proceedings against him by party bosses, saying all allegations against him "fell at the first hurdle".
ITV News political correspondent Carl Dinnen has tweeted:
Lord Rennard; All allegations fell at the first hurdle as to whether or not there was sufficient evidence to proceed further.
Rennard; I am pleased all disciplinary investigations have been brought to an end and suspension of my party membership has been lifted.
One of the women who accused Lord Rennard of sexual harassment has told ITV News she is "very disappointed" by the Liberal Democrats' decision to drop disciplinary proceedings and lift his suspension.
Former Lib Dem activist Bridget Harris was among four women who made such allegations against the peer - and said she suspects the decision was motivated by next year's General Election.
The Liberal Democrats have "recognised their failings" and have overhauled their code of conduct in the wake of allegations against Lord Rennard, the party president has said.
The Liberal Democrats have worked hard in the last 18 months to fundamentally change the way our party treats these matters.

We asked Helena Morrissey to review our party's culture and practices and her report helped us to recognise our failings and set about correcting them.

We have changed our rules and codes of conduct at every level, from grassroots members to parliamentarians so that everyone involved in the party is aware of their rights and responsibilities.

We have changed how complaints are reported and addressed, and we have appointed a Pastoral Care Officer to help and advise those making a complaint.

No one should ever have to feel that their concerns are being dismissed or ignored and I am clear that the Liberal Democrats should become the 'gold standard' for how voluntary organisations treat their members and staff.
– Tim Fallon, party president
Advertisement
The Liberal Democrats have said they have dropped disciplinary proceedings against Lord Rennard, bringing the matter "to a close".
It follows a Regional Parties Committee review over whether statements made by Lord Rennard had brought the party into disrepute.
Lib Dem statement on Lord Rennard - matter is 'closed'. Temporary suspension from party over. http://t.co/8oWBZW2ON2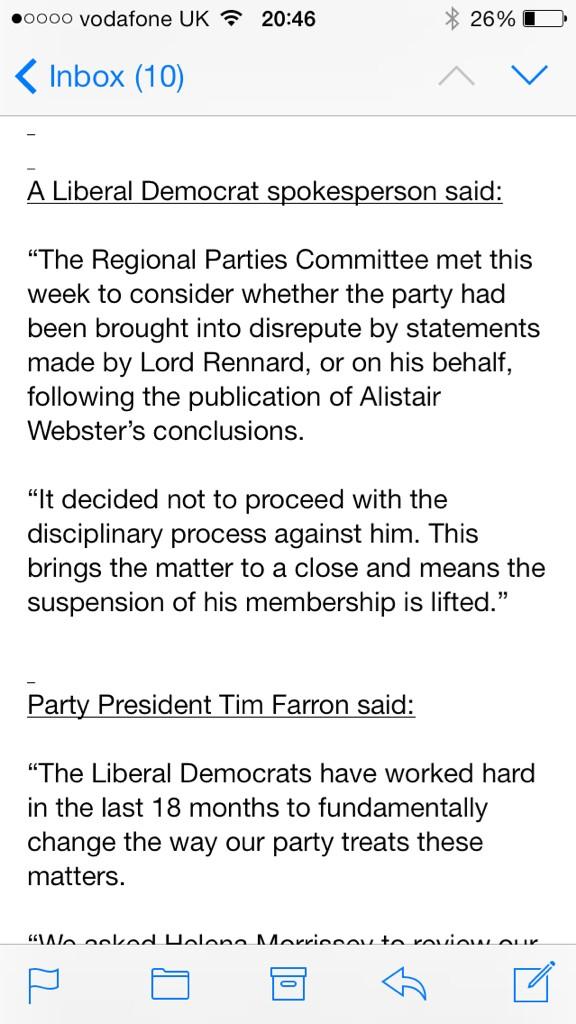 The suspension of Lord Rennard's membership of the Liberal Democrats has been lifted, after disciplinary proceedings against him were dropped.
Nick Clegg saw Lord Rennard's apology to four women weeks ago, but it was not released as the former Lib Dem chief executive did not want to damage the party in the run-up to last week's elections, a friend of the peer has claimed.
Lord Carlile told BBC Radio 4's The World At One: "Lord Rennard was absolutely very concerned personally not to do any possible damage to the party in the run-up to last week's local and European elections.
"So although this apology was seen for example by the party leader [Mr Clegg] weeks ago now it was held back until the elections were over."
Asked if Mr Clegg told Lord Rennard to hold the apology back, Lord Carlile replied, "No, no, no, absolutely not. Chris Rennard went absolutely out of his way to ensure and try and make it absolutely clear that nothing further should happen in this case until after the elections."
The Lord Rennard situation is tricky for the Liberal Democrat leader - to a certain extent there are party processes going on which takes this out of his hands.
Lord Rennard is appealing against the decision to suspend him for not apologising, while the women are appealing against the independent report that found Lord Rennard hadn't actually breached party rules.
Nick Clegg says the party disciplinary process has to take its course, but it is a very difficult week for him.
There are senior figures who want Lord Rennard reinstated and others who think Nick Clegg should be standing down due to recent election results.
Load more updates