A white Los Angeles police officer has been found guilty of assault for kicking and shoving a handcuffed black woman who later died after complaining that she could not breathe.
Officer Mary O'Callaghan had been charged with 'assault under color of authority' but not with the subsequent death of 35-year-old Alesia Thomas
O'Callaghan, 50, faces up to three years in prison when she is sentenced on July 23.
The coroner's office determined acute cocaine intoxication played a major role in Thomas' death.
Thomas' family welcomed the verdict and in a statement they said: "This is another step in the continued struggle to obtain full justice for her children."
Alaska Airlines has issued a statement after its LA bound flight 448 had to return to Seattle to make an emergency landing after a ramp agent was "found inside the front cargo hold".
Immediately after takeoff, the pilot of Alaska Airlines flight 448, bound for Los Angeles, reported hearing banging from beneath the aircraft. The captain immediately returned to Seattle, declaring an emergency for priority landing. The aircraft was in the air for 14 minutes.

After landing, a ramp agent was found inside the front cargo hold, which is pressurized and temperature controlled. The ramp agent appeared okay, and was transported to the hospital as a precaution. We are actively investigating the matter.
– Alaska Airlines statement
Advertisement
Rap mogul Marion 'Suge' Knight has been arrested on murder charges after a fatal hit-and-run incident in Los Angeles.
Read the full story ›
A Quantas flight from Los Angeles to Sydney was forced to turn around when a "river" of water began flowing down the aisles.
Read the full story ›
Approximately 10,000 gallons of crude oil sprayed on to the streets of Los Angeles after a high-pressure pipe burst. The oil was seen shooting up into the sky and onto streets and nearby businesses.
The Los Angeles fire department says the spill covered a half-mile area and is knee deep in some areas.
No injuries have been reported.
Advertisement
The owner of the LA Clippers basketball team has been banned from the NBA for life after being found guilty of making racist comments.
Read the full story ›
Commuters were put in a sticky situation when a lorry carrying 42,000 lbs of honey tipped over in Los Angeles yesterday, leaking the foodstuff all over a motorway.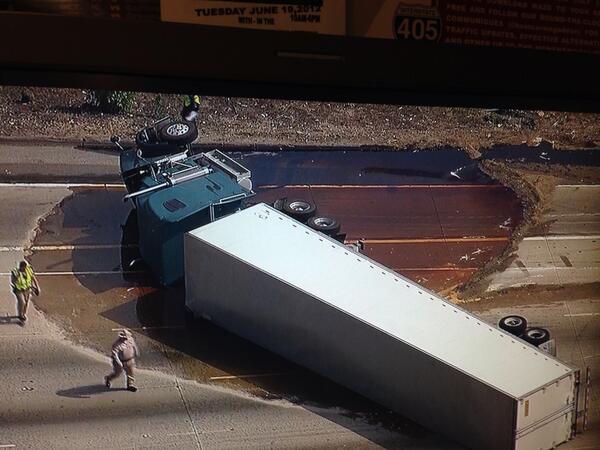 The driver reportedly escaped uninjured after the incident yesterday and no other vehicles were involved in the crash in Caltrans, according to the California Highway Patrol.
Motorists were urged to avoid the area as the incident shut down four lanes while workers cleared up the mess, NBC LA reported.
A coffee shop which mocks every element of Starbucks should expect a lawsuit - yet its founders say their lawyers can defend their baristas.
Read the full story ›
About 1,000 homes have been evacuated as a wildfire sweeps through a national forest some 30 miles from central Los Angeles, NBC News reports.
The blaze has grown rapidly, fanned by strong gusts of wind, to cover 1,700 acres.
Police in the city of Glendora police say they believe an out-of-control camp fire may be to blame and have arrested two people in connection.
The US Forest Service detained one person near the origin of the fire, according to the Los Angeles County Sheriff's Department.
Load more updates