Commuters were put in a sticky situation when a lorry carrying 42,000 lbs of honey tipped over in Los Angeles yesterday, leaking the foodstuff all over a motorway.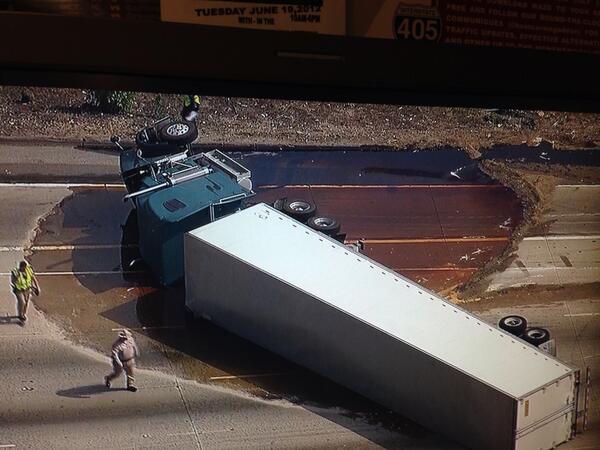 The driver reportedly escaped uninjured after the incident yesterday and no other vehicles were involved in the crash in Caltrans, according to the California Highway Patrol.
Motorists were urged to avoid the area as the incident shut down four lanes while workers cleared up the mess, NBC LA reported.
A coffee shop which mocks every element of Starbucks should expect a lawsuit - yet its founders say their lawyers can defend their baristas.
Read the full story ›
Advertisement
About 1,000 homes have been evacuated as a wildfire sweeps through a national forest some 30 miles from central Los Angeles, NBC News reports.
The blaze has grown rapidly, fanned by strong gusts of wind, to cover 1,700 acres.
Police in the city of Glendora police say they believe an out-of-control camp fire may be to blame and have arrested two people in connection.
The US Forest Service detained one person near the origin of the fire, according to the Los Angeles County Sheriff's Department.
The man accused of opening fire at Los Angeles International Airport, killing a federal security screener wounding three other people in November, has pleaded not guilty to all charges in the 11-count indictment.
In addition to a single count of murder and two counts of attempted murder of federal officers, Ciancia was indicted on four counts of committing an act of violence at an international airport and four counts of firearms offences.
The US Attorney says the death penalty could be sought against the accused Los Angeles Airport shooter.
A man accused of the shootings at Los Angeles International Airport has been charged, according to the US Attorney.
23-year-old Paul Anthony Ciancia faces charges of murder of a federal officer and committing violence at the airport.
Advertisement
The Los Angeles International Airport terminal where a gunman opened fire on Friday morning, shooting dead an unarmed federal agent and wounding others, has now reopened, LAX Airport confirmed in a tweet.
The Los Angeles International Airport terminal where a gunman opened fire on Friday morning, killing an unarmed federal airport security agent and wounding others, remained closed to airplane traffic the day after the shooting as authorities probed the motive behind the attack.
Authorities have identified the suspected shooter as Paul Anthony Ciancia, 23, and they said he was shot and wounded by police in an exchange of gunfire at the airport's busy Terminal 3.
The investigation into the attack will probe the shooting itself as well as the gunman's background and motivation, Special Agent David Bowdich of the FBI said on Friday. "Our goal is to do a true scrub on the individual to find out what was the tipping point for this person," he said.
Los Angeles Police Department chief Charlie Beck has tweeted a picture of the black armbands that will be worn by officers until murdered airport security agent Gerardo Hernandez is buried.
Mr Hernandez was shot by a gunman at Los Angeles International Airport on Friday.
A man killed by a gunman at Los Angeles International Airport yesterday has been identified as 39-year-old Gerardo Hernandez, the US Transportation Security Administration confirmed.
The gunman has also been named as Paul Anthony Ciancia, 23, also wounded two others before being shot by police officers and taken into custody. He is said to be in a critical condition.
Load more updates