A statement regarding the death of Malcom Glazer has described the glory years under his tenure when the club won Premier League titles and the Champions League.
A statement released by the Tampa Bay Buccaneers said: "In 2005, Glazer purchased Manchester United. Since then, the club captured five Premier League titles (2007, 2008, 2009, 2011 and 2013), as well as the 2008 Champions League title."
But ownership of the club by the Glazer family was marked by controversy and significant opposition by fans.
Born in Rochester, New York as one of seven children, Mr Glazer took over the family watch-parts business at age 15 following the death of his father and then continued his foray into the professional world, investing in other businesses, the statement said.
A resident of Palm Beach, Florida, Glazer leaves behind his wife, Linda, six children and 14 grandchildren.
Manchester United owner Malcolm Glazer, who is also owner of the Tampa Bay Buccaneers since 1995, has passed away on aged 85, according to a statement.
Officials from the Tampa Bay Buccaneers said they were "saddened" to announce the passing of Mr Glazer earlier this morning. He was described as a "pioneering thinker" and a "dynamic business leader" in the statement.
Advertisement
Manchester United owner Malcolm Glazer has died, according to an announcement made by the Tampa Bay Buccaneers.
Former Manchester United manager David Moyes is understood to have been out socialising with Blackburn Rovers managing director Derek Shaw at a Lancashire wine bar at the time of an incident in which Moyes is accused of assaulting a man.
Mr Shaw was on the board at Preston North End when Moyes began his managerial career at Deepdale before the Scotsman moved onto Everton.
A minor scuffle between Moyes, 51, and a 23-year-old man is alleged to have happened in the Emporium bar in Clitheroe town centre at about 10pm yesterday.
In his first words in English since his appointment as Manchester United manager, Louis van Gaal said he is "proud" to manage such a big club.
He said: "I am very fine. I am very happy, and also proud that I can be the trainer-coach of such a big club as Manchester United."
Ryan Giggs has called an end to his playing career after 23 years and nearly 1,000 games for Manchester United.
Our photo gallery plots the Welshman's evolution from a fresh-faced teenager terrifying opposing defenders to one of the game's elder statesman.
Advertisement
Ryan Giggs has spoken of mixed emotions as he calls time on a Manchester United playing career that has taken in 963 appearances for the Old Trafford club.
Giggs will now become number two to the club's new manager Louis van Gaal.
In an open letter to fans, the midfielder wrote: "For me, today is a new chapter filled with many emotions - immense pride, sadness, but most of all, excitement towards the future."
The 40-year-old also paid tribute to United supporters, saying: "To the greatest fans in world football, thank you, I have loved every minute of playing for you and representing the biggest and best club in the world."
Veteran Manchester United midfielder Ryan Gigsg has ended his playing career after being appointed assistant to the club's new manager, Louis Van Gaal.
Giggs has enjoyed a glittering career, making 963 appearances for the Old Trafford club since his debut in 1991, during which time he has won 13 Premier League titles, two Champions Leagues and four FA Cups.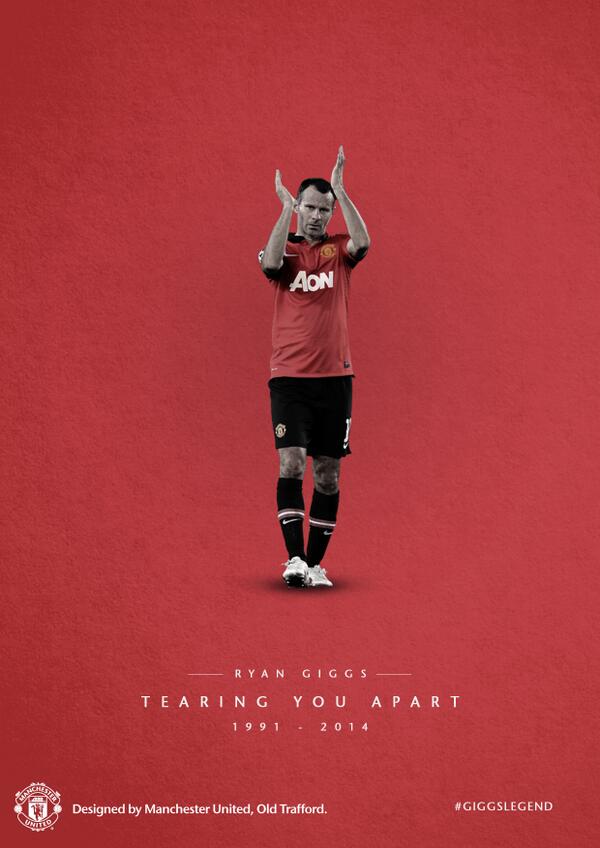 Louis van Gaal's list of trophies includes:
Ajax
Champions League (1995)
Uefa Cup (1992)
Eredivisie (1994, 1995, 1996)
Primera Division (1998, 1999)
Copa Del Rey (1998)
UEFA Super Cup (1997)
Bundesliga (2010)
DFB-Pokal (2010)
DFB-Supercup (2010)
Van Gaal joins #mufc on a three-year contract and says: "To manage the biggest club in the world makes me very proud." #vangaalmufc
Load more updates