Zlatan Ibrahimovic's late header gave Jose Mourinho his first trophy as Man Utd manager as they beat Leicester 2-1 at Wembley
Read the full story ›
Manchester United have confirmed that Paul Pogba will have a medical at the club ahead of a big-money move
Read the full story ›
Advertisement
Starting XI: Schmeichel, Simpson, Huth, Morgan (c), Fuchs, Mahrez, King, Drinkwater, Albrighton, Okazaki, Vardy. #LeiMnu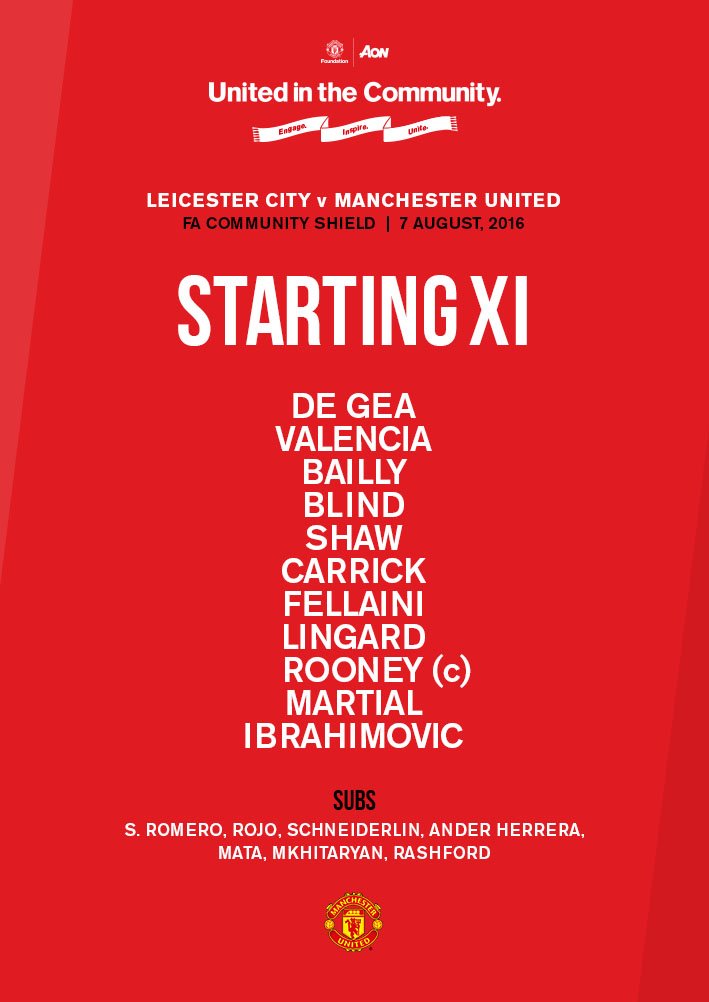 Manchester United manager Jose Mourinho believes the club with complete a deal for a midfielder in the next nine days.
Read the full story ›
Manchester United boss Jose Mourinho should be imprisoned over his treatment of Bastian Schweinsteiger.
Read the full story ›
Advertisement
New Manchester United frontman Zlatan Ibrahimovic has described club captain Wayne Rooney as the "perfect partner for a striker".
Rooney has dropped into in a midfield role for United and England of late but new Red Devils boss Jose Mourinho has indicated he wants to utilise the 30-year-old further forward.
On Saturday a 5-2 friendly win for United over Galatasaray saw Rooney score twice and Ibrahimovic once, and the latter says he can see "only success" if the two play alongside each other in attack.
The 34-year-old Swede, recruited this summer on a free transfer after leaving Paris St Germain, told MUTV: "I think every big player can work with other big players. That's not a problem.
"We are 11 players not two players on the pitch. It's up to the coach what he wants but, with him, I see no problems. Only success.
"I said many years ago the perfect partner for a striker is Wayne Rooney. He works not only for himself but for the striker and the whole team. I'm absolutely happy to be one of the guys beside him."
Paul Pogba looks set for a world record move to Manchester United, but he's worth every penny, writes Joe Lobo.
Read the full story ›
Manchester United and Everton will make history when they face each other in Wayne Rooney's testimonial on Wednesday.
Read the full story ›
Arsenal manager Arsene Wenger believes it would be mad for Manchester United to play over £100million for Paul Pogba.
Read the full story ›
Load more updates