As Manchester Royal Infirmary deals with two suspected cases of Mers, an expert in viruses has described the risk to the general public as "extremely low."
Dr Derek Gatherer, a lecturer at the University of Lancaster, said: "Outside hospitals the risk to the general public is extremely low and the outbreak ought not to cause concern."
The World Health Organisation defines Mers risk as being confined to those hospital workers not wearing appropriate personal protective equipment and working within two metres of a case in a ward or those patients in the same room or ward as a confirmed case, or those who have contacted respiratory secretions from a case.
– Dr Derek Gatherer
The hospital closed its accident and emergency department while it investigates two patients suspected to have the virus.
Typical symptoms of Mers include fever, cough and shortness of breath, with 36% of patients dying, say the World Health Organisation.
Read the full story ›
Advertisement
The Accident and Emergency department at Manchester Royal Infirmary has been closed because of a suspected outbreak of Middle Eastern Respiratory Syndrome.
Two patients have been isolated, Central Manchester University Hospitals NHS Foundation Trust said.
It added that there is "no significant risk to public health".
The Trust gave no indication as to when the A&E department may reopen.
"We are currently investigating two patients for suspected Middle Eastern Respiratory Virus Syndrome – Coronavirus Infection (MERS-CoV).

"Both patients have been isolated for on-going clinical treatment and management of their condition.

"We would like to reassure our patients and the general public that there is no significant risk to public health.

"Manchester Royal Infirmary Accident and Emergency Department will be closed until further notice while further investigations take place."
– Central Manchester University Hospitals NHS Foundation Trust
Three men stripped completely naked and washed their clothes in a water fountain in a busy city centre, police have revealed.
Read the full story ›
A man has been arrested for allegedly trying to sell a baby in a pram to a member of a public in Manchester this afternoon.
Police have now arrested a 28-year-old man on suspicion of child neglect. He remains in police custody for questioning.
A three-month-old baby girl is said to be "safe and well"
Detective Inspector Liam Boden said: "We would like to thank members of the public and the media for their assistance in publicising the appeal earlier today.
"We have now arrested a man on suspicion of child neglect and will be questioning him in relation to the incident as we try to establish the full circumstances."
Thank you Greater Manchester for all your help today, baby is now safe and well and a male is in custody for child negelct. #teamwork
Manchester United are looking to add some big names this summer and they're very close to getting one of the biggest.
Read the full story ›
Advertisement
Police have arrested a 31-year-old man on suspicion of a rape and attempted rape in Manchester.
Read the full story ›
A 16-year-old girl from Manchester has been charged with two terrorism offences, the North West Counter Terrorism Unit has said.
Motorists caught in massive tailbacks on the M62 are being told to remain in their vehicles.
The congestion was caused after a lorry hit the central reservation Great Manchester Police (GMP) say. the motorway is closed in both directions at Milnrow/Shaw.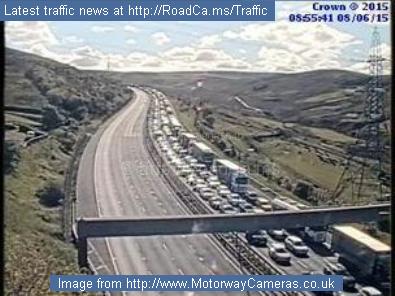 GMP say: "The lorry went through the reservation, onto the opposite side, colliding with a number of vehicles.
The lorry driver has been airlifted to hospital and is in a critical condition. It is unknown at this stage if there are any other injuries."
Police are investigating after five people were taken ill after taking 'legal highs' at the Parklife festival in Manchester.
Those affected received treatment at North Manchester General hospital after drinking poppers which they bought at the festival.
Four people have since been released from hospital, but a 26-year-old woman remains in hospital for treatment.
Police have confiscated 400 of the poppers sold by Parklife, but are urging people who have bought poppers at the festival not to ingest them and to hand them into police immediately.
Chief Inspector Gary Simpson said: "We are now extremely concerned that people are drinking poppers and this poses a significant risk to life and would urge anyone using, or considering using them or any 'legal high' to cease from doing so immediately, before it's too late."
The incidents follow police warnings last week that festival goers could be "playing Russian roulette" with their lives if they took anothe r legal high known as Vertex.
Load more updates