Motorists caught in massive tailbacks on the M62 are being told to remain in their vehicles.
The congestion was caused after a lorry hit the central reservation Great Manchester Police (GMP) say. the motorway is closed in both directions at Milnrow/Shaw.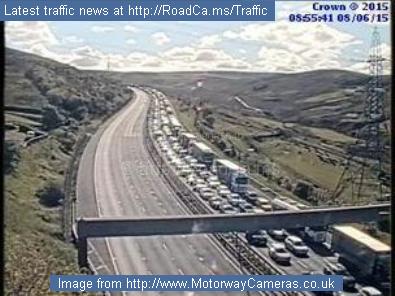 GMP say: "The lorry went through the reservation, onto the opposite side, colliding with a number of vehicles.
The lorry driver has been airlifted to hospital and is in a critical condition. It is unknown at this stage if there are any other injuries."
Police are investigating after five people were taken ill after taking 'legal highs' at the Parklife festival in Manchester.
Those affected received treatment at North Manchester General hospital after drinking poppers which they bought at the festival.
Four people have since been released from hospital, but a 26-year-old woman remains in hospital for treatment.
Police have confiscated 400 of the poppers sold by Parklife, but are urging people who have bought poppers at the festival not to ingest them and to hand them into police immediately.
Chief Inspector Gary Simpson said: "We are now extremely concerned that people are drinking poppers and this poses a significant risk to life and would urge anyone using, or considering using them or any 'legal high' to cease from doing so immediately, before it's too late."
The incidents follow police warnings last week that festival goers could be "playing Russian roulette" with their lives if they took anothe r legal high known as Vertex.
Advertisement
Revellers attending this weekend's Parklife festival in Manchester have been warned by police about the dangers of the 'Vertex' legal high.
Read the full story ›
Manchester student Adam West went to unusual lengths to avoid paying Ryanair a £220 admin fee - including legally changing his name.
Read the full story ›
A motorist who boasted about clocking 142mph on a motorway shot through a red light and killed another driver the following night.
Read the full story ›
A grandma who became an online hit when her grandson started tweeting pictures of her balancing things on her head has gone viral - again.
Read the full story ›
Advertisement
It is time for major cities in England to take control of their own affairs, the Chancellor will declare later today, but they will need to accept Mayors to do so.
George Osborne will explain that cities will be given power over local transport, housing, planning, policing and public health.
Mr Osborne has previously said devolution must go hand-in-hand with the establishment of an elected mayor.
Today he is expected to reiterate that, saying people must have a "single pointy of accountability."
Manchester is the first city set to benefit from extra powers, with plans for an elected "metro mayor" for the whole of the Greater Manchester region.
Describing the new law as a "bold step", Mr Osborne will say he is open to approaches from other cities wishing to follow the same route.
An 18-year-old man has been charged with terror offences after being stopped at Manchester Airport following his return from Turkey last year, Greater Manchester Police said.
Ednane Mahmood from Plane Street, Blackburn was charged with disseminating a terrorist publication and engaging in conduct in preparation of acts of terrorism.
He has been remanded to appear at Westminster magistrates' court on 9 Apirl.
Former Manchester United player Roy Keane is due in court later charged with a road-rage incident against a taxi driver.
TV pundit Keane, aged 43, from Hale in Cheshire, is accused of behaving aggressively towards cabbie Fateh Kerar near a set of traffic lights in Altrincham in January.
He was charged with a Public Order offence of disorderly behaviour with intent to cause alarm or distress.
He will appear at Trafford Magistrates Court to face the allegations.
Load more updates