Liverpool have announced the signing of Italian striker Mario Balotelli shortly before they kick off against his former club Manchester city.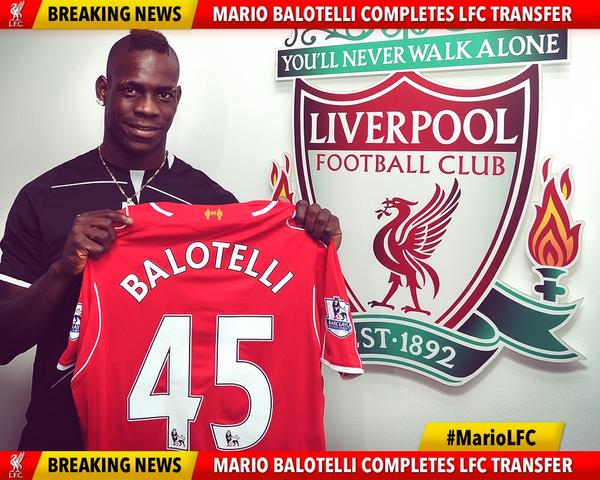 Mario Balotelli has sparked anger after posting a picture of himself with a gun on Instagram.
Read the full story ›
Advertisement
The enigmatic striker posted an image of his collection full of identical pictures of himself under the status: "WHY ALWAYS ME?".
Read the full story ›
Mario Balotelli is the latest high-profile footballer to pose with a banana in support of FC Barcelona defender Dani Alves, who reacted to racist taunts by eating a banana that was thrown at him during Sunday's match at Villareal.
The former Manchester City striker posted the picture on his Instagram account and tweeted the link to his more than two million Twitter followers.
The Italian striker accompanied the shot with the message: #WeAreAllMonkeys, #NoToRacism. Siamo tutti scimmie!
It follows similar pictures posted on social media by Neymar, Sergio Aguero and Luis Suarez after Alves' unconventional response to the incident.
Serie A side Juventus have been fined €4,000 by the Italian league after its supporters targeted AC Milan forward Mario Balotelli with racist chants during a win over Catania on Sunday.
Lazio were also fined €10,000 by Italian footballing authorities after its supporters displayed an offensive banner against UEFA's President Michel Platini.
Mario Balotelli has ordered a life-sized statue to "immortalise" himself in his new home.
The Italian striker, who recently returned to Italy following his January transfer to AC Milan, has reportedly contacted a local artist to make the statue.
Artist Livio Scarpella told Il Giornale di Brescia: "I have received the commission, but I've never met Balotelli so I am working from photos."
He added: "I presented several drawings but Mario wanted to be immortalised in a pose that shows him having scored a goal, highlighting his muscles and with an expression of defiance.
"I have imagined him as an athlete from ancient times and the statue will be a mix of classical and pop style in platinum and coloured bronze with the eyes made of stones."
Italian media have suggested that the statue will recreate the pose Balotelli showed off after scoring against Germany in the Euro 2012 semi-final.
Advertisement
Italian football giants Inter Milan have been fined 50,000 euros (£43,175) by the league after the club's fans were found guilty of racially abusing Mario Balotelli during Sunday's Milan derby.
The AC Milan striker, who played for Inter before his spell in the Premier League with Manchester City, was also fined 10,000 euros for apparent insulting gestures towards the opposition fans after the final whistle.
Inter Milan have been fined 15,000 euros (£12,900) by the Italian football league after fans chanted racist abuse about Mario Balotelli - during a game in which the striker was not even playing.
The Inter supporters' chants about the club's former player, now the new star man of city rivals AC Milan, were heard during the first half of Sunday night's 3-1 victory over Chievo.
A statement published on the official Serie A site confirmed the club fine after supporters "directed expressions of racial discrimination to the player of another club". Inter president Massimo Moratti added his condemnation.
The vice-president of AC Milan Paulo Berlusconi, the younger brother of former Italian prime minister Silvio, also recently apologised for racist remarks he made about Balotelli, who joined the club from Manchester City last month.
Mario Balotelli has found himself at the centre of a racism storm in Italy after a shocking public remark by AC Milan vice-president Paolo Berlusconi, younger brother of the club president Silvio.
Berlusconi junior described Balotelli as "negretto di famiglia" - translated as "the family's little n****".
Load more updates