Jewish representative group the Board of Deputies of British Jews has welcomed the FA's involvement in a social media post from Mario Balotelli which has prompted claims of racism and anti-semitism.
"The Board of Deputies of British Jews is concerned by the racist meme shared by footballer Mario Balotelli on his Instagram account and welcomes the FA's probe into the matter," said a statement.
"Footballers in particular have big followings of young people and should act responsibly when using social media."
The board's president, Vivian Wineman, added: "Balotelli's sharing of images which use unacceptable language and appeal to classic antisemitic tropes is troubling.
"We were pleased to see his immediate retraction and apology but such language has no place in public discourse. We welcome the decision by the FA to investigate this matter."
Liverpool fans have been speaking to ITV News after the FA confirmed they are looking into a post from Mario Balotelli on Instagram which prompted claims of racism and anti-semitism.
The striker has since deleted his comment and apologised, claiming it was supposed to be "anti-racist with humour."
Advertisement
We round up some of his best and worst Mario Balotelli moments following another headline-hitting day for the Liverpool striker
Read the full story ›
Liverpool striker Mario Balotelli has been contacted by the Football Association over his Instagram post which provoked accusations of racism and anti-semitism.
An FA spokesperson told ITV News that Balotelli has until 6pm on Friday to respond.
I apologize if I've offended anyone. The post was meant to be anti-racist with humour. I now understand that (...) http://t.co/UlNeNlEz9M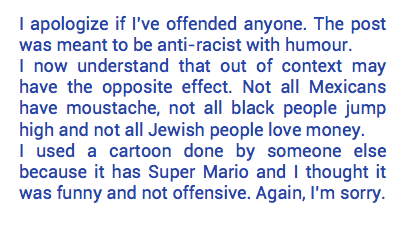 The Italian footballer had previously told critics to "shut up", noting that his mother is Jewish.
Mario Balotelli could be facing an FA investigation over posts on social media which provoked claims of racism and anti-semitism.
Read the full story ›
Advertisement
Mario Balotelli's disruptive behaviour is down to the way he was educated, claims Dutch football legend Johan Cruyff.
The Liverpool striker has come under criticism for his antics on and off the field during his spells with Inter and AC Milan, Manchester City and now at Anfield.
"What I think about Balotelli as a player and as a man? We always talk about the person, I prefer to talk about education of the person," he told Gazzetta dello Sport.
"Balotelli doesn't behave well and we have to ask why. To me, if someone is not educated, he doesn't play. To me, it is not fault of the player, but of the team that makes him play. The problem is not Mario, but the education that was given to him." "If he had been educated in a certain way, he wouldn't behave this way."
Conservative MP Guy Opperman has caused a stir by claiming Liverpool striker Mario Balotelli was in the House of Commons for a drugs debate
Read the full story ›
Liverpool striker Mario Balotelli will face no further action from police after being accused of threatening behaviour towards a woman.
A Greater Manchester police investigation was opened on Thursday last week when the woman complained that Balotelli had confronted her for taking photos of his red Ferrari F12 Berlinetta.
The woman, who came across the 24 year-old's parked car on a Wythenshawe housing estate, has now dropped her complaint against the 24 year-old and decided against pressing charges.
It's time for Mario Balotelli to start helping himself, to avoid being made the scapegoat.
Read the full story ›
Load more updates