Liverpool manager Brendan Rodgers says that he has had a conversation with Mario Balotelli over his half-time shirt swap
Read the full story ›
Former Liverpool defender Jamie Carragher says Mario Balotelli was a panic buy and would be surprised if he was at the club next season
Read the full story ›
Advertisement
Liverpool striker Mario Balotelli will be reprimanded by manager Brendan Rodgers after swapping shirts with Real Madrid's Pepe at half-time
Read the full story ›
AC Milan president Silvio Berlusconi has described Mario Balotelli as a "rotten apple" during his time at the club, and claims he never wanted to sign the Liverpool striker.
"I remember he was bought against my advice," he told La Gazzetta dello Sport. "We have many champions: Menez, Honda, El Shaarawy, Torres, De Jong.
"The base is there. And we no longer have a rotten apple in the dressing room."
Balotelli joined Liverpool from Milan for £16m in August, but he's failed to live up to manager Brendan Rodgers' expectations so far, scoring just once in eight appearances.
As if a goal drought at his club was not enough of a problem, Mario Balotelli is also dealing with getting his prized pet pig into the UK.
The Sun (£) reports that red tape means the Italian cannot yet bring the pig, named Super, into the country.
Finally my little pig arrived! She is only 2 month old! Is a she but i called her SUPER! ;-) http://t.co/6rMaRE9wox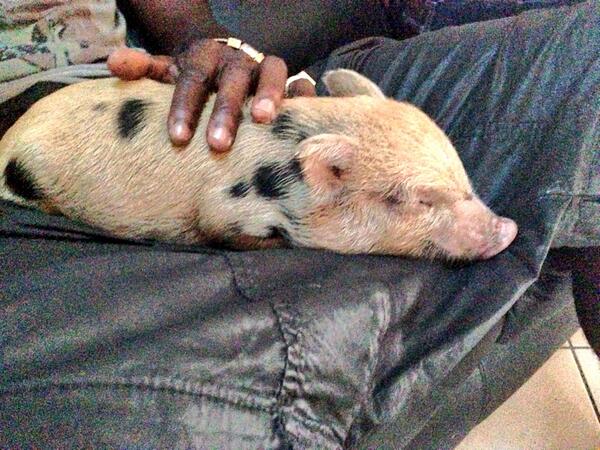 The Liverpool striker was clearly excited when he first got hold of Super, tweeting this picture of her as a baby.
But apparently he will have to register as a pig breeder and have the animal's health tested before the pair can be reunited.
Anti-discrimination campaigners have offered their support to Mario Balotelli after he received a tide of racist abuse on Twitter
Read the full story ›
Advertisement
Police are investigating racist abuse which targeted Liverpool striker Mario Balotelli on Twitter.
We can confirm officers are looking into offensive comments made on Twitter about Mario Balotelli earlier today.
– Merseyside Police
The abuse was triggered after Balotelli's reacted to Manchester United's shock defeat to Leicester City. Balotelli, part of the Reds side that lost 5-3 at, tweeted:
Balotelli has been singled out for racist abuse in the past. He was heckled by Italy supporters during a pre-World Cup training camp in May and was on the receiving end of numerous instances of racist abuse during his time at Internazionale and, more recently, AC Milan.
Mario Balotelli is set to watch his new teammates take on his old ones as he watches Liverpool play Manchester City this evening.
Mario Balotelli has just arrived at the Etihad Stadium. He'll watch his new teammates in action from the stands this evening #LFC
Manchester City tweeted this photo of him arriving at the Etihad Stadium.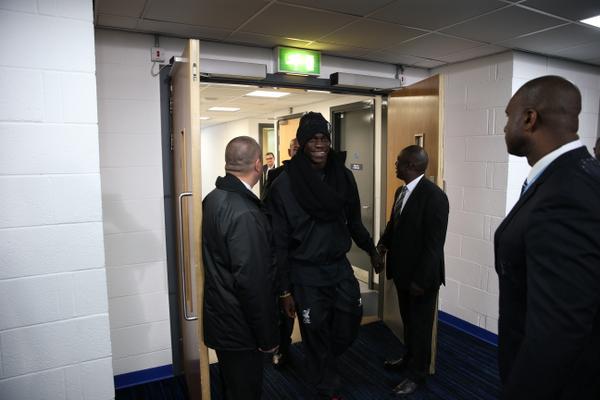 Enigmatic Liverpool striker Mario Balotelli has again found himself hitting the headlines today following a controversial Instagram post
Read the full story ›
Mario Balotelli has pledged to win "much silverware for the fans" as he confirmed his move to Liverpool FC on his Facebook page.
He said: "I'm proud to announce my return to the Premier League as a Liverpool FC player. Let's make the most out of this amazing challenge ..."
He also uploaded a new banner photo of his face emblazoned on the Liverpool FC motto "you'll never walk alone".
Load more updates