The test has been cancelled following a series of harrowing security incidents which overshadowed the Brazilian Grand Prix.
Read the full story ›
McLaren's F1 team have announced that Fernando Alonso will race for the team in 2018.
Alonso's contract had been due to expire at the end of this season. The Spaniard's Formula One future was up in the air but he has now committed to the Woking-based side for at least another year.
Alonso told McLaren's official website: "It's fantastic to be able to continue my relationship with everybody at McLaren.
"It was always where my heart was telling me to stay, and I really feel at home here.
"This is a fantastic team, full of incredible people, with a warmth and friendliness that I've never experienced elsewhere in Formula 1. I'm incredibly happy to be racing here."
"Just as important, McLaren has the technical resource and financial strength to be able to very quickly win races and world championships in F1.
"Although the last few years have not been easy, we have never forgotten how to win, and I believe we can achieve that again soon."
The Samurai is staying at McLaren. Full story on Fernando extending his relationship with the team:… https://t.co/FurzHYxoEX
Advertisement
McLaren expect their future with Honda to be resolved before the next race in Singapore
Read the full story ›
Fernando Alonso will miss this year's Monaco Grand Prix after it was confirmed by McLaren that he will compete at the blue-riband Indianapolis 500 event instead.
Double world champion Alonso, 35, will race in a Honda-powered Andretti car branded as a McLaren.
Alonso's absence for round six of the Formula One championship raises the possibility that Jenson Button, who remains under contract in an ambassadorial role for McLaren, could return for the Monte Carlo race on May 28.
McLaren's woeful pre-season continued on the final day of the Barcelona test as Fernando Alonso's MCL32 twice ground to a halt at the Circuit de Catalunya.
The former world champion's team and engine suppliers Honda have been plagued by problems which showed no signs of getting any better, with the first race of the season in Australia just over two weeks away.
Alonso's car stopped twice on the track on Friday's morning session to add to the two red flags on Thursday as the team were again robbed of valuable track time ahead of the Melbourne race.
The first stoppage came just over halfway into the morning session, with Alonso's car eventually taking its now customary place on the back of the recovery truck after a short break.
But when Alonso returned to the track with a little over an hour of the session left it stopped again almost straight away.
McLaren's pre-season campaign got off to the worst possible start as Fernando Alonso completed just one lap before stopping with an engine issue.
While the new era of Formula One roared back into life at a sun-blazed Circuit de Catalunya on the outskirts of Barcelona, Alonso was forced to watch the opening morning from the sidelines.
McLaren, the famous British team who have won 12 drivers' championships and eight constructors' titles, are desperate to return to the front of the grid.
But Alonso, the double world champion who is out of contract with McLaren at the end of the year, managed just one tour of the Barcelona circuit.
McLaren are unsure whether they will be able to fix the problem before the day's action concludes.
"We have an oil systems issue which requires a full investigation," a spokesperson for their engine supplier Honda said.
"We plan to run again today, but due to the difficult access location it will take several hours to resolve."
Advertisement
Fernando Alonso says he is fortunate to be alive after surviving one of the most spectacular crashes in recent Formula One memory.
While Nico Rosberg finished ahead of Lewis Hamilton and Sebastian Vettel to win the opening race of an incident-packed Australian Grand Prix, the season-opener will be remembered for Alonso's terrifying 200mph smash.
After he careered into the back of Esteban Gutierrez under braking for turn three, Alonso was merely a passenger as he slammed into the wall before barrel-rolling through the air twice.
When Alonso's car finally came to a standstill, the Spaniard was upside down, missing all four tyres and much of his McLaren bodywork littered the circuit. Miraculously, the two-time world champion crawled out of his car before limping away from the wreckage.
"I am lucky to be here and thankful to be here," said Alonso. "It was a scary moment and a scary crash.
"When I stopped I saw a little space to get out of the car and I went out quickly just to make sure that my mum, who was watching the race on TV at home, could see that I was okay."
Formula One driver Fernando Alonso has been airlifted to hospital after crashing his McClaren during testing in Barcelona.
Read the full story ›
Jenson Button is to stay at McLaren for the 2015 Formula One season, Press Association Sport understands.
The British driver will partner Fernando Alonso who joins the team from Ferrari.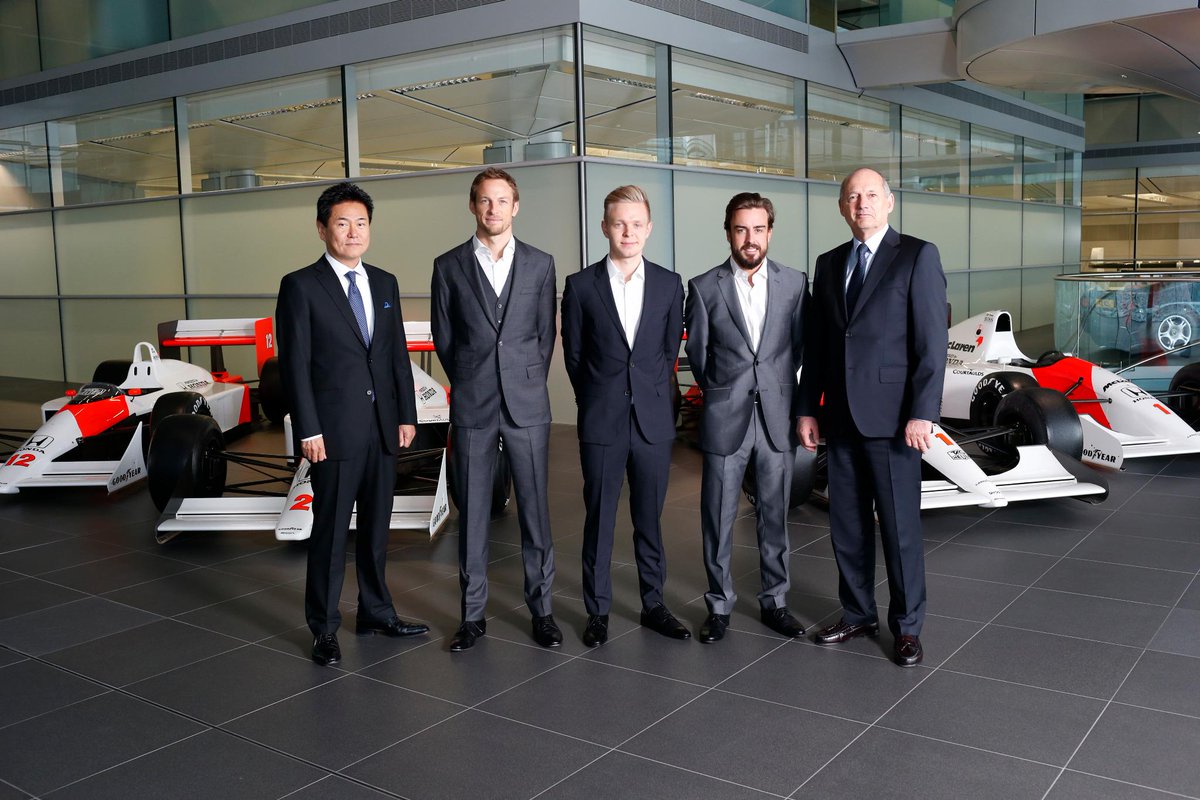 On Monday, the 2009 Formula One World Champion was still unsure about his future, admitting:
"It's a strange situation, but sometimes in life you find yourself in these difficult situations and you just have to deal with it."
The 34 year-old has been driving for McLaren since 2010.
McLaren team principal Eric Boullier has accused Red Bull of using coded radio messages to help Daniel Ricciardo in Sunday's Singapore Grand Prix.
A complicated week in the build-up to the race for the FIA saw them initially issue a detailed list of messages that would be prohibited from the race in Singapore onwards.
Motor sport's world governing body, however, backtracked on several of the guidelines following complaints from teams.
During the race at the Marina Bay Street Circuit, and with Daniel Ricciardo encountering problems with the battery in his car, at one stage he was told: "Avoiding exit kerbs may help the problem with the car."
Boullier feels such a message contravened the new regulations as he said: "We had no issues (with the new radio rules) on our side.
"It just made us more busy listening to others to make sure they made no mistakes, like Red Bull twice with Ricciardo.
"I think it was coded, but it is up to the FIA to investigate. It is not for me to investigate.
"But it was a strange message. Once was okay, but twice, three times? You can doubt what exactly the car problem was."
Load more updates