Police were summoned to an annual shareholder meeting in Berlin following a confrontation over buffet sausages between a man and woman.
Read the full story ›
World champions Mercedes have unveiled the car they hope will fire them to a hat-trick of consecutive Formula One titles
Read the full story ›
Advertisement
The reigning world champion conjured a crushing victory around Melbourne's Albert Park, spearheading a Mercedes one-two
Read the full story ›
The Mercedes concept car has screens all over the doors to entertain passengers as the car drives to their destination.
Read the full story ›
Two members of Germany's World Cup team - defender Benedikt Hoewedes and his Schalke teammate Julian Draxler - have been involved in a high speed car accident in Italy.
Both players were passengers in the cars driven by Mercedes DTM driver Pascal Wehrlein and Formula One star Nico Rosberg, during a promotional filming day, when two pedestrians were injured.
Rosberg, winner of Sunday's Monaco Grand Prix, was not involved in the accident, which occurred on closed roads.
A statement from Mercedes read: "While driving on a closed route, DTM driver Pascal Wehrlein injured two people who were unexpectedly in the road.
"They are both receiving medical treatment. Pascal was unhurt. We deeply regret this accident and wish the injured parties a speedy recovery.
"We will, of course, support the authorities in investigating the circumstances of the accident."
Mercedes Formula One drivers Lewis Hamilton and Nico Rosberg will show their support to the lost Beijing bound plane at the Malaysia Grand Prix this weekend, by displaying a 'Pray For MH370' message on the side panels.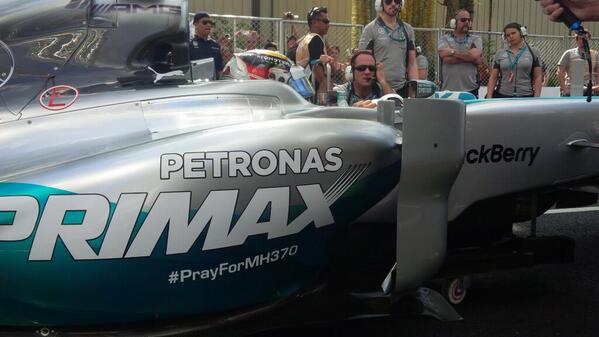 Hamilton also tweeted his sympathies to the families and friends of the passengers, along with a picture of the hashtag #PrayForMH370.
Advertisement
Northamptonshire-based F1 team Mercedes has unveiled its newest car at Jerez in Spain this morning.
The team are there for pre-season testing. The team has hailed the F1 W05 car as the first all new Mercedes to compete in Formula One since 1954.
Lewis Hamilton's first day behind the wheel of his Mercedes F1 car built at Brackley in Northamptonshire resulted in a crash into a tyre barrier. It was on the second day of testing at the Spanish Circuito de Jerez this morning.
The 28-year-old from Stevenage locked up into turn six and ploughed through a gravel trap into the tyre barrier. It's thought a fault in the front suspension caused the crash.
Yesterday Hamilton's team mate Nico Rosberg ground to a halt after just 14 laps when an electrical fault led to a fire in the rear of the new Mercedes.
Lewis Hamilton will join Mercedes from next season on a three-year contract.
The decision to leave McLaren after a 14-year association with the team has been described by one source close to Hamilton as "the toughest of his career".
In a statement Hamilton said: "It is now time for me to take on a fresh challenge and I am very excited to begin a new chapter racing for the Mercedes Formula One Team. Mercedes-Benz has such an incredible heritage in motorsport, along with a passion for winning, which I share."
He added: "Together, we can grow and rise to this new challenge. I believe that I can help steer the Silver Arrows to the top and achieve our joint ambitions of winning the world championships."
I was brought up on the great stories of Ayrton Senna's many world championship triumphs for McLaren, and I'm truly honoured they've chosen me to partner Jenson (Button) from 2013 onwards.

I've spent the 2012 season working very hard to demonstrate my potential, but I've always remained humble and focused.

While I'm still fully focused on doing my best for Sauber for the remainder of this season, I'm already massively looking forward to working with everyone at McLaren.
– Sergio Perez
Load more updates