Firefighters said 'floor to ceiling' hoarding have prevented them from gaining entry to the house, where a blaze erupted on Sunday.
Read the full story ›
Advertisement
A "very dangerous" tattooed attacker who kidnapped a man before subjecting him to numerous assaults has been jailed for life.
Read the full story ›
The bodies of the 85-year-old man and 47-year-old woman were found inside the property on Sunday afternoon.
Read the full story ›
The abandoned dog, named Elmo by rescuers at the RSPCA, had suffered such appalling injuries that he had to be put to sleep.
Read the full story ›
A couple whose wedding was in danger of being postponed after a protester scaled the roof of St Helens Town Hall in Merseyside were married in the end, the local council has confirmed.
A spokesman for the council told ITV News: "It [the wedding] did go ahead, so it was a happy ending in that respect."
The protester reportedly climbed down from the roof after an appeal by the couple. He was arrested by police.
Advertisement
A man who took to a town hall roof in a three hour stand-off with police has been arrested.
It is believed he came down from St Helens Town Hall roof after an appeal from a couple due to get married there this afternoon.
A council spokesman said they will now inspect the roof and hoped the wedding would be able to go ahead.
The rooftop protester at St Helens Town Hall has come back to ground level.
It's understood a couple who were due to marry there appealed to him to let them have their ceremony.
The man, who had been throwing roof tiles to the ground causing police to have to cordon off the building, shouted: "Shall we let them have their wedding?" before coming down.
It's thought he was protesting about a housing issue - he had unfurled a blanket as a banner which made allegations about being evicted from his home.
The man was arrested by Merseyside Police.
Police officers are in attendance at St Helens Town Hall in Merseyside after a man scaled the roof and began throwing slates to the ground.
Merseyside Police confirmed to ITV News that emergency services responded to reports of a man on the roof at 7am.
No-one has been injured in the incident and the man has been in conversation with negotiators, police said.
The public and motorists have been advised to avoid Corporation Street in St Helens.
A man has scaled the roof of St Helens Town Hall and is throwing slates to the ground.
It is understood nobody has been hurt in the incident.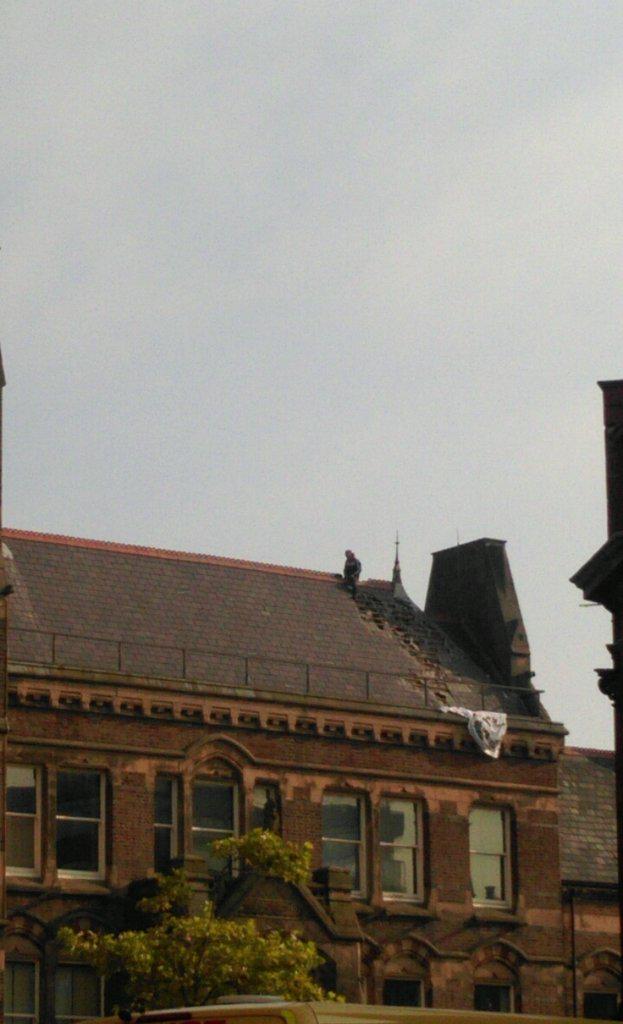 Load more updates