Live updates
A3 crash victim 'beautiful son'
The coach from a wreckage, which killed three people near Hindhead in Surrey, was removed tonight.
A3 crash victim 'beautiful son'
The bodies of three people who were killed in a coach crash on the A3 at Hindhead have been removed from the vehicle. Recovery teams have also begun the process of moving the bus.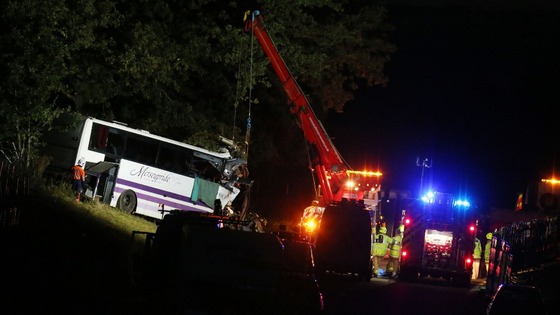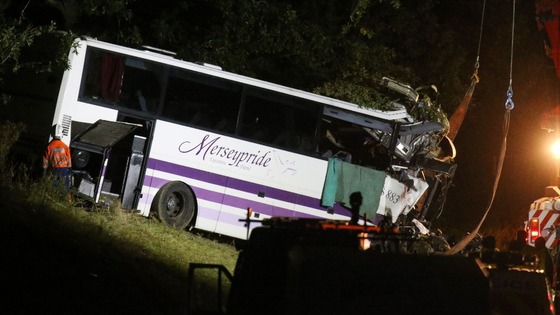 Advertisement
A3 crash victim 'beautiful son'
The neighbour of coach driver, locally named as Colin Daulby, has spoken out after he was one of three people killed when the coach crashed on the way back from Bestival in the early hours of this morning.
Tom McLoughlin said it was a "tragedy" and described Mr Daulby as "ordinary and hardworking"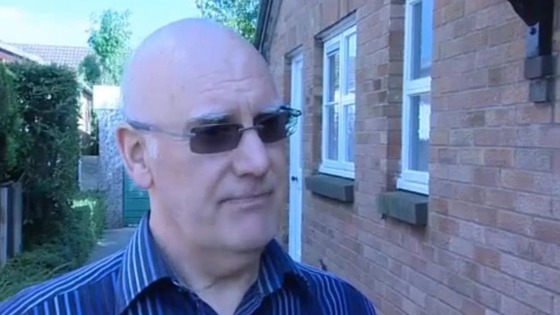 A3 crash victim 'beautiful son'
Tributes were paid to a coach driver, who was behind the wheel of a vehicle that crashed on its way back from a music festival, leaving two others dead and 50 injured.
The coach driver named locally as Colin Daulby, was described by his neighbours in Warrington as an "all round good guy".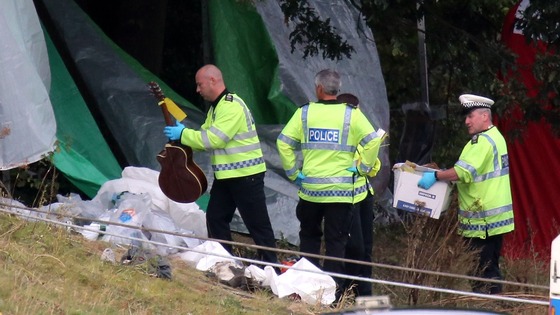 Ann Parsons said: "Colin would always come and chat. He wasn't intrusive but friendly and always had a kind word to say. It's terrible news and his family will be devastated. They are all very close."
A3 crash victim 'beautiful son'
by Martha Fairlie: ITV News Reporter
The police say they are keeping an open mind on the cause of this accident. Road conditions and the weather were both good when the coach veered off the dual carriageway and onto the embankment. Police are now trying to collect every piece of evidence from the scene.
One thing they will be looking at is whether there were more people on board the coach then there should have been. It was designed to carry 51 passengers and one driver, but we know that three people were killed, and 50 passengers were taken from the site to the hospital.
The three who were killed, haven't yet been officially named but we do understand that the driver was Colin Daulby, a man in his early 60s from Warrington. The other two people who have been killed, we understand were festival-goers, both in their 20s.
A3 crash victim 'beautiful son'
David Hannell, owner of Merseypride, the company that the crashed A3 coach belongs to, has said he felt "devastated" on hearing the news.
Speaking outside the company depot in Speke, Liverpool, he said:
Further to the news of one of our vehicles being involved in a tragic accident on the return journey from the Isle of White festival, myself and the company offer our heartfelt sympathy to all the families of the passengers involved.

We ourselves are devastated. I've been up all night worried sick about what's been happening."
Mr Hannell said the police had not told him anything and that "nobody seems to know what's happened".
He said this was the first serious accident Merseypride had had in 20 years and that the company had cancelled school jobs today because his drivers were not in the right frame of mind.
Advertisement
A3 crash victim 'beautiful son'
One patient from the A3 coach crash remains in a serious condition in Southampton General Hospital.
A3 crash victim 'beautiful son'
New photos have been released of the scene at the A3 this morning in Surrey after a coach travelling back from Bestival crashed into a tree.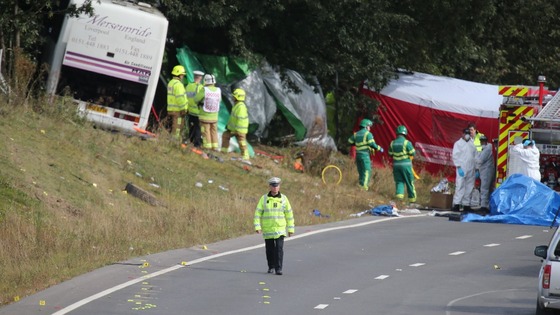 Police have reopened the A3 southbound at Hindhead Tunnel past the scene of the coach crash.
Three passengers have died while 50 are severely injured.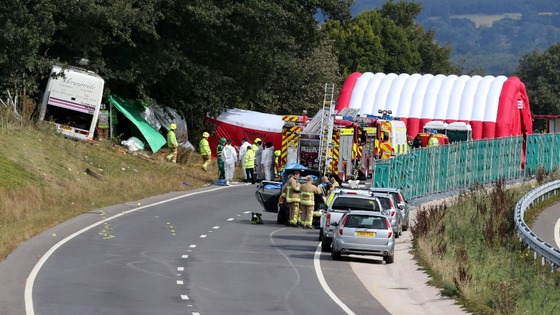 A3 crash victim 'beautiful son'
The wife of coach company owner David Hannell has said that the family are "shocked and sad."
The coach, believed to be operated by Merseypride, crashed off the A3 in Surrey late last night.
Eileen Hannell, who lives with her husband in Runcorn, Cheshire, declined to identify the driver but said he had worked for them "for quite a while".
There's nothing we can say because my husband doesn't know that much.I was coming back from holiday and he picked me up at the airport this morning and said, "I've got some sad news."

He had a phone call from the police at 2.30am and was told there were two people in hospital and three people dead."

Nothing like this has ever happened before

As soon as he heard he went into the office and was there all through the night. My husband is busy taking phone calls and trying to find out what's happening - we just don't know.It's awful.

We are all shocked and still trying to take it in. It's very sad.
– Eileen Hannell, wife of Merseypride owner David Hannell
A3 crash victim 'beautiful son'
The organisers of Bestival have commented on the A3 Surrey coach crash, saying: "This is devastating news, our thoughts are with the relatives of those affected by this tragic incident.
"We are currently liaising with Surrey Police to establish the facts."
Load more updates
Back to top