Some parts of the UK are set to feel colder than the Arctic Circle as freezing temperatures continue into the week ahead.
Read the full story ›
Advertisement
The UK and Ireland have been left counting the cost of Storm Eleanor after winds tore a destructive trail across the country.
Read the full story ›
It will be a mild but cloudy start for many of us on Wednesday morning, with rain in the west and drier and brighter weather in the east.
Read the full story ›
The Met Office is asking the public to put a name to the severe storms that hit the UK and Ireland this winter.
Read the full story ›
Typhoon Soudelor is expected to make land fall on Friday, hitting Taiwan and then eastern China.
Read the full story ›
Advertisement
The Met Office said very light winds and high pressure have led to high pollution levels in parts of the UK today.
However, a change in weather tomorrow means the air quality should be very good by Friday, she added.
The extreme rainfall seen across the south of the country is due in part to climate change the Met Office has said.
Warmer air carries more moisture meaning heavier rain and increasing temperatures in the north Atlantic have meant more rain for the UK.
Jeff Knight from the Met Office says: "Climate change to date has probably contributed to the some degree, in the extreme rainfall we have seen this winter.
"However that does not necessarily mean we will regularly experience weather like this in the future."
Warnings for high winds and severe rain have been issued tonight for the south west, the south of England and most of Wales.
The Met Office has warned those in the areas highlighted to be prepared for disruption caused by the extreme weather tonight and into the weekend.
The Met Office have shared a picture showing more bad weather on the way for the UK and especially the south west, which has already suffered substantial flooding.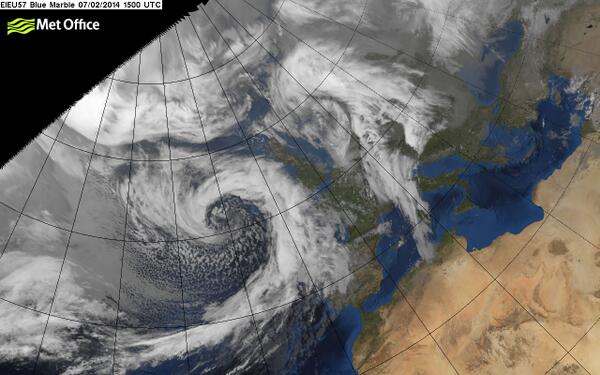 Load more updates