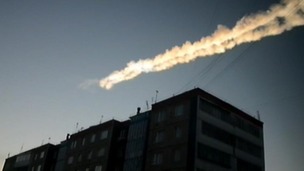 A meteor that exploded over Russia in February was "a wake-up call" for humanity, according to scientists studying the event.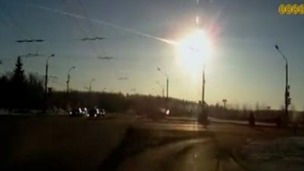 Where did it come from? What was it made of? What can be done if we know a meteor or asteroid is going to hit Earth?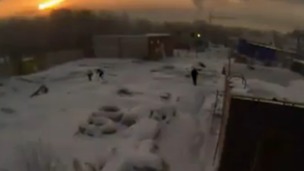 A look at some of the best video from the Russian Meteor. More than 400 people were injured after it flew over a Russian city.
Live updates
Hundreds of people in the Midwest reported seeing a large fireball in the sky on Thursday around 5:35pm local time (2335 GMT) and the image was caught on tape by a security camera in Iowa.
According to the City of North Liberty's website, on Friday "Assistant Streets Superintendent Dan Lange discovered that a security camera at the public works facility on S. Front Street captured the falling object."
The tape shows a fiery object streaking across the night sky. The American Meteor Society says that it has received over 700 reports of a fireball over the border of Iowa and Minnesota.
AMS says witnesses reported an object "as bright as the Sun that fragmented into many parts" as well as several reports of "sonic effects associated with the meteor."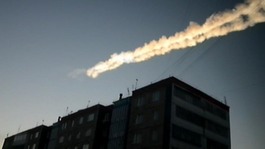 A meteor that exploded over Russia in February was "a wake-up call" for humanity, according to scientists studying the event.
Read the full story
Advertisement
Meteor shower lights up skies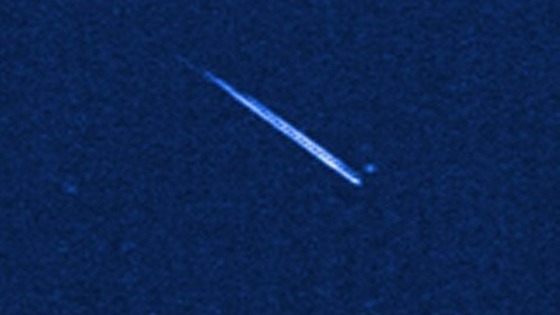 The Royal Astronomical Society believes 2013 could be the year up to 60 shooting stars an hour fall from UK skies thanks to the annual Perseids meteor shower.
Meteor shower lights up skies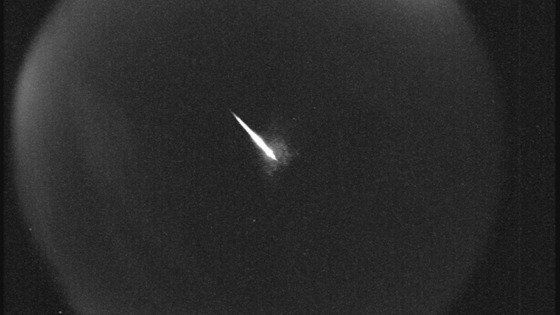 A powerful meteor shower is expected to light up British skies tonight with "a natural firework display", astronomy experts have predicted.
The meteors can be seen by the naked eye and are the result of material falling from the tail of the Comet Swift-Tuttle.
Professor Alan Fitzsimmons of Queen's University Belfast explained: "Comet Swift-Tuttle won't be visiting our neck of the woods again until the year 2125, but every year we get this beautiful reminder as the Earth ploughs through the debris it leaves in its orbit."
Concert-goers in northern Argentina have been treated to a light show with a difference. A suspected meteor lit up the night sky in Salta, as the folk music band Los Tekis performed at an outdoor venue.
Amateur video filmed at the concert shows the suspected meteor falling towards earth and bursting into a dazzling light that turned the night sky blue.
'Meteor' seen in eastern US
Bill Cooke of NASA's Meteoroid Environmental Office said the widely-reported flash in the sky was probably "a single meteor event." He told the Associated Press:
[It] looks to be a fireball that moved roughly toward the South East, going on visual reports.

Judging from the brightness, we're dealing with something as bright as the full moon.

The thing is probably a yard across. We basically have [had] a boulder enter the atmosphere over the North East.
– Bill Cooke, nasa

The reports are consistent with a meteor that hit in Russia's Ural Mountains last month, only smaller.
Advertisement
'Meteor' seen in eastern US
One Twitter user claims to have heard a hissing sound as what is believed to have been a meteor passed over his New Jersey home:
I actually heard the #meteor today as well. It was making almost a hissing noise as it flew brightly overhead. I saw it around 7:55pm EDT.
Read: Meteor Society verify over 300 sightings of 'fireball'
'Meteor' seen in eastern US
Footage distributed by WUSA shows a meteor clearly visible in the sky on the US east coast.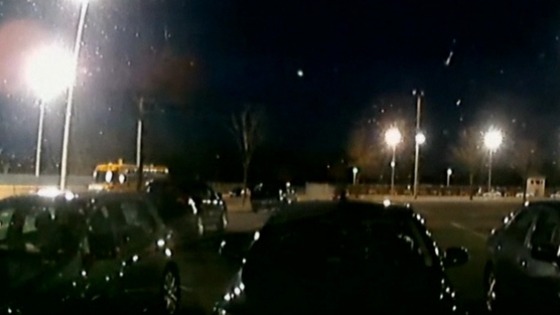 'Meteor' seen in eastern US
This security footage obtained by NBC News and shot in Thurmont, Maryland, shows the meteorite flash in the sky last night.
'Meteor' seen in eastern US
The American Meteor Society has verified over 300 witness sightings of a meteor in at least 13 US states.
Stretching from Ontario down to the southern state of North Carolina, there are still over 100 reports yet to be reviewed, said Mike Hankey, an observer for the American Meteor Society.
"This was most certainly a fireball seen over a good portion of the eastern states," said Robert Lunsford, the society's fireball coordinator.
"It happened at a good time, around 8 o'clock on a Friday night, when a lot of people were out to see it," Lunsford said.
Load more updates
Back to top