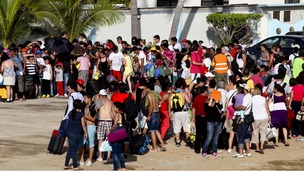 To quote the brochure: "Acapulco is famous for endless sunshine and glorious golden sandy beaches".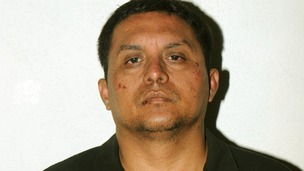 Miguel Angel Trevino, brutal leader of the Zetas drug cartel, has been captured in Mexico. He is suspected of a string of atrocities.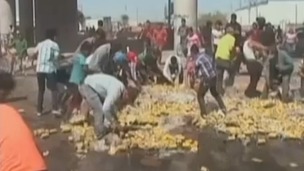 Locals in a Mexican city got an unexpected surprise after a truck carrying beer cans collided with a train and spilled its contents.
Live updates
Mexico has issued a public alert after a truck carrying potentially "extremely dangerous" radioactive material was stolen on Monday, according to Mexican authorities.
The vehicle was carrying cobalt-60 from a hospital in the northern city of Tijuana to a waste storage site.
A statement from the UN nuclear watchdog, the International Atomic Energy Agency (IAEA), said:
At the time the truck was stolen, the source was properly shielded. However, the source could be extremely dangerous to a person if removed from the shielding, or if it was damaged.

The Mexican authorities are currently conducting a search for the source and have issued a press release to alert the public.
– iaea statement
Hundreds of clowns have gathered in Mexico City for a "laugh-a-thon" to protest against gang violence in the country.
Around 500 entertainers from across Latin America laughed and played an assortment of comedy instruments for 15 minutes.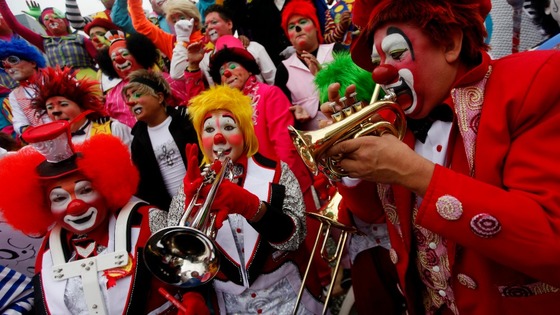 They were also protesting against reports that a gunman had disguised himself as a clown to kill a drug lord last week.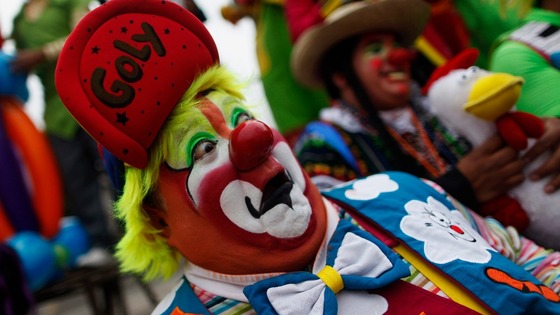 "We want a little bit of peace. We spread happiness, laughter, smiles. That's why we're clowns," said clown Esteban Garcia.
The rally took place on the penultimate day of the Latin American clown convention.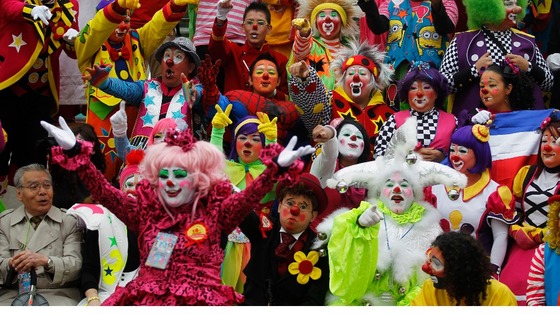 Advertisement
Death toll up in Mexico floods
Soldiers dug through tons of mud and dirt in search of victims of a massive landslide, as Mexican authorities looked for a police helicopter that went missing while carrying out relief operations on the flood-stricken Pacific coast.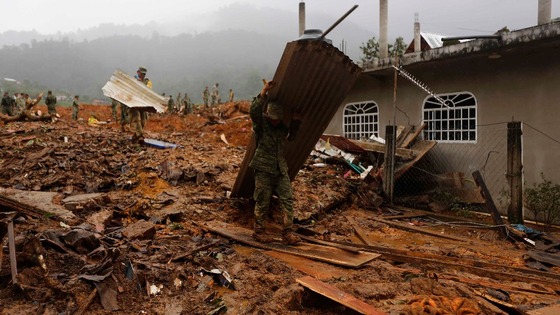 The helicopter with three crew members on board was returning from the remote mountain village of La Pintada, where the mudslide occurred, when it went missing on Thursday. There is still no sign of it, said Interior Secretary Miguel Angel Osorio Chong.
Late last night, President Enrique Pena Nieto announced that the confirmed death toll from the flooding and landslides brought by the twin weekend storms of Manuel and Ingrid had risen to 101 from 97. The figure does not include the 68 missing.
Read more: '58 missing' after landslide near Mexican village
Death toll up in Mexico floods
Thousands of tourists are still stranded in Mexico's Acapulco after torrential rain from two thunderstorms caused widespread devastation in the area.
Local authorities say that 80 people died in the weather tragedy and there are no flights out of the city from Acapulco airport.
New pictures show the scale of the devastation: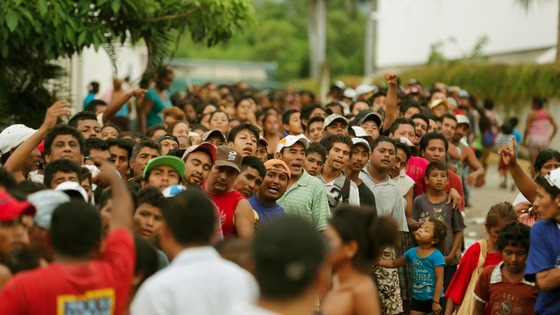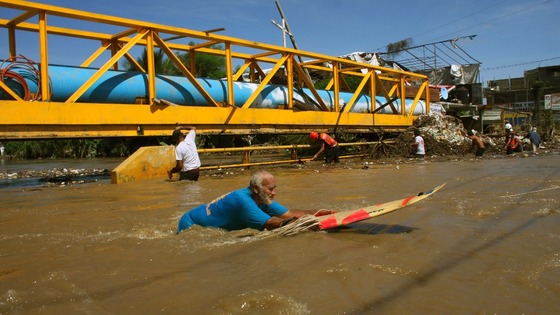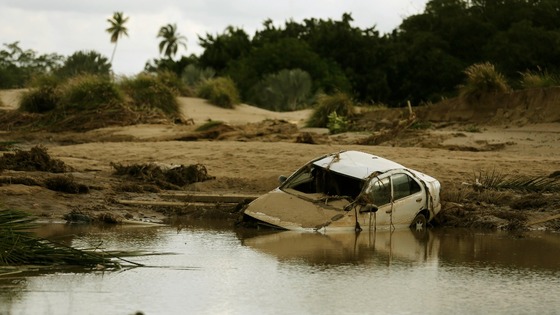 Death toll up in Mexico floods
A crocodile was roaming the streets of Acapulco after floods hit Mexico.
Residents watched the reptile as it crawled along the road and eventually captured the crocodile, managing to shut its jaws with black tape.
Heavy rain from two storms has caused widespread devastation in the South American country, with the death toll now standing at 80, according to authorities.
In Acapulco, shops were looted and thousands of stranded tourists waited to leave the country by air.
Read: Advice for stranded holidaymakers in Mexico's Acapulco
At least 58 people are missing after a landslide near a mountain village in Mexico, the country's interior minister said.
Miguel Angel Osorio Chong said rescue crews evacuated 344 people from La Pintada and said many of them were hurt.
He said there was a risk of further landslides in the village, which has been pounded by rain from hurricane Manuel.
Advertisement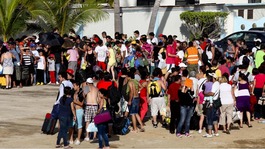 To quote the brochure: "Acapulco is famous for endless sunshine and glorious golden sandy beaches".
Read the full story
Death toll up in Mexico floods
Huge floods have devastated parts of Mexico after rains caused landslides and flooding, As emergency services attempt to get food and clean water through to those effected here is a look at the details around the storms:
Up to 55 people have died
40,000 mainly Mexican tourists have been stranded in Acapulco
The main highway to Acapulco was hit by more than 13 landslides
The heavy rains were spawned when two storms, tropical storm Manuel and hurricane Ingrid, converged
The rain has caused more than 5 billion pesos ($387 million)
Families waited at a military base for up to eight hours to be ferried to Mexico City
The main states affected include:
Veracruz
Guerrero
Puebla
Hidalgo
Michoacan
Oaxaca
Death toll up in Mexico floods
Since the weekend rains in Mexico to have killed at least 55 people in the states of Veracruz, Guerrero, Puebla, Hidalgo, Michoacan and Oaxaca, according to regional emergency services.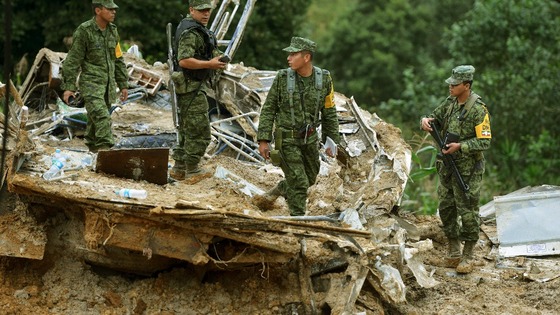 Guerrero, which is home to Acapulco, was the hardest hit with at least 34 people dead. Some streets in the state capital if Chilpancingo became rivers of mud with Mayor Mario Moreno saying the city had "collapsed."
Death toll up in Mexico floods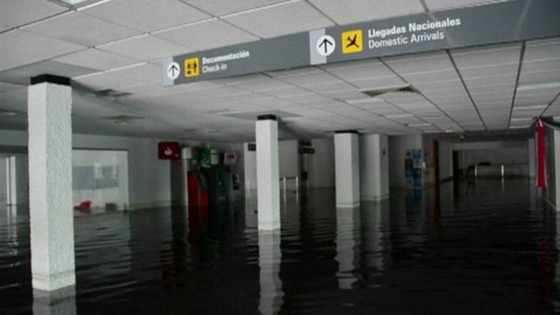 Flights have been cancelled at Acapulco airport after incessant rain left vast areas of the international terminal underwater, leaving scores of tourists stranded in the storm-ravaged city.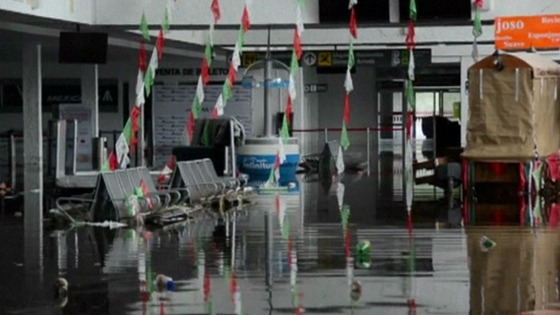 Acapulco's heavy rains were spawned by two major storms that converged on Mexico from the Pacific and the Gulf, triggering flash floods that washed away homes and landslides in eastern Mexico.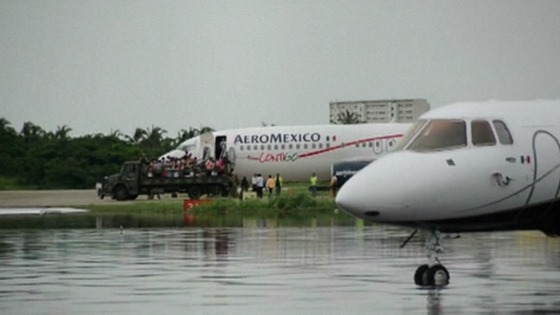 Load more updates
Back to top