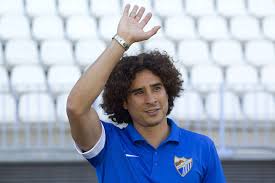 Liverpool have agreed to sign Mexican international goalkeeper Guillermo Ochoa for £3m in January, according to reports.
The Malaga stopper put in a string of impressive displays at the 2014 World Cup, particularly against hosts Brazil when he managed to keep all of their attacking players at bay.
Liverpool's number one Simon Mignolet was dropped for Sunday's match against Man United after his performances received widespread criticism leading up to the fixture.
The missing 43 Mexican students were kidnapped by police on orders of a local politician, police said.
Testimony from investigators suggested that the students, from an all-male leftist college, had clashed with the mayor of Iguala in the past and that the city police had handed them over to local gangsters who killed them.
Dozens of police are among 74 people held in the case.
Advertisement
Forty-three missing students abducted by corrupt police in Mexico six weeks ago were murdered by drug gang henchmen, the government said.
Read the full story ›
A former US Marine, who had been held in Mexican jail for months after arriving at the border from California with guns in his vehicle, has been freed on psychological grounds, a Mexican court said.
Andrew Tahmooressi, a 26-year-old American veteran of the war in Afghanistan, had been held in Mexico since arrest on 31st March.
After agents discovered three guns in his pick-up truck, he was charged with weapons offenses and put in prison. But he was freed on Friday by a federal judge in Tijuana so he could be properly treated for the post-traumatic stress disorder (PTSD) he developed after his military service.
Tahmooressi's case drew considerable attention, with US lawmakers taking the unusual step of scheduling a House of Representatives hearing during a congressional recess in the hope of putting pressure on Mexico and on President Barack Obama's administration to intervene more urgently in the case.
One of the most notorious Mexican drug lords still at large has been captured by soldiers at a seafood restaurant in a picturesque town.
Read the full story ›
Oscar Otero Aguilar was apparently drinking with friends when he decided to pose with the weapon, not realising it was loaded.
Read the full story ›
Advertisement
Mexico has said it had rescued 458 children from a vermin-infested refuge for abandoned boys and girls.
Authorities raided the home known as "La Gran Familia" (The Big Family) in the western Mexican city of Zamora, following at least 50 complaints about its operators.
The children had to beg for money on the streets, eat unsanitary food and sleep on the floor among bugs, the officials said.
Some suffered sexual abuse, the government said.
The mayor of a Mexican fishing town has 'married' a crocodile in a symbolic ceremony to help boost fish stocks along the Pacific coast.
Read the full story ›
See the moments Mexico manager Miguel Herrera reacted wildly to his team's 3-1 victory over Croatia.
Read the full story ›
US authorities have filed an extradition request after a Mexican drug trafficker was arrested on his way to a World Cup match in Brazil.
Federal police agents detained the 49-year old man at Rio's international airport as he waited to board a plane to the northeastern city of Fortaleza. He was not identified.
"He had tickets to go to the Brazil-Mexico game today," the police said in a statement, adding that the man is wanted for methamphetamine trafficking.
Federal police said the man was wanted by Interpol and was detected as soon as he crossed the border from Argentina on June 11.
Load more updates