More than £58 million worth of cocaine has been seized from a jungle in Colombia as part of a crackdown on the country's biggest drugs gang.
Read the full story ›
Advertisement
A US federal judge has rejected BP's bid to reduce the maximum fine it could face over its role in the 2010 oil spill in the Gulf of Mexico.
The fuel firm was hoping to cut its civil penalty per barrel spilled to $3,000 (£1,945), but US District Judge Carl Barbier upheld the government's ruling that the maximum fine should be $4,300 (£2,788).
It means BP could still face as much as $13.7 billion (£8.9bn) of civil fines from the spill.
Barbier did not rule on how much the company should actually pay out, and it is not yet known when he will make a decision.
Police in southern Mexico made the grisly discovery after residents complained about the smell.
Read the full story ›
Mexico City's mayor has said that two people were killed in a gas explosion at a maternity hospital in the city.
Emergency services previously put the figure at seven.
Seven people, including three children, were killed when a gas truck exploded and destroyed a large part of a maternity hospital in the west of Mexico City, emergency services said.
Luis Felipe Puente, the head of the country's civil protection agency, confirmed the seven deaths.
Dozens of people were evacuated, some with injuries from broken glass, while rescue workers scour the area for survivors.
Advertisement
A gas explosion has ripped through a maternity hospital in Mexico City.
Mayor Miguel Angel Mancera told the Televisa network that at least 52 people were injured in the blast, 22 of whom were children.
He said the explosion, from a gas tank truck, caused part of the building to collapse, but added there are no deaths reported at this time.
A drone attempting to fly crystal meth across the border to US drug dealers has crashed in Mexico.
Read the full story ›
The former mayor of the city of Iguala in Mexico faces trial following the disappearance and suspected murder of 43 students last year.
Read the full story ›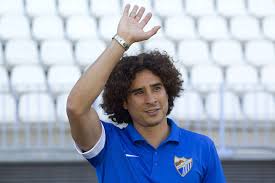 Liverpool have agreed to sign Mexican international goalkeeper Guillermo Ochoa for £3m in January, according to reports.
The Malaga stopper put in a string of impressive displays at the 2014 World Cup, particularly against hosts Brazil when he managed to keep all of their attacking players at bay.
Liverpool's number one Simon Mignolet was dropped for Sunday's match against Man United after his performances received widespread criticism leading up to the fixture.
Load more updates