Two in three Britons agree with comments made by Michael Fallon that Britain is "swamped" by immigrants, a ComRes poll for ITV News has found.
However on a local level only 38% think their own area is "swamped."
The found survey found that:
64% of those questioned think Michael Fallon was right to say that Britain is "swamped" with immigrants, although just 38% think that their own local area is swamped (50% think not).
70% think the main reason immigrants come to Britain is because of the welfare system on offer, while half (52%) think that the only way Britain can significantly reduce immigration is by leaving the EU.
Just one in five (22%) think that there is nothing the Government can realistically do to reduce immigration. 63% disagree.
ComRes interviewed 2,019 British adults online between 31st October and 2nd November 2014.
Former home secretary David Blunkett has said defence secretary Michael Fallon was right to speak out about immigration, despite the outcry over his use of the term "swamped".
His comments come after the prime minister distanced himself from the words used by Mr Fallon, saying politicians need to choose their language carefully when it comes to immigration.
Blunkett caused controversy himself when he used the same term when speaking on the issue 12 years ago.
Writing in the Daily Mail, he said: "Yet for all such condemnation, I believe that both Michael Fallon and I were right to speak out on this issue and voice the concerns of ordinary voters.
"Just because immigration is deeply controversial, that cannot mean that we should avoid talking about it."
He added: "What we need from all politicians is honesty and openness, not a desire for political point-scoring or displays of self-righteous importance."
Advertisement
Michael Fallon has told ITV News he was "rather careless" to claim some parts of the UK felt "under siege" from immigration.
But the Defence Secretary insisted there was an issue with large numbers of European migrants entering the UK and putting pressure on services.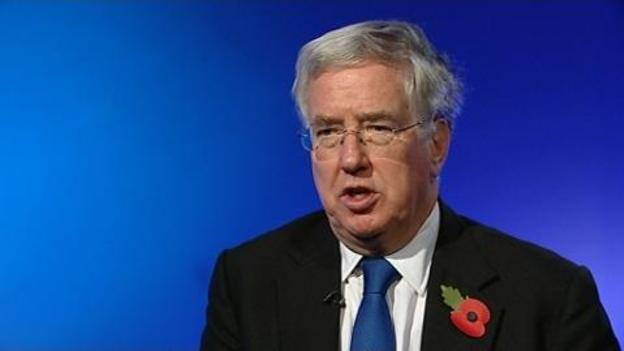 A senior member of the German government has slapped down David Cameron over his plans to curb immigration from the European Union.
Finance minister Wolfgang Schauble said freedom of movement among members was a "basic principle" of the EU and "cannot be restricted.
He told the Times (£): "There is not much room to manoeuvre . The basic rules of the EU are not up for negotiation."
A Cabinet minister has admitted he made a mistake by warning that British communities are being "swamped" by immigration from the European Union.
Defence Secretary Michael Fallon dismissed German opposition to changing free movement rules within the union, complaining in an interview on Sky News' Murnaghan programme that some towns were "under siege".
But a government source said: "He accepts he should have chosen his words better. He should have said 'under pressure'."
Defence Secretary Michael Fallon has told ITV News he is "pretty confident" the NHS is prepared for dealing with Ebola patients in the UK.
"The NHS procedures are going to be rehearsed over the next few days," Fallon said.
"We're pretty confident that our procedures are robust - that, if symptoms are suspected, they can be dealt with as soon as possible," he continued.
"It is important, if anyone does suspect symptoms, that they are referred to GPs and know what to do."
Advertisement
Defence Secretary Michael Fallon has said there will be no British bombs dropping on Iraq overnight.
He also said there was a "very strong legal case" for attacking Islamic State targets in Syria on the basis of Iraqi self-defence, but said that any such action would first need to pass Parliament.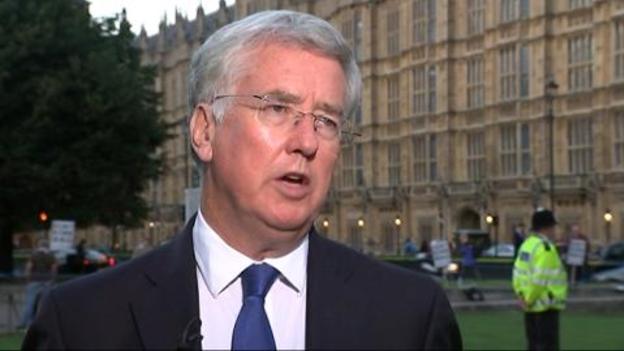 Defence Secretary Michael Fallon has told ITV News that there will be no British air strikes in Iraq overnight:
The Defence Secretary said it was "extremely inappropriate" to fly an Islamist "jihadist" flag in the UK, especially at this time.
Following reports that such a flag was flown outside a housing estate in east London, Michael Fallon said: "That is extremely inappropriate when British lives are at risk particularly in terms of terrorism from the jihad."
He went on: "Our focus now is on helping people who are suffering and they are clearly suffering now in the Sinjar mountains and elsewhere."
Defence Secretary Michael Fallon said the UK Government decided to assist the US with the humanitarian effort in Iraq.
"We are [also] offering aid of our own," Fallon said after an emergency meeting of the Cobra committee.
Load more updates