Defence Secretary Michael Fallon has told ITV News he is "pretty confident" the NHS is prepared for dealing with Ebola patients in the UK.
"The NHS procedures are going to be rehearsed over the next few days," Fallon said.
"We're pretty confident that our procedures are robust - that, if symptoms are suspected, they can be dealt with as soon as possible," he continued.
"It is important, if anyone does suspect symptoms, that they are referred to GPs and know what to do."
Defence Secretary Michael Fallon has said there will be no British bombs dropping on Iraq overnight.
He also said there was a "very strong legal case" for attacking Islamic State targets in Syria on the basis of Iraqi self-defence, but said that any such action would first need to pass Parliament.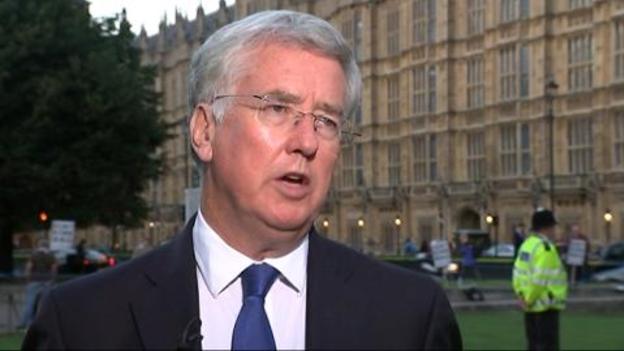 Advertisement
Defence Secretary Michael Fallon has told ITV News that there will be no British air strikes in Iraq overnight:
The Defence Secretary said it was "extremely inappropriate" to fly an Islamist "jihadist" flag in the UK, especially at this time.
Following reports that such a flag was flown outside a housing estate in east London, Michael Fallon said: "That is extremely inappropriate when British lives are at risk particularly in terms of terrorism from the jihad."
He went on: "Our focus now is on helping people who are suffering and they are clearly suffering now in the Sinjar mountains and elsewhere."
Defence Secretary Michael Fallon said the UK Government decided to assist the US with the humanitarian effort in Iraq.
"We are [also] offering aid of our own," Fallon said after an emergency meeting of the Cobra committee.
The new defence secretary said he "hoped" there would not be further cuts to his department's budget and praised his predecessor for "taking some very tough decisions" in order to get funding "under control".
Michael Fallon told Good Morning Britain the Ministry of Defence was able to "invest in the future" because Philip Hammond - the new Foreign Secretary - had "spent nearly four years" working on the department's budget.
Advertisement
Total's plans to explore Britain for shale gas is "extremely important" as it shows "one of the world's Big Five oil companies" sees a lot of opportunity in the UK, according to a business minister.
Michael Fallon told Daybreak any go-ahead for fracking in Britain would be "regulated properly" and "would only be allowed if absolutely safe".
He continued: "The announcement by Total this morning is extremely important. It shows that one of the world's Big Five oil companies now sees the opportunity to explore for shale gas here.
"We know now there is a lot more shale gas down there than previously thought and there is a huge opportunity to go down there and get it."
Fracking could "salvage" the UK economy from "crippling stagnation" and create thousands of jobs, business minister Michael Fallon said. Writing in the Sun on Sunday, he said:
Energy minister Michael Fallon said the Government would only allow exploratory drilling for oil and gas if it is "being done properly and the environment is being fully protected".
He added that Cuadrilla, the company which is carrying out exploratory drilling activities in West Sussex, had the necessary permits from the Environment Agency.