UK defence secretary says so-called Islamic State group will only be defeated by force.
Read the full story ›
The Government remains committed to building parliamentary support for RAF air strikes against Islamic State (IS) in Syria despite Russia's intervention in the conflict, Defence Secretary Michael Fallon has said.
Following talks in London with US defence secretary Ash Carter, Mr Fallon said Russian strikes in support of President Bashar Assad risked making "a grave situation even worse".
However he made clear that ministers would not be deterred from seeking support for a new Commons vote for British warplanes to join the US and other coalition aircraft in attacking IS - also referred to as Isil - in Syria as well as Iraq.
We will continue to build the case for military action in north east Syria where Isil is headquartered, where its command and control is. Russian intervention doesn't change that. We will continue to build the case for intervention in the new parliament.
– Michael Fallon
Advertisement
US Defense Secretary Ash Carter has said Russia's actions in Syria are "risky" and "will only inflame the civil war".
He added that Nato "stood strong" against Russia in Ukraine and this "strengthened posture".
ITV News Correspondent Dan Rivers is at the news conference in London.
Carter: NATO stood behind Turkey on Russian incursion Fallon: reinforced determination to protect collective security
Carter: way out of tragedy is for political transition. For Assad to end his rule. Russia best placed to aid that transition
Defence Secretary Michael Fallon has said Russian behaviour "threatens our allies".
He also announced £70m is to be invested in the next five years to drive innovation in new technology for the military.
He is speaking at a press conference in London along with US Defence Secretary Ash Carter.
Mr Fallon said: "Aggressive Russian behaviour continues threatening our allies in Europe."
ITV News Correspondent Dan Rivers is at the news conference.
Fallon: aggressive Russian behaviour continues threatening our allies in Europe.
Fallon: been concerned for some time about build up of Russian forces. Another reminder to NATO to look to collective security as a whole
Questions on Russia and Syria are sure to dominate Defence Secretary Michael Fallon's meeting with his US counterpart Ash Carter.
Read the full story ›
MPs could be asked to authorise airstrikes against IS in Syria in the wake of the Tunisia massacre, the defence secretary has suggested.
Read the full story ›
Advertisement
David Cameron has cofirmed that Michael Fallon is to remain Defence Secretary
My final appointment tonight is Michael Fallon as Defence Secretary.
Defence Secretary Michael Fallon says he has no regrets on his personal attack on Ed Miliband and called it part of the "rough and tumble of politics".
Fallon has been criticised by party leaders for saying the Labour leader "stabbed his brother in the back" over the pair's 2010 leadership contest and would do the same to Britain to get into power.
Asked today during a visit to the Royal United Services Institute if he regretted the comments he said "absolutely not" and said that voters have the right to know who was leading Labour.
ITV News Deputy Political Editor Chris Ship was there:
Fallon 'absolutely no regrets' about his personal attack on Ed Mliband. Calls it part of 'rough and tumble of politics' in election campaign
Fallon on what Labour called his 'gutter politics': voters hv right to know who is leading the party. It was a perfectly legitimate question
The Defence Secretary has praised Britain's armed forces for their work in fighting Islamic State (IS) extremists during a visit to Cyprus.
Michael Fallon told the 400 service personnel based at RAF Akrotiri he was "proud" of their role in helping the Iraqi government defend itself against the threat of IS.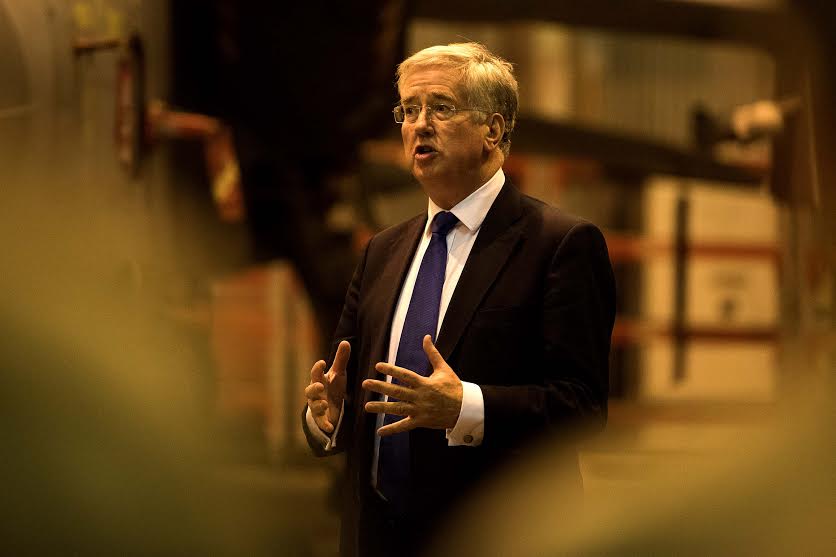 "While this fight will take time, the coalition's air strikes are having a direct effect in supporting Iraqi ground operations against IS," Fallon said.
"In the north, areas around Mount Sinjar have been retaken, bringing relief to the local Yazidi population and applying pressure to IS forces in Mosul. In the south, Iraqi forces operations are beginning to push back ISIL."
Britain will not deploy combat troops to Ukraine, which is fighting pro-Russian separatists along its eastern flank, Michael Fallon told parliament.
"We are not deploying combat troops to Ukraine and will not do so," Fallon said when asked whether the deployment of military personnel would provoke so-called mission creep.
Britain is preparing to send 75 troops and military staff to help with training and is considering more Ukrainian requests for help, the Defence Secretary added.
Mr Fallon confirmed British personnel will be based around Kiev or in western Ukraine, away from the fighting in eastern Ukraine.
Load more updates