US First Lady Michelle Obama has offered condolences to the victims of the deadly museum attack in Tunisia.
Mrs Obama was in Tokyo for a three-day trip that included an event where Japan and the US announced a partnership to empower girls education.
"Before I get started, on behalf of myself and my husband, I want to join in with the others to express our condolences over the horrific event yesterday in Tunisia," she told the audience.
"Our hearts go out to the loved ones of those who were lost here in Japan and around the world. They are very much in our thoughts and prayers today".
President Barack Obama and First Lady Michelle Obama handed out treats at a White House Halloween party.
Read the full story ›
Advertisement
A 10-year-old American girl used a face-to-face meeting with the First Lady as an opportunity to try and help her dad find a job.
While attending a question and answer session with Michelle Obama at The White House, schoolgirl Charlotte Bell approached the First Lady and handed her her dad's CV.
Charlotte told Mrs Obama: "My dad's been out of work for three years and I wanted to give you his resume."
The two embraced on stage, with the First Lady saying: "Oh my goodness." The two then spoke before Mrs Obama addressed the crowd: "Well it's a little private, but she's doing something for her dad. Alright?".
She held up the piece of paper in her hand and shook it. "Got it."
U.S. President Barack Obama and his wife Michelle have hosted the 136th annual Easter Egg Roll at the White House.
Read the full story ›
First Lady Michelle Obama held a roundtable with Chinese educators on the topic of education at the US Embassy in Beijing.
Obama delivered a speech at Peking University and sat down for talks with students from China and US on Saturday, part of her visit with an aim for promoting education and cultural exchanges between the two countries.
As a Harvard-educated lawyer, Obama said her parents passed on the importance of education to her.
US First Lady Michelle Obama and her daughters, Sasha and Malia, paid a visit to Beijing's Summer Palace today during her official week-long visit to China.
Advertisement
Michelle Obama has told students in China that freedom of speech and unfettered access to information make countries stronger and should be universal rights.
The US First Lady was speaking at Peking University in Beijing during a trip aimed at promoting educational exchanges between the US and China, which has some of the world's tightest restrictions on the internet.
Mrs Obama said the free flow of information is crucial "because that's how we discover truth, that's how we learn what's really happening in our communities, our country and our world".
She said it makes countries stronger "when the voices and opinions of all their citizens can be heard."
China blocks many foreign news services and social media sites such as Facebook, Twitter and YouTube.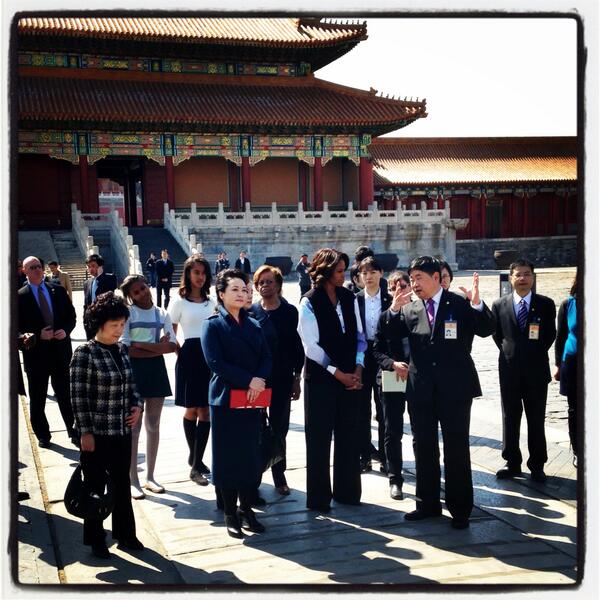 Michelle Obama has arrived in China for an official visit with her two daughters for a week-long visit to three Chinese cities.
Accompanied by China's First Lady Madam Peng, she visited a school in Beijing and observed a lesson in robotics.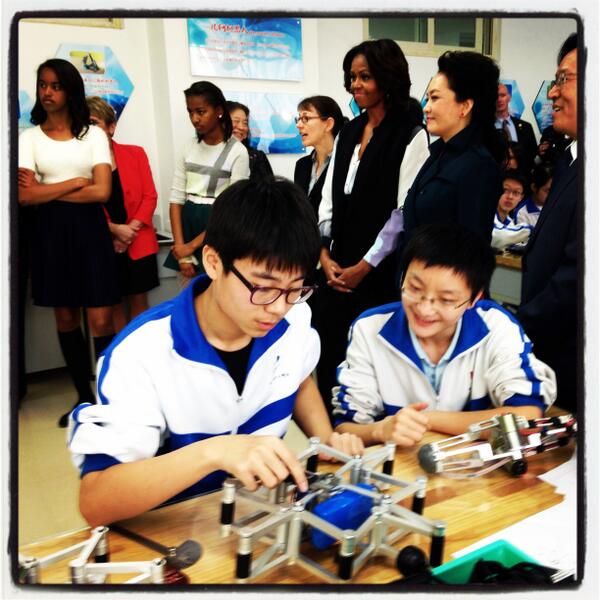 US president Barack Obama and vice-president Joe Biden have joined forces in an exercise video encouraging Americans to get fit.
Read the full story ›
Load more updates