Behavioural issues, old age and medical conditions are among the reasons for the animals being destroyed.
Read the full story ›
MPs have criticised the Ministry of Defence over a anti-malaria drug issued to overseas troops, despite concerns over severe side effects.
Read the full story ›
Advertisement
A soldier was airlifted to hospital with serious injuries after being crushed by an armoured vehicle during a training exercise on Thursday.
Read the full story ›
The Ministry of Defence confirms the fatality occured today at St David's Barracks in Oxfordshire.
Read the full story ›
UK pilots flying with allied nation's forces have conducted operations against so-called Islamic State targets in Syria.
Read the full story ›
A Royal Marine trainee who died last week during an exercise on Dartmoor has been named as Lieutenant Gareth Jenkins.
Lieutenant Jenkins was based at the Commando Training Centre at Lympstone, Devon.
He died on Thursday during a 30-mile march across upland Dartmoor which is the last major test undertaken as part of the 32-week Commando course.
Trainees must navigate the route themselves and complete it within eight hours while carrying additional safety equipment.
The Royal Navy has expressed sympathy at his death and said an investigation is currently underway.
Advertisement
A Royal Marine trainee has collapsed and died on an exercise in Dartmoor, the Ministry of Defence (MoD) has said.
Read the full story ›
The Ministry of Defence has said at no time was there a perceived threat from Russia planes that were tracked flying towards UK airspace.
The two Russian Bear military aircraft were escorted by RAF Typhoon fighters after they were scrambled when the initially unidentified aircraft were spotted flying North of Scotland.
It is the latest of similar incidents involving Russian military aircraft flying close to UK airspace in recent months.
RAF Typhoon fighter jets have intercepted Russian aircraft that were tracked flying towards UK airspace earlier today.
The jets were scrambled from RAF Lossiemouth and escorted the Russia Bear aircraft until they were out of the UK area of interest, an RAF spokesperson said.
"The aircraft were identified as Russian Bear aircraft which were escorted by the RAF Typhoon fighters until they were out of the UK area of interest.
"At no time did the Russian military aircraft cross into UK sovereign airspace", the spokesperson added.
The Defence Secretary has praised Britain's armed forces for their work in fighting Islamic State (IS) extremists during a visit to Cyprus.
Michael Fallon told the 400 service personnel based at RAF Akrotiri he was "proud" of their role in helping the Iraqi government defend itself against the threat of IS.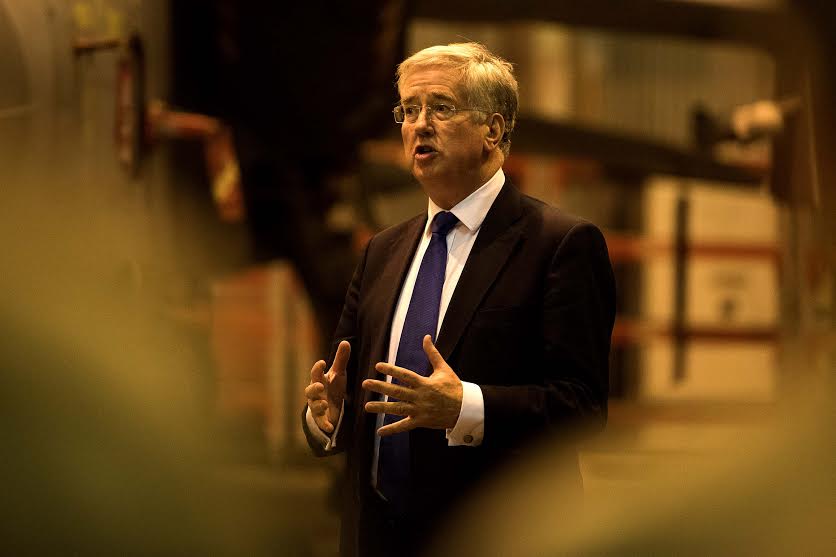 "While this fight will take time, the coalition's air strikes are having a direct effect in supporting Iraqi ground operations against IS," Fallon said.
"In the north, areas around Mount Sinjar have been retaken, bringing relief to the local Yazidi population and applying pressure to IS forces in Mosul. In the south, Iraqi forces operations are beginning to push back ISIL."
Load more updates