Royal Air Force Tornado aircraft have left Afghanistan to head back to the UK after more than five years of operations in the country.
Read the full story ›
The Ministry of Defence (MoD) has confirmed that an unmanned RAF 'Reaper' drone carried out attacks against militants in Iraq for the first time at the weekend.
The MoD said the drone was used during a series of coalition missions conducted near Bayji, north of Baghdad and "successfully attacked the terrorists using a Hellfire missile".
The drone also provided "intelligence, surveillance and reconnaissance assistance to coalition aircraft which enabled them to conduct further strikes" according to the MoD.
Advertisement
An RAF unmanned drone has been used for the first time in the ongoing fight against ISIS in Iraq.
First strike from an RAF unmanned drone (a Reaper) in Iraq against ISIS
More than 100 British personnel are arriving in Sierra Leone to combat the Ebola outbreak in West Africa. Here's what else the UK is doing.
Read the full story ›
The Ministry of Defence said the "very presence" of coalition aircraft over Iraq has "a significant impact" on Islamic State's efforts to attack locally.
"With no effective defence against air strikes, and knowing the precision with which coalition aircraft can hit them, the terrorists are forced to be much more cautious, keeping their forces dispersed and movement inhibited," a spokesperson said.
"They also know that should they concentrate to deliver an attack against Iraqi or Kurdish troops, aircraft are likely to arrive overhead very soon afterwards."
The Ministry of Defence has confirmed on Twitter: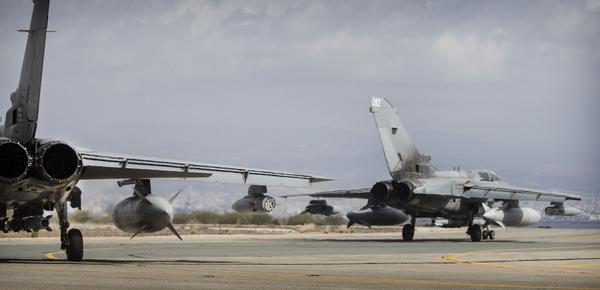 Advertisement
The Ministry of Defence has posted on Twitter:
The MOD confirms RAF Tornados fly over Iraq from Cyprus following parliamentary approval. http://t.co/R663Hv0D6f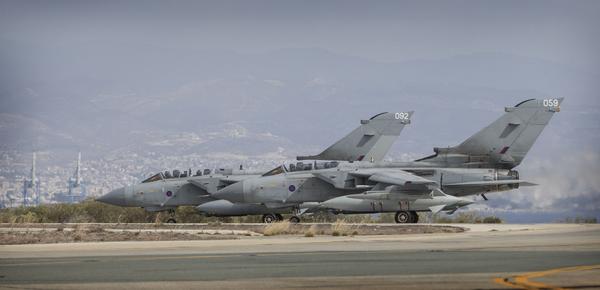 The Ministry of Defence has released footage showing the successful airdrops of humanitarian aid by the RAF in northern Iraq last night.
Prime Minister David Cameron has said the Government's economic prudence has allowed it to invest an extra £1.1 billion on "absolutely vital" defence.
Prime Minister David Cameron had been due to see the new American-built F-35 fighter aircrafts at the Farnborough International Airshow before their clearance was embarrassingly halted after a fire in Florida last month.
The grounding meant the jet was also unable to appear when the Queen named the Royal Navy's new aircraft carrier Queen Elizabeth earlier this month, and missed a military tattoo at RAF Fairford in Gloucestershire this weekend.
A spokesman for the Farnborough event said officials were "hopeful the F-35 will fly at the airshow by the end of the week".
Load more updates