UK pilots flying with allied nation's forces have conducted operations against so-called Islamic State targets in Syria.
Read the full story ›
A Royal Marine trainee who died last week during an exercise on Dartmoor has been named as Lieutenant Gareth Jenkins.
Lieutenant Jenkins was based at the Commando Training Centre at Lympstone, Devon.
He died on Thursday during a 30-mile march across upland Dartmoor which is the last major test undertaken as part of the 32-week Commando course.
Trainees must navigate the route themselves and complete it within eight hours while carrying additional safety equipment.
The Royal Navy has expressed sympathy at his death and said an investigation is currently underway.
Advertisement
A Royal Marine trainee has collapsed and died on an exercise in Dartmoor, the Ministry of Defence (MoD) has said.
Read the full story ›
The Ministry of Defence has said at no time was there a perceived threat from Russia planes that were tracked flying towards UK airspace.
The two Russian Bear military aircraft were escorted by RAF Typhoon fighters after they were scrambled when the initially unidentified aircraft were spotted flying North of Scotland.
It is the latest of similar incidents involving Russian military aircraft flying close to UK airspace in recent months.
RAF Typhoon fighter jets have intercepted Russian aircraft that were tracked flying towards UK airspace earlier today.
The jets were scrambled from RAF Lossiemouth and escorted the Russia Bear aircraft until they were out of the UK area of interest, an RAF spokesperson said.
"The aircraft were identified as Russian Bear aircraft which were escorted by the RAF Typhoon fighters until they were out of the UK area of interest.
"At no time did the Russian military aircraft cross into UK sovereign airspace", the spokesperson added.
The Defence Secretary has praised Britain's armed forces for their work in fighting Islamic State (IS) extremists during a visit to Cyprus.
Michael Fallon told the 400 service personnel based at RAF Akrotiri he was "proud" of their role in helping the Iraqi government defend itself against the threat of IS.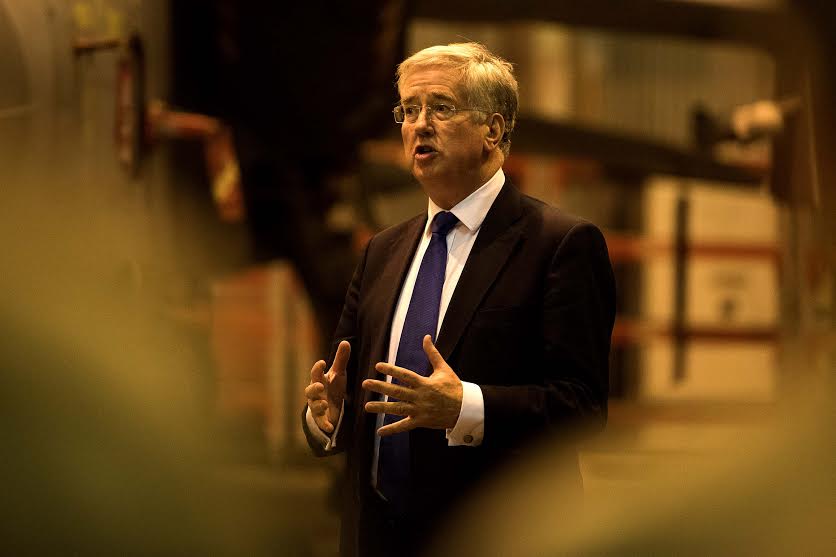 "While this fight will take time, the coalition's air strikes are having a direct effect in supporting Iraqi ground operations against IS," Fallon said.
"In the north, areas around Mount Sinjar have been retaken, bringing relief to the local Yazidi population and applying pressure to IS forces in Mosul. In the south, Iraqi forces operations are beginning to push back ISIL."
Advertisement
Royal Air Force Tornado and Reaper jets have flown daily armed reconnaissance missions to support the Iraqi government in its fight against Islamic State militants, the Ministry of Defence has said.
"In the most recent UK military engagement, one of our Reapers provided close air support to an Iraqi unit in combat with Isil terrorists in Diyala province on Friday 13 February," a spokeswoman said.
"The Reaper spotted a machine-gun team firing on the Iraqi troops, and conducted a successful attack with a Hellfire missile. A second machine gun then opened fire on the Iraqis, and the Reaper conducted a further strike with another Hellfire" she added.
The number of senior figures in the Army is to be cut by up to a third, according to The Times.
Plans by the Army's leader General Sir Nick Carter to axe a third of the force's 500 colonels and 200 brigadiers and generals will be put into effect in April, the paper said.
The Ministry of Defence confirmed an Army Command Review will take place as part of the Army 2020 reform plans.
An Army spokeswoman said: "The Army Command Review is the next step in the development of Army 2020. It builds on the delegated model that Defence has implemented as a result of Lord Levene's report on Defence reforms.
"It will ensure that the Army's command structure and its staff are best placed to meet future challenges in an agile, imaginative and effective manner."
It has already been confirmed the number of regular soldiers will be cut to 82,000, with the number of reservists being boosted to 30,000.
Former defence minister Sir Nick Harvey said the government is looking at ways to cut the army even further because of the credit crunch.
Read the full story ›
Ministry of Defence (MoD) officials are examining proposals for an army of 60,000 soldiers, former coalition defence minister Sir Nick Harvey has said.
Sir Nick said paper exercises were going on to examine further cuts to troop numbers due to the impending "financial crunch" faced by the MoD.
The Government's existing Army 2020 plans envisage a shrunken regular force of 82,000 with the number of reservists rising to 30,000.
Sir Nick told MPs: "There are already paper exercises going on in looking at what an army of just 60,000 would look like because of the financial crunch that the department is going to be facing."
The Liberal Democrat MP was speaking in the Commons during a debate on Trident renewal.
Load more updates