Former US Republican presidential nominee Mitt Romney will not run for president in 2016.
Romney's announcement comes just three weeks after he unexpectedly revealed he was considering a third shot at the White House. The former Massachusetts governor had told a small group of former donors in New York he was thinking about running again.
However, he then discovered that a number of his previous supporters had jumped ship to former Florida governor Jeb Bush.
Romney's exit from the campaign benefits the other favourites of the party's establishment wing including Bush, New Jersey Gov Chris Christie, Florida Sen Marco Rubio and Wisconsin Gov Scott Walker.
US comedian Zach Braff had a random celebrity encounter after he spotted former Governor Mitt Romney while waiting to board his flight back for the Sundance Film Festival in Park City, Utah.
Braff excitedly tweeted about the sighting, halfheartedly musing that they might be on the same flight to Utah. According to the Scrubs actor, the Republican politician was coming to see his film Wish I Was Here at Eccles in Park City.
Mitt Romney just walked by me at JFK after I randomly tweeted him. Let's try this again: @paulmccartney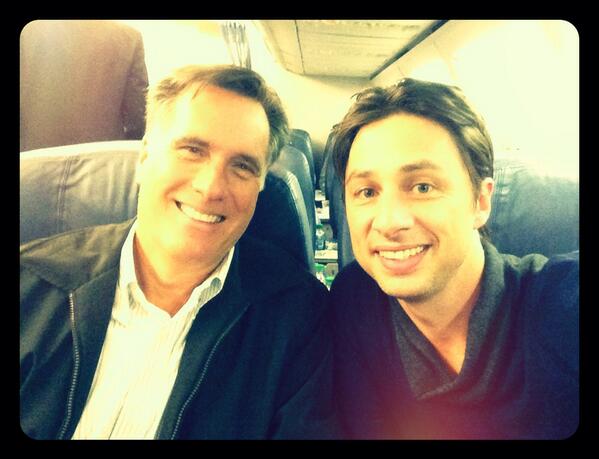 Posting on Twitter, he added: "Our politics are quite different, but Mitt Romney and I are having the best conversation ever. Very cool dude."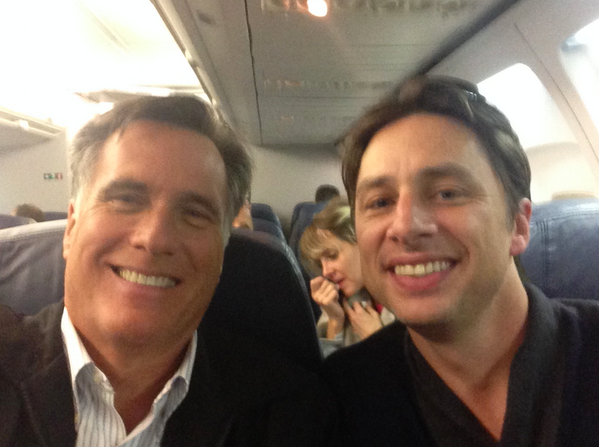 Advertisement
The man who was, until recently, President Obama's greatest political rival dropped by at the White House for lunch today. Mitt Romney congratulated the President on his successful election campaign, and they pledged to stay in touch.
On the menu was turkey chili and southwestern grilled chicken salad.
Mitt and his wife and were without bodyguards and even managed to find time for a slice of pizza across the street, the website said.
President Barack Obama said he has not met his Republican opponent Governor Mitt Romney since last week's election, but that he hopes to do so by the end of the year.
We haven't scheduled something yet. I hope it's before the end of the year, though, that we have a chance to sit down and talk
President Obama is back in Washington and back to work. Wall Street had its worse day this year as markets reacted to fears that the ongoing political deadlock between Republicans and Democrats will push America over a 'fiscal cliff' and back into recession.
Advertisement
The Prime Minister's official spokesman said that Mr Cameron's phone call with US President Barack Obama last around five minutes. He summarised the conversation as follows:
The Prime Minister congratulated President Obama on his election victory after a long and hard-fought campaign.

The president spoke of the outstanding partnership between the UK and the US and said he looked forward to working with the Prime Minister on a whole range of issues in the years ahead.

They agreed they would have a longer conversation soon on a number of strategic issues, including what more the international community can do to bring an end to the conflict in Syria and to support the development of peaceful democracy in Libya.
– Prime Minister's official spokesman
Downing Street has tweeted this photograph of the Prime Minister speaking to US President Barack Obama.
Mr Cameron congratulated him on his recent election victory and spoke about the "outstanding relationship" the UK and US share.
Twins in Kenya born on US election day have been named Barack Obama and Mitt Romney.
Mother Millicent Awuor, 20, gave birth in a hospital near the President's father's rural village and named the older boy after the Democrat and the younger after the Republican challenger.
Obama is highly popular in the east African nation and had a beer named "president" in his honour after the 2008 election.
The name Barack means blessed while Obama was the given name of his great-grandfather.
Load more updates