Double Olympic gold medal winner Mo Farah has announced he will compete in this year's Commonwealth Games in Glasgow.
The 31-year-old athlete told his one million followers:
The 5,000 metres and 10,000m London 2012 Olympic Champion hasn't yet decided what events he will compete in.
But it is unlikely he will attempt the gruelling task of running the marathon after his coach Alberto Salazar advised him to forget about the discipline until after the 2016 Rio Olympics.
Farah's participation in the Games is likely to increase demand for tickets this summer and organisers have already said that demand is "unprecedented".
The Olympic champion speaks to Daybreak about the blow dealt by coming eighth at the London Marathon and his collapse in New York.
Read the full story ›
Advertisement
An elite runner from Sierra Leone who disappeared after finishing the women's race at the London Marathon in 20th place remains missing.
Scotland Yard launched an appeal to find 24-year-old Mami Konneh Lahun, when she did not return to her temporary accommodation in Greenwich, where she had been staying since arriving in the UK on April 7.
Police said earlier that she had been found in Greenwich, but later reissued an appeal.
They said she was due to fly home yesterday. The runner has no known links to the UK and was not in possession of a mobile phone.
The sister of a London Marathon runner who collapsed a mile from the marathon finish line in 2012, has paid tribute to Robert Berry. Penny Squires, the sister of Claire Squires, who died from cardiac failure wrote: "Bless you Rob. A hero.
"My amazing sister Claire died running the 2012 London Marathon. My thoughts are with your family. Here's to you Rob & Claire, two of life's most amazing people. Taken too soon xxx," she said on his JustGiving page.
Almost £1,000,000 has since been raised by donations to Claire's Just Giving page.
Fellow London Marathon runners have paid their condolences to Robert Berry, who died after completing the run. His JustGiving page has already received more than £10,000 of donations.
My heartfelt condolences to the friends and family of Rob Berry.. RIP.. From a fellow Marathon runner.
– Anonymous
I am honoured to have run in the same marathon as you. My thoughts go to your friends and family. RIP Rob.
– Anonymous
My sympathy to Rob's family at what must be very sad time. I ran yesterday and had a joyous experience, which makes hearing what happened to Rob even more of a shock.
Donations continue to pour in for Robert Berry, who died after completing the London Marathon yesterday. Tributes were paid to the 42-year-old on his JustGiving page, who has raised over £2,200 for the National Osteoporosis Society.
In memory of Mr Berry (RIP). You gave your life trying to do good for others.
– Anonymous
I didn't know you but am so sad you gave your life doing such a wonderful thing. God bless you.
– Anonymous
God bless you Rob. Your family must be so proud of you, raising money to help your Mum and others. So sorry it had to end in this way. R.I.P.
– Mark Jameson
Advertisement
Police have issued a correction after it emerged an athlete from Sierra Leone is still missing.
Officers earlier said Mami Konneh Lahun had been found but it appears the runner is still missing.
The 24-year-old has not been seen since finishing this weekend's London Marathon and was due to fly home today.
Police apologised for creating the confusion.
A female athlete from Sierra Leone who had not been seen since finishing this weekend's London Marathon has been found safe and well.
Police said Mami Konneh Lahun, 24, had returned to an address in Greenwich where she had been staying since arriving in the UK last week.
Ms Lahun finished 20th in the race.
Police are looking to trace a marathon athlete who has not been seen since she finished 20th in yesterday's London race, Scotland Yard said.
Mami Konneh Lahun, 24, from Sierra Leone, had been staying at an address in Greenwich since arriving in the UK on 7 April.
She is due to fly home later today but did not return to her temporary accommodation following the race, police said.
Alex Prior, 25, was one of 36,000 runners taking part in the London Marathon today who battled 26 miles to make it to the finish line. However when he was just 200 metres from the end - he stopped to ask his girlfriend an important question.
Jess Seldon, 27, had been told Alex would pass by to give her a high five. Instead, Alex picked up a ring from his best friend waiting nearby before making his way over to her.
"She was completely surprised, I don't think she knew what I was doing," Alex said.
"I tried to get down on one knee, to be traditional, but it was obviously pretty difficult.
"It was fantastic, almost surreal - so much so that I had to text her at the end and ask if she meant to say 'yes'."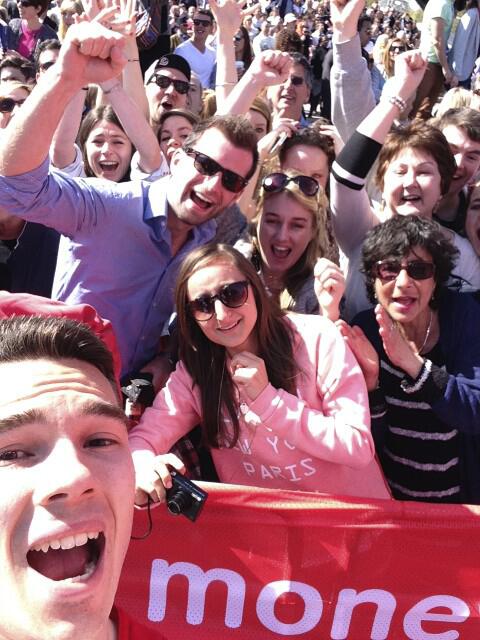 Load more updates