RAF Typhoons intercepted a Russian Bear bomber as it approached UK airspace yesterday, the second flypast by aircraft from Vladimir Putin's air force in three days, the Ministry of Defence said.
The Soviet-era Tupolev Tu-95 aircraft, flying in international airspace was met by the fighters from RAF Lossiemouth in Scotland and "escorted ... through the UK flight information region", an Mod spokeswoman said.
The intervention follows a similar incident on Wednesday when two Bear bombers were tracked over the North Sea as Nato radars picked up a series of Russian formations engaged in "significant military manoeuvres" ranging from the Black Sea to the Atlantic Ocean.
British army medics have arrived in Sierra Leone to provide medical support in the fight against the Ebola epidemic in west Africa.
Around 120 troops have been engaging in exercises to simulate the conditions they will face in Sierra Leone.
Around 750 British troops are expected to be deployed to Sierra Leone over the coming months as part of the country's response to the outbreak of the potentially deadly virus.
Advertisement
If the Commons votes for airstrikes against IS in northern Iraq later today, the RAF in Cyprus will be ready.
Read the full story ›
A decision to cut regular armed forces, while doubling reservists, was "taken without appropriate testing of feasibility" the National Audit Office have said.
The National Audit Office issued a statement saying that "military judgment played an important role in decisions."
They added: "Committing to moving towards an Army structure with fewer regular soldiers and an increased number of reserves within the planned timescale, should have been subject to more rigorous testing of feasibility."
Regular forces numbers will drop from 102,000 to 82,000 by 2018, with the report saying that without a "significant change in performance", the target may not be hit until 2025.
Cuts to the size of the Army pose "significant risks" which could "significantly affect the Army's ability to achieve its objectives and value for money", the National Audit Office said today.
Advertisement
The first three female submariners to serve in the Royal Navy said they were looking forward to getting to work with their male colleagues and expect to be treated professionally.
Lieutenants Maxine Stiles, Alexandra Olsson and Penny Thackray completed vigorous training that enables them operate the submarines, which they explained are "more complicated than a spaceship". Lieutenant Alexandra Olsson said:
"I am sure it will be a big success. We all do our job, and as long as you can do your job on board, everyone is quite happy for you to be there".
Three officers have made maritime history by becoming the first female submariners to serve in the Royal Navy.
Lieutenants Maxine Stiles, Alexandra Olsson and Penny Thackray have completed months of specialised training to earn their "Dolphins" - the clasp worn by qualified submariners - becoming the first women in the 110-year history of the Navy's Submarine Service.
For years women were unable to serve on submarines because of possible health risks but, after an independent review found that only pregnant women should not serve, Defence Secretary Philip Hammond lifted the ban in December 2011.
Following the arrival of woman officers, female ratings (non-commissioned personnel) will start training later this year with a view to serving on Vanguard submarines in 2015. Female personnel will also be able to serve on Astute-class submarines from around 2016.
Britain's ability to mount military operations risks being undermined by the "unprecedented" number of legal challenges being brought against the Ministry of Defence and the armed forces, MPs have warned.
The Commons Defence Committee said the fear of legal action meant troops on the battlefield may be increasingly unwilling to assume responsibility or take the necessary risks - damaging operational effectiveness.
It said the "judicialisation" of warfare could even lead to bloodier battles and more civilian casualties with risk-adverse commanders increasingly opting to call in airstrikes rather than put their troops in the line of fire.
The Malaysian transport minister's communications team has posted an image of him talking on the phone - in his dressing gown - to Defence Secretary Philip Hammond about the Royal Navy submarine arriving to help search for the missing Malaysia Airlines flight: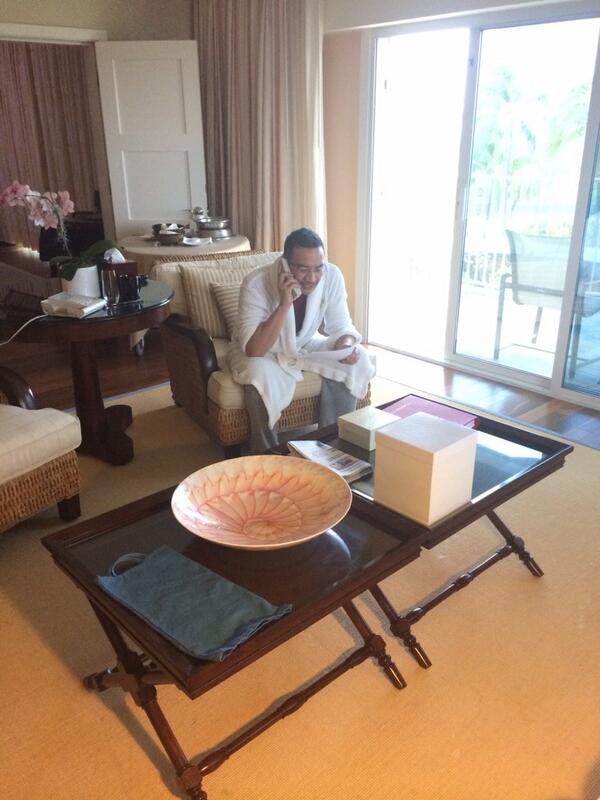 Load more updates