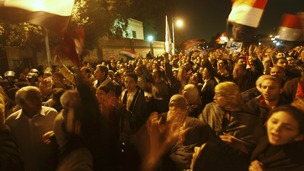 Rival political rallies are being held in Cairo, as Egypt's president prepares to attend 'unity talks' tomorrow.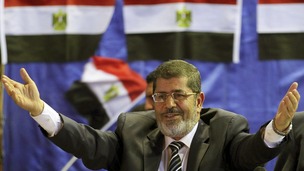 In renouncing emergency powers he deemed essential just two weeks ago, Mohamed Morsi is trying to undo some of the damage he has inflicted.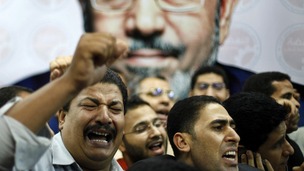 Muslim Brotherhood candidate becomes Egypt's first democratically-elected president in decades. He said he carries a "message of peace".
Live updates
Rival rallies in Cairo
Egypt opposition: Morsi referendum plans are 'shocking'
A leading member of Egypt's main opposition coalition has said that President Mohamed Morsi's decision to press ahead with a referendum on a new constitution was "shocking" and would deepen a political crisis.
"It is making things a lot worse," Ahmed Said, member of the National Salvation Front coalition and head of the liberal Free Egyptians Party, told Reuters. "I cannot imagine that after all this they want to pass a constitution that does not represent all Egyptians."
He said the Front would meet later to make a formal response to Morsi's decision to scrap a decree that sparked deadly violence but stick to a referendum date of 15th Decemeber on a constitution that was drawn up by an Islamist-led drafting assembly.
Rival rallies in Cairo
Liberal groups reject president's announcement
Liberal and secular forces have quickly rejected the president's announcement because it presses ahead with a referendum on a constitution they say will turn Egypt into a religious state. NBC's Aymaan Mohyeldin reports from Cairo.
Critics have dismissed the referendum because they say that a draft does not have the broad consensus of Egyptians and fails to enshrine universal rights for women and protect religious freedoms.
But the president said that if the constitution is not approved next week he will order the public to directly elect a new constituent assembly to write yet another new constitution for the country.
Advertisement
Rival rallies in Cairo
Egyptian president's sweeping powers cancelled
Egyptian President Mohamed Morsi has cancelled a decree that gave him sweeping powers and sparked huge protests, but did not delay a referendum on a constitution as his opponents had demanded.
The announcement came from the spokesman for politicians and other figures who took part in a national dialogue on Saturday convened by the Islamist president. But the main opposition group stayed away, so the talks had little credibility among protesters.
Rival rallies in Cairo
Morsi to ask opposition to suggest changes to constitution
Egypt's President Morsi wants opposition groups to suggest changes to his draft constitution, a spokesman for the National Dialogue has said.
Rival rallies in Cairo
Reports: President Morsi annuls constitutional decree
Egypt's President Morsi has annulled his constitutional decree, according to media reports.
A referendum on the draft constitution will still go ahead next on December 15 despite early reports that it would be postponed.
Rival rallies in Cairo
Egypt's President Morsi urged to annul constitutional decree
Members of Egypt's National Dialogue have recommended that President Mohamed Morsi should issue a new constitutional decree.
The decree has been at the root of fierce protests in Cairo as members of the opposition feel it would expand the president's powers.
Advertisement
Rival rallies in Cairo
Report: Egypt's Islamist coalition calls for referendum to go-ahead
Egypt's Islamist coalition has called for the constitutional referendum to go-ahead as planned on December 15, according to Reuters.
Rival rallies in Cairo
Report: Muslim Brotherhood welcome army statement
A senior Muslim Brotherhood official has welcomed the Egyptian army statement that urged for dialogue, saying it is balanced and neutral, Reuters reports.
Rival rallies in Cairo
Egyptian military statement does not signal political intervention
The Egyptian's army statement does not signal any plan for intervention in politics, a military source told Reuters.
Rival rallies in Cairo
Report: 'Disastrous consequences' if Egypt crisis not settled
The Egyptian military has warned of "disastrous consequences" if the political crisis is not resolved, the Associated Press reports.
Load more updates
Back to top