Morrisons has reassured its staff that a theft of data from its payroll system will not leave any of them financially disadvantaged.
The supermarket confirmed that payroll data, inlcuding bank account details, had been stolen and published on the internet, affecting staff at "all levels" of the organisation.
Morrisons said in a statement: "We have already informed our colleagues about the theft, and we are helping them take the appropriate actions to safeguard their personal data."
The grocer was made aware of the theft on Thursday and is working with data security experts to check the safety of its data systems.
Britain's fourth biggest supermarket Morrisons has suffered a data theft from its staff payroll system, including bank account details.
Morrisons said it was made aware on Thursday that the data had been published on the internet and sent on a disc to a newspaper.
The supermarket said no customer data had been stolen, and said initial investigations suggested the theft "was not the result of an external penetration of our systems".
Morrisons said it is working with the cyber crime authorities and the police to identify the source of the theft, and is urgently reviewing its internal data security measures.
Advertisement
Morrisons Chief Executive Dalton Philips said it was investing £1 billion over the next three years in an aggressive price-cutting strategy to take on discounters such as Aldi and Lidl, saying:
We are going to lower our prices on a permanent basis.

The biggest challenge that we face is that there has been a fundamental change in how consumers view discounters.

They are no longer going to them out of necessity. The perception has changed and there is a new price norm.

The rules have changed and we must change too. It is absolutely critical that we begin winning again in our core supermarkets. To do that we must compete on price.
Mr Philips said that after 2015/16 no new supermarkets would be built other than in exceptional circumstances though its network of convenience stores would continue to be developed.
Britain's fourth-biggest supermarket Morrisons slumped to an annual loss of £176 million today amid falling sales and one-off costs of £903 million.
The struggling supermarket fell into the red in the year up to February 2, after a profit of £879 million the year before.
The £903 million charge included write-downs on the value of its stores and its 2011 acquisition of online children's wear retailer Kiddicare, which it now plans to sell in the wake of a poor financial performance.
Like-for-like sales were down 2.8% for the year.
Morrisons belatedly launches its online service. But all supermarket chains are facing greater competition in the delivery market.
Read the full story ›
As Morrisons online delivery gets going, Tesco tells me they have made a whopping 170 MILLION online deliveries since target started
Advertisement
Morrisons CEO Dalton Phillips has made the supermarket first online delivery in the Midlands.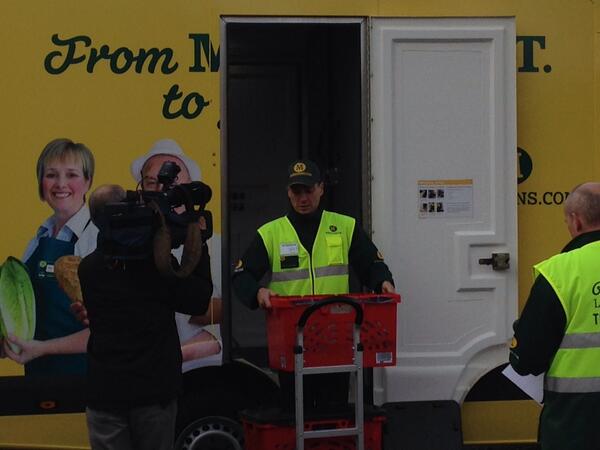 Three of our biggest names have revealed how badly they fared during retailers' most critical period - the run up to Christmas.
Read the full story ›
Supermarket Morrisons posted a sharp fall in like-for-like sales over Christmas, blaming the "disappointing" performance on difficult market conditions, heavy discounting by rivals and the lack of a full online offer.
The UK's fourth largest supermarket chain said its like-for-like sales excluding fuel dropped 5.6% in the six weeks to January 5th.
Including fuel, the drop was 7.1%.
It said it now expected its full-year underlying profit performance to be towards the bottom of the range of current market expectations, which stand at £783m to £853m.
Load more updates