A new image captured on the NASA/ESA Hubble Space Telescope has been unveiled on the 25th anniversary since its launch into orbit.
Read the full story ›
Twenty-five years since its launch, the Hubble Space Telescope has increased understanding of the universe and taken many iconic images.
Read the full story ›
Advertisement
Nasa says New Horizons spacecraft is three months from returning with first-ever close up images Pluto and its system of moons.
Read the full story ›
Astronauts arriving for their new mission hug the crew on arrival at the International Space Station.
Read the full story ›
NASA is launching a one-of-a-kind experiment to find out the effects of long-haul space travel on the human body.
Read the full story ›
One of the first women Nasa ever trained as potential astronauts has died in the US aged 89, the Associated Press has reported.
Bernice Steadman was a member of the so-called "Mercury 13" - a grueling training programme in the early 1960's designed to put potential female astronauts through their paces.
The programme was eventually dropped and it would be a further 22 years before an American woman ventured into space.
Mrs Steadman's death was announced by her husband, Robert. She had Alzheimer's disease.
She had a pilot's license before she could drive, it is reported. In her youth she raced aircraft across the US and was a flying instructor.
Advertisement
Nasa has revealed the path of today's partial solar eclipse as parts of Europe, northern Africa and north Asia are expected to see the show.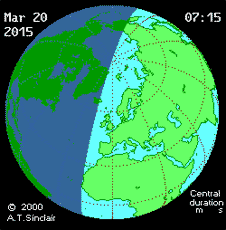 Nasa's Jet Propulsion Laboratory has revealed some tips on how to make a pinhole camera to view this morning's partial solar eclipse.
Scientists believe they may have found signs of life on another world, after spotting evidence of a deep ocean on one of Jupiter's moons.
Read the full story ›
Nasa has launched a series of experiments aboard the International Space Station in a pioneering bid to find a cure for Alzheimer's disease.
Read the full story ›
Load more updates